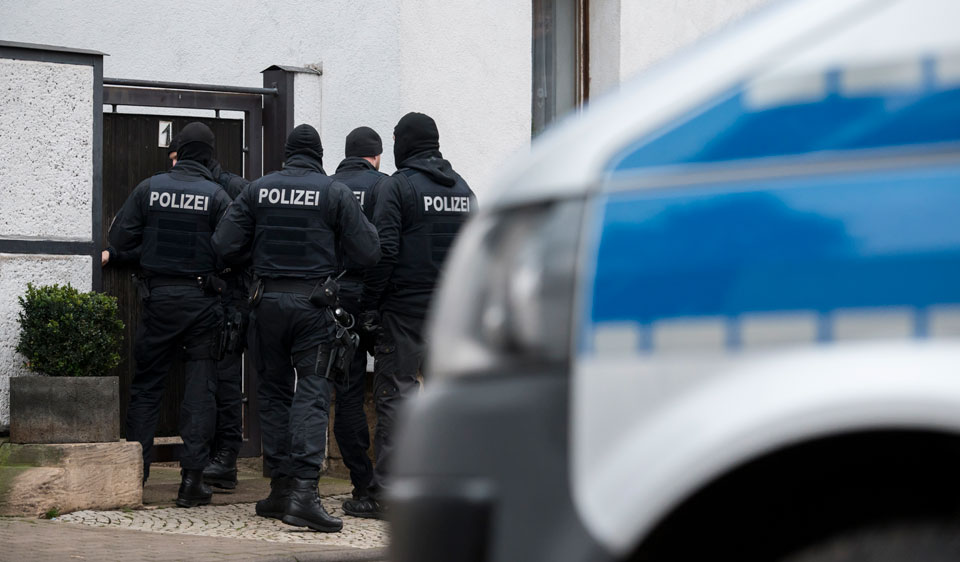 Hundreds of police officers raided homes in three German states Tuesday, Dec. 1, after the government banned the far-right Wolfsbrigade 44 organization. The homes of 11 members of the group were searched in Hesse, Mecklenburg West-Pomerania, and North Rhine-Westphalia to seize funds and neo-Nazi propaganda.
Interior Minister Horst Seehofer declared: "Whoever fights against the basic values of our free society will get to feel the resolute reaction of our government. There's no place in this country for an association that sows hatred and works on the resurrection of a Nazi state."
Officers found knives, a machete, a crossbow, and bayonets during their raids. They also seized Nazi paraphernalia such as swastika badges and flags.
The raids are the latest step in a national campaign against the far right that has exposed its influence within Germany's army and police. The elite KSK command, Germany's equivalent to the SAS, was disbanded over the summer because it was infested with far-right officers.
German socialist newspaper Junge Welt reported Monday that 26 soldiers from a tank brigade were now under investigation for "exchanging neo-Nazi propaganda in a chat group," including "glorification of violence, anti-Semitism, and right-wing extremism" and images of themselves giving Hitler salutes.
Wolfsbrigade 44 is the third far-right group to be banned this year following Combat 18 and Nordadler. The police also broke up an anti-Semitic gang calling itself the Reich Citizens Association.
Wolfsbrigade 44 promoted violent racism and anti-Semitism on social media. The 44 in its name referred to the fourth letter of the alphabet—D—repeated to stand for the Dirlewanger Division, a special unit of the Nazi SS led by Oskar Dirlewanger which operated in occupied Poland and Belarus during the second world war.
It was involved in the massacre of 100,000 Poles during the Warsaw uprising of 1944, and specific atrocities included the murder of 500 children from a Polish daycare center. Dirlewanger was a convicted pedophile rapist and a sadist whose hobbies included injecting female Jewish prisoners with strychnine and watching them writhe to death.
Morning Star