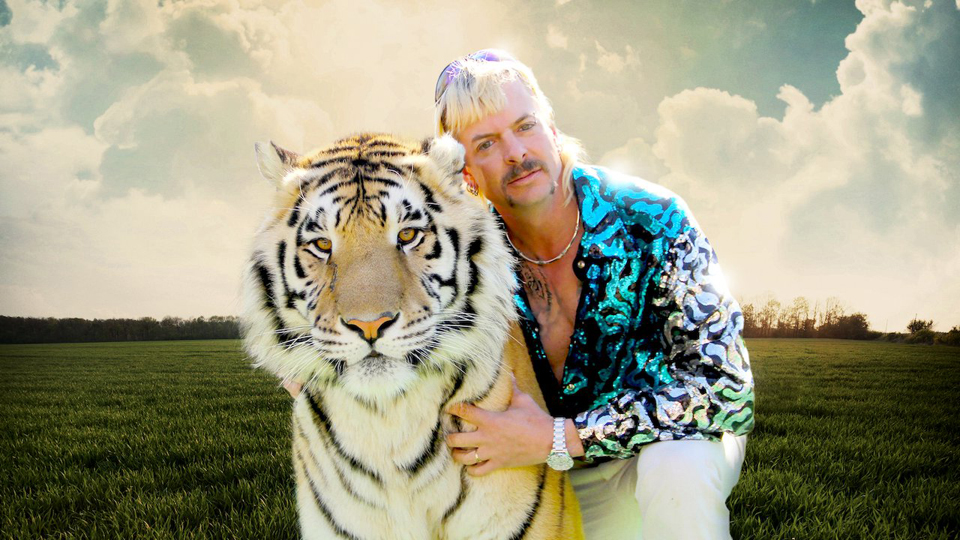 "5,000 to 10,000 tigers live in captivity in the United States. Fewer than 4,000 tigers remain in the wild."
In the midst of a global pandemic the streaming service Netflix has released a new documentary series that could be seen as a nice distraction. Tiger King: Murder, Mayhem and Madness on the surface doesn't appear to have anything to do with the current chaotic state of world affairs. Yet at the heart of this wild and twisty program, centering on a man who profited from owning wild tigers, is greed. Viewers are made to bear witness to what can be destroyed and thwarted when an obsession with profit is placed in front of the needs of people and nature. It is a tale of corruption, politics, ego and destruction that goes beyond one man, and has a very direct connection to the current dangers we face the world over.
The true crime docuseries about the life of Joseph Maldonado-Passage, better known as Joe Exotic, was made by filmmakers Eric Goode (founder of the Turtle Conservatory) and Rebecca Chaiklin (Another World). Putting together footage that spans over five years, Goode and Chaiklin create a product that charts the rise and fall of the eccentric tiger breeder Joe Exotic, who operated a big cat zoo in Oklahoma since 1991 before he was sentenced to prison this year for being part of a murder-for-hire plot against Carole Baskin, an animal rights advocate who runs the Big Cat Rescue in Florida.
Although the series centers on Joe, it showcases the various unconventional figures who are connected by the self described "gay, gun-toting cowboy with a mullet," including drug kingpins, con men, cult leaders, zoo workers, and the beautiful creatures (tigers) caught in the middle of it all. The seven-episode program takes viewers on a six-hour-plus exploration into the undercover world of big cat handlers and their controversies.
The cast of personalities and their stories are what make the series so engrossing. Joe Exotic is charismatic and will draw you into his world of big cats, country music, wonder, and at times literal magic tricks. He has a wild past—and present—that come off as stranger than fiction with his multiple young husbands and far-fetched bids for the United States presidency in 2016 and Oklahoma governor in 2018. He loves talking for the camera and never holds back. That ultimately appears to be his downfall.
Carole Baskin is a more serene figure as the multi-millionaire animal rights advocate woman who draws the ire of many of the mainly male big cat zoo owners. It is her feud with Joe that drives much of what happens in the docuseries. Although she has never apparently met Joe in person, the hate that Joe has for her runs deep, and the lawsuit she won against him in 2013 serves as the driving force of Joe's actions that landed him in prison.
Carole and Joe are the main figures, but are surrounded by other people to give viewers a glimpse into the world of big cat private ownership and those who fight to do away with it.
Currently, according to the program, 5,000 to 10,000 tigers live in captivity in the United States. Many are kept as "pets" although advocates have stated that tigers are being brought close to extinction as fewer than 4,000 tigers remain in the wild. There are a number of reasons for this threat of extinction including poaching and illegal trade of skins, habitat loss due to mining and human settlement, depletion of prey, and captivity. Tiger King highlights some of the main characters in the United States who play a part in the captivity, allowing audiences to judge for themselves just how detrimental their for-profit zoos can be.
To be clear, no one in this series is a hero. Most of the personalities exist in a grey and flawed arena having both their strengths and shortcomings. Joe at one time began as a big cat advocate himself until greed outweighed that love. Carole seemingly has a positive message of wanting to make it illegal to breed, buy, sell or trade in exotic cats, but the multi-millionaire doesn't pay her hundreds of interns who work at her sanctuary, nor does she seem charitable when it comes to the riches she's amassed from her high profile.
Tiger King doesn't shy away from the dark parts of the people interviewed. The series doesn't overtly pick a side except that of the animals caught up in the battle of ideas and the low-wage workers who are put in charge of taking care of them.
That is perhaps the saddest aspect of the show. Interwoven in the larger-than-life better known characters are the workers at these various establishments who mainly seem to have a love for their jobs and the animals they look after. It's made clear that none of the workers get paid a livable wage, and in some cases deal with sexual harassment on the job. It's a shady business on both sides of the spectrum for many of the employees.
It would be easy to get caught up in the soap opera-like instances of backstabbing, betrayal, love triangles, and other melodramas the series dives into. Yes, those moments are entertaining in a can't-look-away-from-this-trainwreck kind of way, but there's actually a profound message to be understood within it. Profit-driven greed warps and destroys nature and ultimately people.
Although each of the zoo and big cat owners professes love for the creatures they hold in captivity, it is made clear in the series, by their own recorded actions, that their drive for wealth wins above all else. This comes at the detriment of not only the animals they have in captivity, but of the workers who hustle for close to nothing to keep these owners afloat. These owners take advantage of murky legislative rules in order to run their businesses.
The Endangered Species Act bans the possession and purchase of any endangered species of wildlife. Yet what is not well regulated is human involvement with captive-bred wildlife. Oklahoma, where Joe's Greater Wynnewood Exotic Animal Park (G.W. Zoo) is, and five other states, allows people to keep big cats as pets. There are hundreds of establishments like G.W. Zoo across the country. The U.S. Department of Agriculture (USDA) allows anyone with 40 dollars to own a lion, tiger or bear.
It's a real problem that Goode and Chaiklin bring to viewers' attention masterfully through the story of one man's downfall.
With its flamboyant, tragic protagonist, Tiger King was supposed to serve as a brief escape for me from the constant news updates about COVID-19, but watching this series I couldn't help but make the connection of it to the larger state of the world.
We live in a society that has often allowed profit-driven endeavors to eclipse the needs of people and nature. As continued mishandling of the COVID-19 pandemic goes on with working people looking for assistance from a White House leadership that functions as if it is more concerned with Wall Street than helping workers stay out of poverty, I realized Joe Exotic's circus of misdeeds isn't really so far-fetched, or so far removed from what we accept as the status quo.
Overall, Tiger King is an engrossing series that you can watch for both the guilty-pleasure melodrama and the more important fight against big cat captivity for profit. It's a fascinating ride and will hopefully draw many more people's attention to an urgent environmental issue.