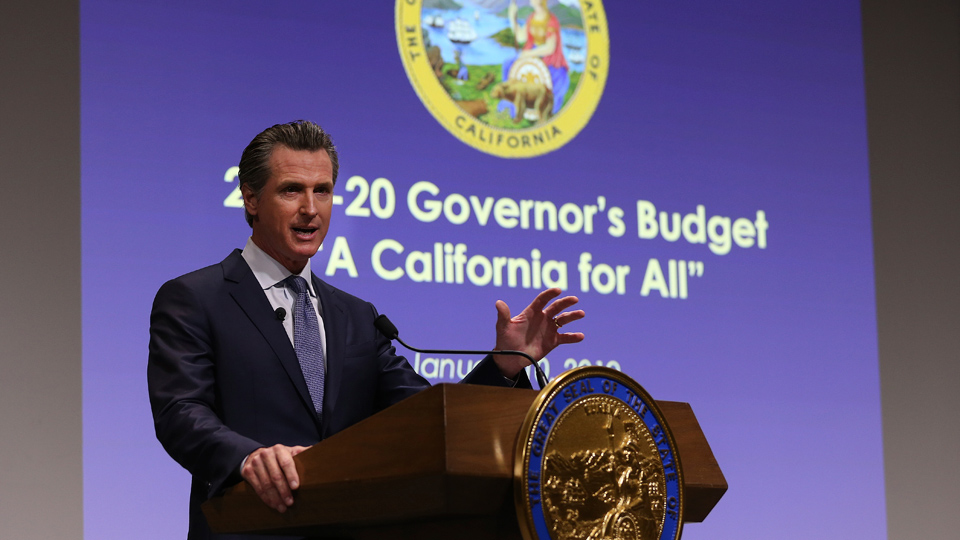 In his first State of the State address, new California Governor Gavin Newsom continued the emphasis on "real people and real people's lives" that characterized the budget proposals he outlined last month and made clear his state will continue to be a mainstay in opposing the Trump Administration's anti-immigrant drive and its efforts to undermine human needs programs.
Newsom began his Feb. 12 address to a joint session of the state Senate and Assembly by challenging Trump's State of the Union assertions that the greatest threat the U.S. faces "comes from families seeking asylum." Instead, the governor pointed out that the state is experiencing the lowest number of border crossings in nearly 50 years, the undocumented population is shrinking, while immigrants, whether documented or not, commit crime at a lower rate than native-born Californians, and women and children seeking asylum at the border "are doing so lawfully."
Following up on his announcement a day earlier that he is reassigning most California National Guard troops from duties at the border with Mexico, the governor said they will focus on "the real threats facing our state," including wildfire protection and combating illegal cannabis farms that are devastating forests, while those remaining will work to halt smuggling of drugs and guns at border checkpoints.
He added, "A wall that stretches thousands of miles through the wilderness will do nothing to stop this threat."
Calling "the homeless epidemic" one of the state's most important challenges, Newsom stressed the need "to work together as a state" to focus on prevention and on providing more permanent supportive housing.
"So many of California's homeless – whether they're families, veterans, victims of rent spikes, or survivors fleeing domestic violence – are invisible and left behind by our society," the governor said. With many homeless people suffering mental illness or self-medicating with drugs and alcohol, and suffering from serious disease outbreaks, he added, "Our homelessness crisis has increasingly become a public health crisis."
Announcing that Sacramento Mayor Darrell Steinberg – a former leader of the state Senate – will lead a new Commission on Homelessness and Supportive Housing, Newsom challenged legislators to provide an immediate $500 million for "navigation centers" – emergency shelters with on-site services – and another $100 million to fund integrated, comprehensive services to end homelessness.
On a related issue, the cost of housing, the governor called on cities and counties throughout the state to "update their housing plans, revamp their zoning process, and get more housing entitled." He added that to promote those objectives, he is earmarking $750 million to support that updating process, and to provide grants to cities that meet those objectives.
"If we want a California for All, we have to build housing for all," Newsom said.
As health care costs soar, he said, it is more vital than ever to make health care affordable for all Californians.
With a White House "laser-focused on destroying the Affordable Care Act," including ending the requirement that everyone have health insurance, the governor said, the state must take on the issue, including increasing subsidies for moderate-income Californians, working to bring down health care costs including prescription drugs, and extending Medi-Cal coverage to everyone up to age 26 regardless of immigration status.
With working families in the state "barely earning more than they were a decade ago, and many working parents "making less than their parents did at the same age," Newsom said, it is essential to create a future with more good jobs and higher wages.
"It's time to develop a new modern compact for California's changing workforce," he said, pledging to appoint a new Commission on California's Workforce & Future of Work to bring together leaders from "labor and business – both the public and private sectors."
In two areas, high-speed rail and meeting the state's "massive water challenges," Newsom proposed scaling back plans advocated earlier by former Gov. Jerry Brown.
For now, he said, high-speed rail development should focus on economic development in the state's Central Valley, while water projects will aim for a balanced approach to protecting water supplies, meeting agricultural needs and preserving fragile ecosystems in the face of climate change.
Newsom also touched on education, energy, meeting the needs of aging Californians, clean energy goals, protecting digital data privacy, and more.