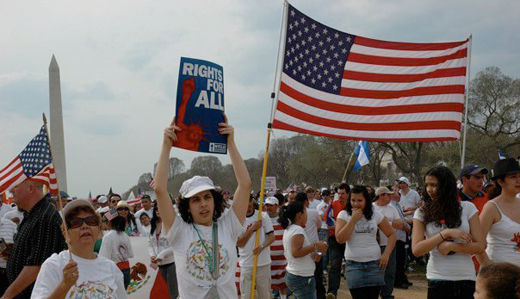 NEW HAVEN, Conn. – The magnificent outpouring of over 200,000 people in the nation's capitol, often whole families, many young but all generations, many Latino but all racial and nationality groups, for comprehensive immigration reform on March 21 will have a profound impact across this country.
The expanding voting power of Latinos could be seen and heard. Delegations were present from nearly every state in the country. Groups had traveled many miles from California, Iowa, Georgia, Texas, Florida, North Carolina, Indiana, Ohio, Illinois, New York and Connecticut.
Families who had come to this country from Mexico, Guatemala, Ecuador, Colombia, Indonesia and many other countries filled 16 buses in the pre-dawn hours of March 21 at Gateway Community College in New Haven.
They traveled to Washington, DC with union and community groups and city officials in response to discriminatory practices hurting their lives and the life of the whole community including incidents of unpaid wages and wage discrimination on the job, denial of in-state tuition rates for high school graduates, lack of translation services in public education, family separation through deportation and much more.
New Haven understood the power of the March for America because it was the first city in the country to organize for and enact a city ID available to all resident regardless of immigration status, which is valid as a library card, park entrance and for other services. Shortly after it was introduced three years ago, ICE conducted a brutal raid in the City which was contested.
As we gathered on the National Mall, the echoes from the 1963 civil rights march led by Martin Luther King Jr. were striking. I had the opportunity to attend that march as a teenager and it impacted my life deeply. It was evident that this rally and march is and will have a similar impact on the participants and on the future of our nation.
Handmade posters with pictures of King were among the signs being held through the crowd. A packet for march participants detailed the history of the civil rights movement in the 1960's and projected the movement for immigrant rights as carrying it on in the 21st Century.
One group of young people snaked through the dense crowd chanting, "We are the Dreamers, the Mighty, Mighty Dreamers," adapted from a union picket line chant.
Speakers included the Rev. Jesse Jackson and other civil rights leaders, union leaders and elected officials. Cheers filled the National Mall when President Obama appeared via video. The multi-racial crowd, immigrant and native born, was sending a message to Congress and the President to respond to the pressure from below and make comprehensive immigration reform a reality.
The presence and solidarity of the labor movement was a significant feature of the day. AFL-CIO Executive Vice President Arlene Holt Baker declared, "Nothing in this country is more powerful than people united for change. And do we ever need change. We are here, as a united labor movement to tell Congress that we must pass comprehensive immigration reform."
She went on to explain, "The broken system is benefiting the very same corporate giants who destroyed our economy. It is allowing those corporations to exploit workers by underpaying them, or not paying them at all, simply because of their immigration status. As long as employers have a pool of workers who are too scared to complain, those corporations will continue to profit and workplace standards will continue to go down."
The rally projected the significance of immigration reform for all working people with the slogan, "Immigration Reform for New Americans — Economic Justice for All Americans." At a planning meeting in Mayor John DeStefano's office in New Haven the question was asked, "Why include the issue of jobs in the slogan, why not just immigration?"
In reply, the regional organizer explained that the economic crisis in our country cannot be solved as long as the issue of depressed conditions for immigrant workers remains unresolved.
That exchange took place at the first planning meeting in New Haven, just two and a half weeks before the event. The mayor asked the organizations gathered around the table how many people they thought they could bring. The total was ten buses. By the time of departure 16 buses were filled and waiting lists remained. It was a remarkable and overwhelming response from union members, church members, city officials, community agencies, and immigrant families organized by immigrant rights groups in the city.
Lead organizer John Jairo Lugo of Unidad Latina en Accion filled five buses together with the Peoples Center. He said, "It was a very important day for the immigrant community because taking New Haven as an example, the only way we will win this fight is through unity among the different communities."
In the days following, parallel rallies were held around the country attracting hundreds more participants, and in Los Angeles as many as 50,000..
Participants were well aware that the massive rally making history outside the capitol was taking place at the very moment when history was being made inside the halls of Congress as the health care reform debate played out. Some who had come to Washington to express support for health care, like one woman from Maryland holding a poster, "Catholics for Health Care Reform," took time to stand for immigrant rights as well.
On the bus ride home, as midnight approached, cell phone calls and text messages from friends and family kept everyone up to date with the latest vote count in the House.
Participants were tired, elated and busy as they traveled back to New Haven. They called their members of Congress and made plans to visit them during the Easter recess break to urge that immigration reform be acted upon swiftly.
The next big rallies will take place across the country on May Day, Saturday May 1. In many cities like New York, the labor movement and immigrant rights organizations are joining forces, reflecting a new level of unity for this and other issues.
At the National Mall, Arlene Holt Baker concluded her speech by outlining the unity principles of the AFL-CIO including: "legalization for the undocumented; an independent commission to assess and manage future immigration based on real needs and real labor market shortages; a secure, effective – and fair – worker authorization mechanism; rational control of U.S. borders; improvement, not expansion of temporary worker programs, limited to temporary, not permanent jobs."
As with the struggle for health care, differing proposals are being drafted for the House and Senate to consider. The March 21 rally sets the tone for the level of grass roots organizing needed to achieve positive change.
Photo: Luis Cotto