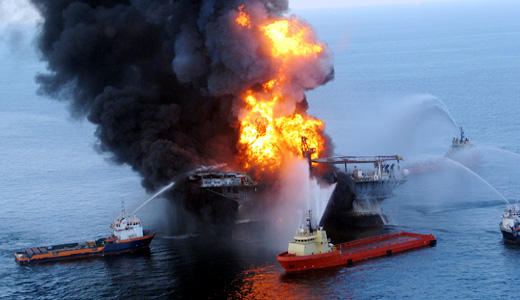 There's a big fight happening in Washington over oil company subsidies. Democrats want to end tax breaks for oil companies that have set records with $4 gas prices and the most expensive oil in world history.
Republicans, as you might guess, are fighting to protect oil companies from Democratic thuggery.
Democrats want to use the savings to pay down the national debt. Republicans want to give oil companies a free hand both in making profits, in using market speculation to drive up prices, and in demolishing the natural environment whether it's the Gulf of Mexico, in Alaska, or in your backyard.
Republicans are threatening a filibuster of the bill that would end tax breaks for Big Oil in order to protect their oil company backers.
Meanwhile, gas prices grow.
According to MapLight.org, a website that tracks campaign donations, the five biggest oil companies in the U.S. gave more than $5 million dollars, or at least 83 percent of their campaign contributions, to current Republican members of Congress since 2001. That's the amount given to current members in the past decade.
While Americans are fuming over dropping $50 every time they stop at the gas station, Republicans are protecting these companies whose combined earnings stood at $36 billion in the first three months of this year alone.
In a Senate hearing, the CEO of ConocoPhilips had the nerve to describe the proposed end to oil company tax breaks as "un-American."
In his worldview, huge profits for his company and out-of-control gas prices are a basic American value.
It would be funny if it didn't mean that the real earning power of American working families wasn't being decimated by such high energy prices.
Republican lawmakers say the solution to high prices is to increase the supply of oil and gas by allowing unfettered exploration and production of petroleum. Increase supply; reduce prices.
What they won't tell you, however, is that 2010 saw the highest levels of oil and gas production since 2003.
They also won't tell you that although the Obama administration has slowed the leasing of public land for oil and gas exploration and extraction in the past two years, right now there are some 37 million acres of land leased for the purposes of oil and gas production that are going unused.
In other words, oil companies have control over huge tracts of land that they are refusing to tap into. Why? Keep supply low and prices go up. Keep control over the land to prevent other producers from gaining access to it and you keep control over the supply.
Oil companies aren't interested in low gas prices.
The Republicans who took more than 83 percent of oil company campaign donations aren't interested in low gas prices.
Republicans who took oil company cash won't tell you that under-regulated speculation in the commodities and currency markets have also driven up oil and gas prices.
In other words, oil companies aren't the only ones raking in big bucks while you pay $4.20 for a gallon of gas. Wall Street brokers and other professional investors are as well.
They also won't tell that U.S. militaristic involvement in the Middle East and other places with large petroleum supplies is in large part responsible for high oil prices. You might recall how the neo-conservatives in preparing to launch their war on Iraq promised it would result in lower gas prices and – in addition to mythical "weapons of mass destruction" – that was a reason to go forward with the invasion.
So what can be done about this situation?
As one senior administration official recently said, "While there's no silver bullet to address rising gas prices in the short term, there are steps we can take to ensure the American people don't fall victim to sky-rocketing gas prices over the long term."
the Obama administration has decided to take three steps – short of further nationalization of supply (the government controls huge quantities of oil and gas as well as tens of millions of acres of land used for extraction) and partial nationalization of production of oil.
In his weekly address May 14, President Obama announced that he had ordered the Department of Justice to focus on prosecuting fraud in the oil markets.
He also urged an end to the tax subsidies for oil companies, and added that the new revenue be used to boost investments in clean energy alternatives to oil and gas.
Lastly he ordered the Department of Interior to pick up the pace on new leases to oil and gas companies for oil extraction, including at offshore sites.
While the first two points have wide popular support, except from Republicans in Congress who accepted 83 percent of oil company campaign donations over the past decade, the last step has earned the President sharp criticism.
The push for new oil drilling recalled for many the disastrous BP oil spill in the Gulf of Mexico last year.
In response to the address, Michael Brune, executive director of the Sierra Club, said that politicians, possibly including the President, may have "Big Oil Amnesia" about the BP disaster.
He added, "Drilling will do nothing to ease Americans' pain at the gas pump, and the President missed an opportunity in his address to shed light on the root of the problem – Big Oil's stranglehold on our economy."
Brune went on to endorse the call to end tax breaks to oil companies.
Photo: The push for new offshore drilling will increase the chances of another major disaster like the 2010 BP oil spill (by ideum/cc by 2.0/Flickr)