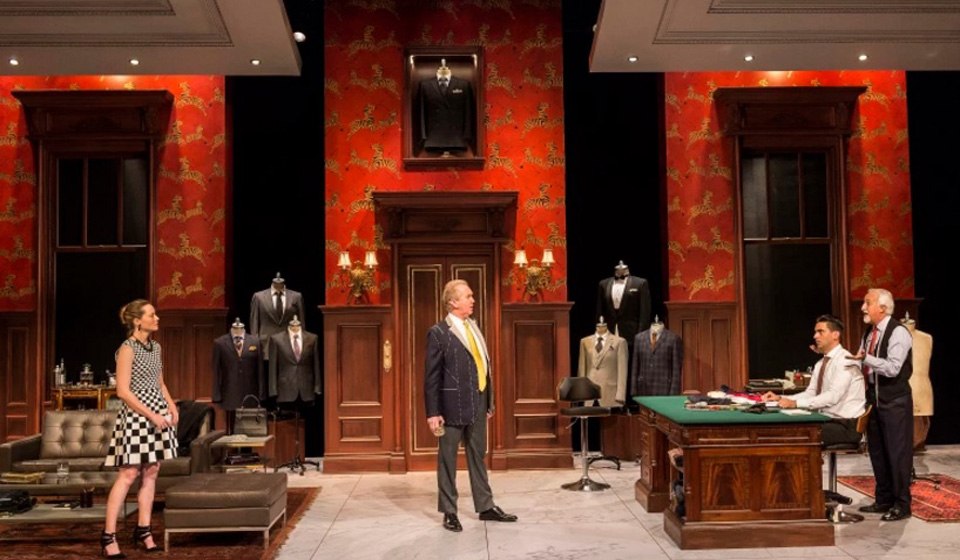 CULVER CITY, Calif. — Vicuña, the newest play by Pulitzer finalist Jon Robin Baitz in its world premiere production at the Kirk Douglas Theatre, focuses on the new suit that a world-renowned tailor is strong-armed into creating for a wealthy, abrasive presidential candidate that he will wear for the final debate. The business tycoon-turned-politician Kurt Seaman (Harry Groener) believes in the mystical authority of this suit — they don't call it a "power suit" for nothing — and that it will work like magic to close his deal with the American voter.
Is this satire, dark comedy, a modern-day interpretation of "The Emperor's New Clothes," a hatchet job on perhaps the most corrosive man ever to run for the presidency, or a dire warning about the consequences of our political system somehow allowing such a candidate to get this close to the White House?
Theatergoers will bring their own points of view to the play, but during the talk-back with the dramaturg and the actors following Wednesday's night's performance, we heard "terrified," "disgusted," "shocked," and a "nightmare" with "a horror movie feel" from an audience that had skipped out on Game 7 of the World Series to be here. Director Robert Egan had clearly communicated the author's point, with the supremely able assistance of his five cast members.
Vicuña is the rare, expensive woolen material, imported from England, from which this awesome suit will be fashioned. The vicuña is a little cousin to the llama, living high in the Andes and by now almost exterminated. Its wool is deemed the finest in the world — light yet warm, silken to caress, and how it breathes! Anselm Kassar (Brian George) made such a suit for Nelson Rockefeller and for Sir Roger Moore in one of his James Bond movies. Such a suit, says the Persian Jewish immigrant who narrowly escaped SAVAK, the Shah's secret service, is "a glimpse into the soul of a man." As the consummate professional, who also fitted Idi Amin with a bespoke Nehru jacket, Kassar has stayed far away from politics. For this suit Seaman forks over $110,000 — which includes two shirts and ties.
For those with a long political memory, and surely the playwright must be aware of this, Sherman Adams (1899-1986), a former governor of New Hampshire, was tapped to become White House Chief of Staff for President Dwight D. Eisenhower. He lost his position in a 1958 scandal when he accepted an expensive vicuña overcoat and an Oriental rug from Bernard Goldfine, a Boston textile manufacturer who was being investigated for Federal Trade Commission violations.
The stage décor by Kevin Depinet makes a significant statement in that it features a neo-Raj classical esthetic: repeating jumping zebras on a Tuscan red background, suggesting safari hunts in exotic lands and the mastery over beastly wildness. Donald Trump's sons (The Donald's name goes unmentioned in the play) have been photographed with their trophy kills of endangered wildlife in African game preserves. The tailor's consultation room oozes a sense of money, privilege, and exclusivity, with a faceless torso mannequin impeccably draped with such a vicuña suit prominently displayed in a recessed alcove above the elevator door — it's said to be Rockefeller's double-breasted jacket. This is truly where "suits" — important people pushing their skillfully tailored authority around — are born.
Kassar has an apprentice — yes, that word is spoken several times — Amir (Ramiz Monsef), who is Muslim and whose family is thick with Kassar, going back to their protest days in Iran. Amir is especially bright and well educated (Trinity, Harvard), but also a little hotheaded. He calls himself "a Marxist tailor." Sparks inevitably fly between him and Seaman, in large part over the overt threat Seaman's presidency would mean to his parents, immigrants who operate a few small hot dog carts.
Seaman's campaign manager is his daughter Srilanka (Samantha Sloyan) — rhymes with Ivanka. According to one traditional way of analyzing the arc of a play, the audience identifies with one character who undergoes the most transformation. In my view, this would be Srilanka, who despite her love for her father, eventually becomes too disturbed by his unpredictable, erratic ways to continue doing her job. Clearly she has been moved by Amir's passionate defense of the American democratic ideal.
After one of Amir's explosions, Seaman sets him straight: "The America you imagine never existed. There's only one American dream left now. Take what is left…before someone else does."
The fifth character is Kitty Finch-Gibbon (Linda Gehringer), a senator who serves as chair of her party. Shocked by the rhetoric of Seaman's campaign, wheelers and dealers of industry and politics have empowered her to approach him with a deal: That for a certain price (in the billions) he throw the election. Perhaps, one wonders, he had planned the buying and selling of the presidency all along. In any case, he has already been negotiating with Srilanka's fiancé Skylar Ironson about a future media empire.
The first three scenes of Vicuña correspond to the original agreement to make the suit, the second fitting a week later, and the third a week after that. This creation is coming along splendidly, promising to make an almost godlike figure of the candidate. In the final scene we see Seaman in the debate. Will he crash, take the money and run? Or will he decline the deal and continue pursuing those still undecided voters who could push him to victory? "I'm Kurt Seaman," he declares ominously, "and I am never, ever going away." Above all, in the terms set up by the play, how will the suit perform?
Obviously, this play is of very recent vintage. According to the actors in the talkback, rewrites were coming in virtually every day through rehearsal, as much to reflect the craziness of the peculiar electoral campaign we have all been slogging though for more than a year, as to capitalize on the particular gifts and experience of the individual actors. It's a magnificent display of virtuoso acting, a gripping story with touches of magical realism, and as for relevance, well, it's the hottest item in the frenetic 24-hour news cycle.
Can such a play last in the repertoire, or is this merely a one-shot project no one will care about a few days from now? The dialogue engagingly captures real people with their own backstories. Although some are larger-than-life bloviators one might not choose as personal friends, I believe these characters will not necessarily be tied to the history of the year 2016 as time passes. All the King's Men, for example, the Robert Penn Warren book, film and play loosely based on Louisiana Gov. Huey Long, has enjoyed, uh, long legs since the novel was first published 70 years ago.
There is little about the future in politics and in culture that we can safely foretell. In the meantime, for a theatrical jolt of political excitement, try fitting Vicuña on for size.
This production is dedicated to the memory of Gordon Davidson, who worked tirelessly for decades to make the Center Theatre Group a vital force in regional and national theatre.
Vicuña plays at Center Theatre Group's Kirk Douglas Theatre, 9820 Washington Blvd., Culver City, CA 90232, through November 20, Tues. through Fri. at 8 pm, Sat. at 2 and 8 pm, and Sun. at 1 and 6:30 pm. There is no performance on Tues., Nov. 8. For tickets and information, please visit CenterTheatreGroup.org/ or call (213) 628-2772. Ample free parking is available at the Culver City City Hall, a short block away at 9770 Culver Blvd.