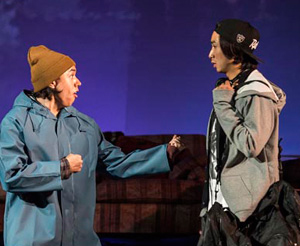 LOS ANGELES – An angry teenager from a troubled home in Juneau is sent to live and work with his Tlingit grandparents in a remote fishing village in Southeast Alaska. He has no clue that the playwright has set him up for a moving coming of age story that forces him to come to terms with his ancestry.
This is the conceit of They Don't Talk Back, a new play by Frank Henry Kaash Katasse that recently received its world premiere production by Native Voices, promoted as "America's leading Native American theatre company," at the Autry, a museum dedicated to exploring the American West, in Los Angeles' Griffith Park.
The theme of Native cultural retention comes up more and more in contemporary art forms. Recently I reviewed the play "Dream Catcher" at L.A.'s Fountain Theatre, and two years ago PW informed readers about an earlier production by Native Voices, "Stand-Off at HWY #37." Native Voices adds to the many other cultural voices now clamoring for greater diversity in our cultural representation.
Like virtually every other Indigenous culture in the world, with its greater or lesser accommodation to modernity, Tlingit customs and language are retained and revered on the one hand, and discarded and forgotten on the other. The essential conflict in They Don't Talk Back is that confrontation between worlds that affects every character, but in different ways and degrees. The great gift of our exposure to "diversity" is that we are able to see the universal in the specific. After the first production of Fiddler on the Roof in Japanese, local audiences found the topic of generational clash and the abandonment of "tradition" so compelling that they wondered if the musical would be understandable in America!
The playwright frankly admits to not having grown up "immersed in Tlingit culture," yet is proud to further Tlingit storytelling in this first play. He is familiar with the whole range of Tlingit people, from those who preserve to others who leave their culture behind in the big city.
The play is cast as a memory, opening with grandfather Paul's Tlingit poem of mourning and remembrance for his wife Linda, a poem that recurs at the conclusion after all is said, heard, sung, danced and done. In the course of two acts, characters define themselves through the stories they tell. Indeed, the most moving elements in the play are these set pieces.
Paul (Duane Minard, a Yurok and Paiute) – or Paul Sr. as he is identified in the program although there is no Paul Jr. – is an experienced fisherman, with a boat he is paying off, a crew, and apparently a steady, lucrative haul. He always seems to have his checkbook handy, though he does not consume conspicuously. (No mention is made of the Alaskan law which grants a substantial annual grant to every citizen of the state, from revenues derived from oil extraction.) Paul is the character with the longest, most accessible memory of his Tlingit heritage. A highlight of the evening is the re-enactment by memory ghosts of his childhood clam-hunting expeditions with his grandfather.
Grandmother Linda (Jennifer Bobiwash, an Ojibway) is a traditional household manager and constant knitter who is quietly but ever more visibly dealing with a serious medical condition. She and Paul are devout Christians of the evangelical "Washed in the Blood of the Lamb" type. They regularly have to remind the youngsters in the household not to take the Lord's name in vain. I don't question their faith as such, but I would say that in the context of a play about the Tlingit people, the playwright might have dealt in greater depth with the effect Western religion and theology exerted on the traditional Indigenous worldview – contradictions, compatibility, loyalties and struggles. The main story Linda tells has to do with faith healing (involving potatoes) as opposed to trusting doctors, a subject that also leaves open many questions about Tlingit vs. Western wisdom that go unexplored.
The roles of a Christian minister and Tim, one of Paul and Linda's children, are played (in different scenes of course) by Brian Pagaq Wescott, Athabascan and Yup'ik. Tim served in the Iraq War (the play is set in 1994) and has come back with severe PTSD. He is barely functional, and incapable of maintaining whatever former roles he had as a husband and father. We see him on one of his rare visits home, mostly to receive some cash infusions Paul and Linda are willing to give him. A lost soul, with powerful dream-memories of his wartime experience – but here again the playwright leaves it to our imagination how this innocent son of the Tlingit people suddenly found himself in a bone-dry desert fighting for the U.S. so far from his well-watered homeland. What's the back story here? His wife in Juneau – unseen in the play but spoken of – has gotten into drugs and is presently in jail.
Now Nick, Tim's son (Román Zaragoza, a Pima), who winds up with his grandparents, apparently against his will, his dad a walking war wreck, his mom an incarcerated druggie. He has found his identity with hip-hop culture and is current with all the music, jargon, body language, dress and attitude of his friends. In tough-love mode, Paul calls Nick "Apple" – red on the outside, white on the inside. It's quite a culture shock when he re-encounters his aged grandparents and is obliged to earn his keep by learning the fishing and boating life. He has some energetic hip-hop monologues that show off his youthful vigor and spunk. He has undefined ambitions, but this interregnum in the village will help clarify them.
Nick has a cousin also presently living with the grandparents, Edward (Kholan Studi, Cherokee). Why he happens to be staying with the old folks is also never explained, another of the strange lacunae in the play that might easily have been dispatched with a few lines of dialogue. He is now helping Paul in the fishing business, and wherever he came from, and whoever his mother and father were (possibly a Paul Jr.?), he seems to be content rebuilding his life in the coastal Tlingit environment. He does have ready access to old videos, and their often viewed episodes have by now just about equaled in their power the ancient Tlingit tales of nature that he also recites with memorable élan.
Although the play is essentially structured around a succession of monologues, its scenes flow into each other relatively seamlessly, each in its own way showing the relationship between individual characters and the society around them. Everyone is on their path toward finding their own identity and authenticity.
Randy Reinholz, an enrolled member of the Choctaw Nation of Oklahoma and a co-founder of Native Voices, directed the play, extracting performances of remarkable range and depth from his five cast members. Important contributions were added by Tom Ontiveros (projection design), Ed Littlefield (Tlingit language advisor, composer and choreographer), and Sara Ryung Clement (scenic and props design), among several others.
They Don't Talk Back is revelatory, with numerous perfectly executed scenes by highly talented actors. The fishing net that ties it all together has some big holes in it, though. We are prepared to suspend our disbelief when we enter the theater. Some open-endedness is fine, but ultimately we are distracted from the playwright's intentions when more than a few questions he puts before us don't get answered.
While the run of performances at the Autry has ended, the play will go on to the La Jolla Playhouse in San Diego, from May 27 to June 19; and then to the Perseverance Theatre in Juneau, Alaska, for four weekends ion January 2017, and for two weeks in Anchorage in late February 2017.
Photo: (Left to right) Kholan Studi (Cherokee) as Edward, Román Zaragoza (Pima) as Nick. | Credit: Craig Schwartz