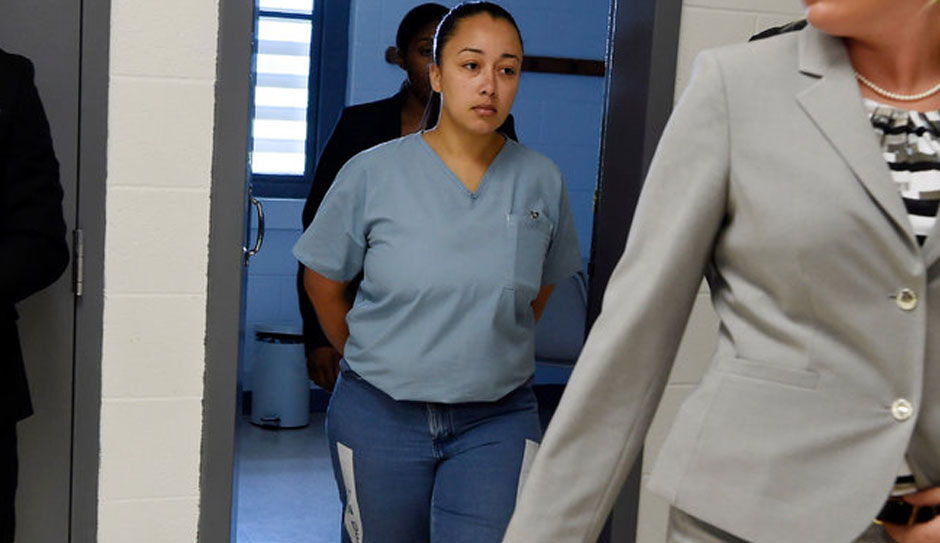 NASHVILLE, Tenn. – The first week of January witnessed a series of activities for the freedom of Cyntoia Brown, a young woman of color, who has been imprisoned for the last 14 years. She has been serving a life sentence since she was 16 years old, when she was convicted of killing Johnny Allen, a 43-year old white man to whom she had been sold as a sex slave. When he became violent, she shot him in self-defense.
Recently, the Tennessee Supreme Court ruled that she must serve   an additional 51 years in prison before she is eligible for parole. The current governor, Republican Bill Haslam, can grant Brown clemency  and release her from prison immediately. The governor leaves office on January 19.
On Thursday, January 3, a morning press conference led by Democratic State Sen. Brenda Gilmore, was held at the Cordell Hull Building in downtown Nashville. Supporters of Brown speaking at the press conference emphasized that she was  a child sold as a sex slave and tried as an adult, that the governor has the authority and opportunity to free her and that she should be free to live the life that was robbed from her. It was also brought out that 51 more years in prison is a lifetime.
"Cyntoia cannot speak for herself, so we are speaking for her, advocating for justice for Cyntoia," said Sen. Gilmore, who is African American.
On Thursday evening of the same day, the Nashville Metropolitan City Council voted overwhelmingly to pass a resolution requesting Gov. Haslam to grant clemency to Brown before he leaves office. Dozens of Brown's supporters were present when the Council took a vote. The resolution passed 32-0, with only two abstaining. The resolution was sponsored by Councilmember Jacobia Dowell. When in the course of the Council meeting Dowell asked  those in support of Brown  to stand, just about the entire assembly rose to its feet.
A rally and march for Brown was held on January 5, with dozens in attendance. The rally began at Bicentennial Mall with Sen. Gilmore, community supporters  and a number of out-of- town advocates speaking. Some marchers came from as far away as Michigan and Florida.  The march wound its way to the state capitol.
The rally and march was organized  by Survivors of Human Trafficking.  Representatives from a number of social justice advocacy organizations were present including the NAACP, Black Lives Matter and the National Survivors Network. There were a number of women present who had liberated themselves from human trafficking.
One speaker emphasized that  they were "survivors" and not "victims." It was brought out that Brown had been raped as a child and forced into human sex trafficking. While in prison she has earned an associate degree from a prominent local educational institution, David Lipscomb College.
One of Brown's  childhood friends, Sametria Hayes, sang a song named "#FreeCyntoia, that she had written.
Leslie King, of Grand Rapids, Michigan a spokesperson for Survivors of Human Trafficking, movingly said, " It's time to set  Cyntoia free." King read off the names of those similarly incarcerated – teens tried as adults. All of these teens, King remarked, are "children of color, sex/rape survivors who have been tossed aside."
The march to the capitol was accompanied by a number of different chants such as : " What do we want ? Clemency. When do we want it. Now." and " When Black Lives are under attack, What do we do? Stand up and fight back." Other chants included: "This what democracy looks like" and "Free Cyntoia, Free her now."
"We are here as survivors and we felt it was important to show Governor Haslam  that when survivors are given a second chance we can change the world" said Samantha Floyd of Nashville and an organizer of Survivors of Human Trafficking.
The last event of the day following   right on the heels of the capitol march was a rally by Black Lives Matter (BLM) that began at the capitol in support of Cyntoia. This demonstration engaged in a series  of rolling blockades of various intersections in downtown Nashville.
"We are here in support of Cyntoia and also to send a message to Governor Haslam we are here to dismantle the prison system that disenfranchises us' said BLM spokesperson Taz Gaines.
The community, indeed, the  nation awaits the decision from the governor on what could well be a precedent setting case for the entire country.