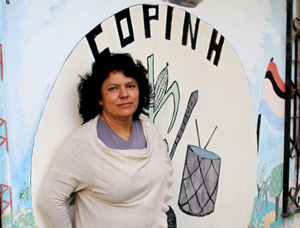 NEW YORK CITY, May 10 — Dozens of New Yorkers gathered in protest outside of the Honduran Consulate on the west side of Midtown Manhattan to demand justice for Berta Cáceres. The advocates call for an independent investigation, as well as an end to U.S. military aid and military training in Honduras. The petition, in Spanish and English, is available to sign and share here.
Read a full explanation of Cáceres' work, the events surrounding her slaying, and the struggle for justice by People's World correspondent Emile Schepers here.
The rally was organized by the Grassroots Global Justice Alliance (GGJ) to coincide with the celebration of Mothers' Day in Berta's native Honduras. The GGA includes Communities, Community, Grassroots International, Indigenous Environmental Network, Iraq Veterans Against the War, Jews for Racial and Economic Justice [JFREJ], WE ACT for Environmental Justice, among others.
Video by Estevan Bassett-Nembhard | PW
Photo: Berta Cáceres. GGA.