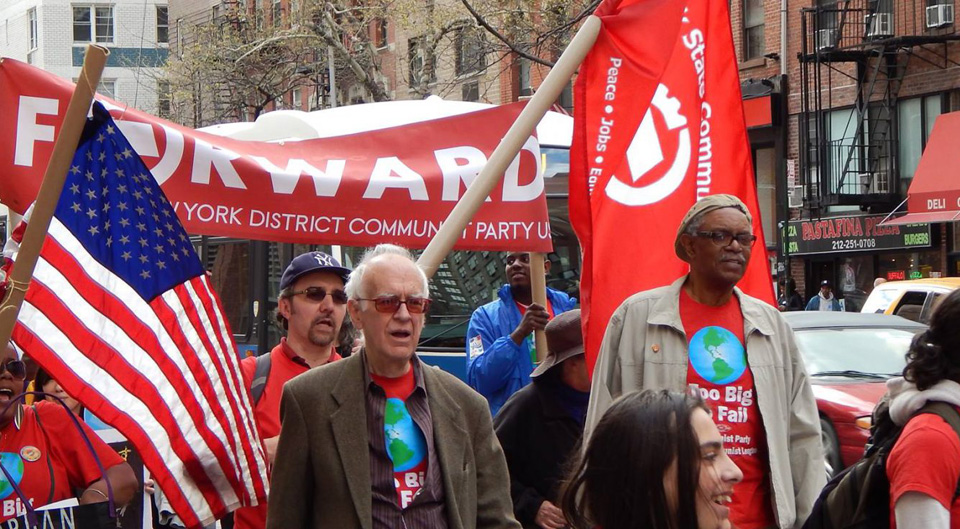 NEW YORK – Over twenty leaders of the New York District of the Communist Party USA gathered from across the state at Henry Winston Unity Hall on Friday, November 11th to discuss the devastating setback of the 2016 U.S. presidential election. Joelle Fishman, chair of the party's Political Action Commission, provided analysis of the outcome along with Emile Schepers, the international relations secretary of the CPUSA, and Jarvis Tyner, chair of the New York District.
Fishman began the meeting with a simple message: "Don't mourn; organize." She echoed the call being made by organizations across the country for stronger unity and solidarity to protect democracy.
Given Hillary Clinton's popular vote victory, millions are upset that Donald Trump was put in power by the Electoral College, a remnant of the old slavocracy which today disempowers labor power strongholds in urban centers. Fishman noted this was the first election to take place without the protection of the Voting Rights Act. Tyner noted that voter suppression, including the closing of many polling sites, the elimination of early voting, intimidation from the Trump campaign, "Crosschecking," voter ID laws, and other tactics had an effect in key states.
"When Obama won," he said, "they had the 'Souls to the Polls.' At the end of church on Sunday morning, boom, they'd go. A lot of places eliminated that by just eliminating that last Sunday of voting."
Fueled by the anger over racist disenfranchisement and Trump's racist, anti-immigrant, anti-women, Islamophobic, and anti-worker campaign, people all over the country are protesting his election. Hundreds of thousands of New Yorkers, including large numbers of youth and students, have taken to the streets to denounce hatred and declare #NotMyPresident, and #WeAreThePopularVote! Fishman praised the actions and called for them to continue while stressing the importance of a rigorous study of the factors contributing to the election results.
She noted the media's role in providing Trump millions worth of free advertising, and how the FBI also came to his rescue. Decades of right-wing attacks and conspiracy theories launched against Clinton took their toll. High profile evangelicals with strong ties to political and economic elites also encouraged many to turn out for Trump.
While Trump won the Electoral College, Joelle noted that the majority of the population supported the basic progressive agenda of the Democratic Party platform, influenced by the Sanders campaign and the progressive people's movements that vaulted it into a competitive position. Despite Trump's message, many progressives, women of color, and immigrants were elected to office, such as Ilhan Omar in California. Internal organizing over many years by the culinary workers' union won a seat for Ruben Kihuen in Nevada. Wage hikes and protections won in every state where they were on the ballot, the far-right sheriff Joe Arpaio was defeated in Arizona, and right-to-work was defeated in Virginia.
Fishman made clear the systematic destruction of public sector unions over a thirty-year period contributed to the result. Tyner pointed out that had Clinton championed the wants and needs of working people, her campaign might have overcome her strongly anti-democratic, misogynist, and racist opposition.
He also emphasized that many Trump supporters were from upper class backgrounds or were from a middle class position, many even with advanced degrees. To a lesser but still significant extent, however, many of those living on the edge became blind to the racism and anti-woman hatred, hearing only about jobs and economy. Many of those isolated away from diverse communities, especially in rural areas, voted for Trump as a misdirected expression of rage at the 1 percent as unionized jobs have been moved overseas, real wages have frozen, and cost of living has increased.
Schepers noted how the far-right has effectively distracted the public from 1 percent rule with nationalism as the alternative to globalization. "There is a right-wing movement in the world. In Europe you have people with a similar attitude. They mix up the issue of trade treaties with the issue of immigrants."
He said the feeling some held in the U.S. and elsewhere that a Trump presidency might be more peaceful than a Clinton administration was misguided. Trump's belligerent comments about Cuba and Venezuela; talk of Japan, South Korea, and Saudi Arabia developing nuclear weapons; opposition to the Iran deal; refusal to accept refugees; relationship to Netanyahu; plan to seize immigrant workers' money to pay for his Mexican border wall; and insistence that other countries strengthen NATO all convey a chauvinistic, aggressively nationalist, and anti-communist attitude. All of Trump's planned cabinet appointments similarly demonstrate dangerously backward positions on U.S. relationships with other countries.
Fishman noted that any movement that is anti-racist, pro-women, and pro-worker is more critical now than ever in building the coalition to defeat Trumpism. This includes the #Fightfor15, the Dreamers, #BlackLivesMatter, #NoDAPL, #OurRevolution, housing struggles, and movements for peace, the environment, and many others.
Tyner and members of the audience discussed the possibility of organizing a march for green jobs, peace, and freedom on Washington on August 28th, 54 years after Dr. King's famous "I have a Dream" speech. Already marches on Washington are being organized such as the Million Women March on January 21st. These need to be supported, Tyner said, along with the demand that Trump keep his hands off Social Security, Medicare, Medicaid, Obamacare, immigrants' rights, and unions. Right-to-work has to be resisted. Civilian control of police needs to be championed.
Any addition Trump makes to his governing team that is anti-worker, racist, anti-immigrant, Islamophobic, and anti-peace must be strongly resisted. The likes of Stephen Bannon, Jeff Sessions, or Michael Flynn must not get anywhere near the White House.
Fishman remarked, "We need the biggest Communist Party, progressive organizations, and unions ever."
"We may be on the defensive now," Tyner concluded, "but the Chinese word for crisis is 'opportunity.' I believe what Dr. King said about the arc of humanity: it tends to lean towards social justice, even with all the difficulties we're going through. We're not going back. We're going to fight. The power is there in the hands of the people and I think they're going to exercise it as they face the realities."
Video of the event can be found here.