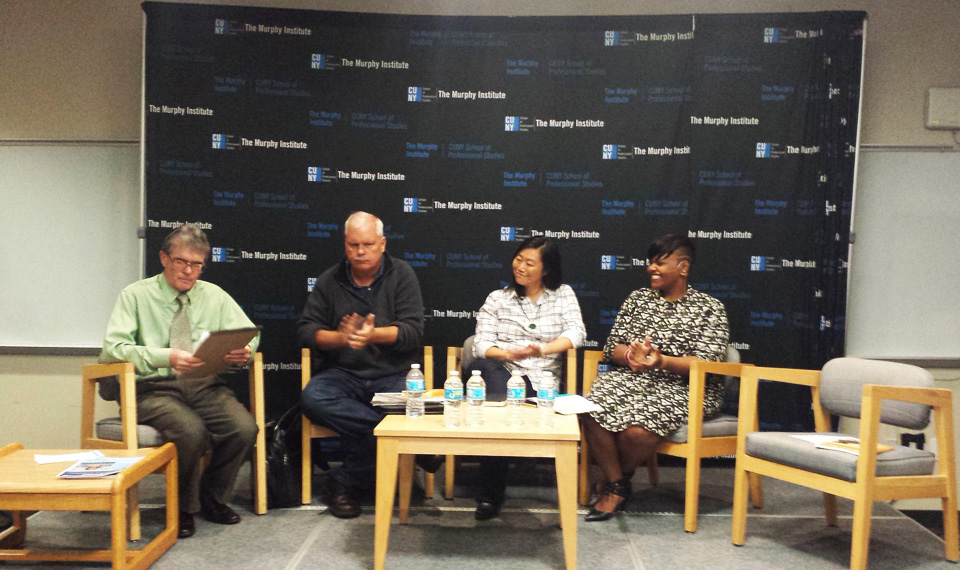 A forum was held on Friday, October 21st, at the Murphy Institute for Worker Education and Labor Studies in New York City entitled Confronting the Tragedy: Law Enforcement Unionism & Communities. The purpose of the event was to begin a conversation about the social divisions between workers living in their communities and the workers among them who are employed to enforce the law.
The talk was moderated by Ed Ott, Distinguished Lecturer in Labor Studies at the Murphy Institute and former director of the New York City Central Labor Council.
The panel included Carmen Berkley, an activist, writer, and trainer who currently serves as director with the Civil, Human, and Women's Rights Department of the AFL-CIO in Washington; Joo-Hyun Kang, Executive Director of Communities United for Police Reform (CPR) in NYC; and Eugene O'Donnell, former NYPD officer, prosecutor with the District Attorney's office in Brooklyn and Queens, a former police academy instructor, and professor at CUNY's John Jay College of Criminal Justice.
The panel discussed relationships between labor and community concerns and how the AFL-CIO is bringing together the concerns of many different kinds of workers, including police, to address issues of race and racism.
Berkley insisted on the importance of including workers hired by law enforcement to be a part of the broader labor movement.
After Mike Brown was killed in St. Louis, AFL-CIO President Richard Trumka noted that both Officer Darren Wilson, Brown's killer, and Brown's mother Lesley McSpadden were union members, saying that "our brother killed our sister's son." When Alton Sterling and Philando Castile were killed, Trumka released a letter to make the point that racism is a labor issue and that police violence is a union issue, since unions are the community. "People feel it on both sides," said Berkley. "They are grateful that unions represent law enforcement workers and we represent someone like Lesley McSpadden, who is a United Food and Commercial Worker.
"We decided to talk about how race hurts all people. Right to work, for example, was originally a racist piece of legislation to pit white workers against Black workers. When the murder of Mike Brown happened, we had to talk about how implicit and explicit bias shows up in the labor movement – not just from a law enforcement perspective, but in general."
"The fear that police officers have when they put on the uniform is the same fear that I have as a Black person. In all of our professions, we have to be more comfortable saying we might have a race problem."
Berkley emphasized how the struggle to find common interests between law enforcement workers and workers in other fields is uncovering how racialized police violence is rooted in the larger political and economic system.
This was made poignantly clear when Eugene O'Donnell responded to the question of whether or not police are being asked to do too much.
Speaking to the recent case of Deborah Danner, an elderly woman living with mental illness who was killed by police in her Bronx apartment, O'Donnell said, "That woman needed a doctor; the doctor wasn't there. She needed a social worker; the social worker wasn't there. She needed EMS; the EMS wasn't there. The cops were the only people to be there. Who's worse to send to the case of an emotionally disturbed person than law enforcement?"
It should come as no surprise when the use of police where social services are needed brings disastrous consequences.
Kang noted that working conditions for police could be improved by properly investing in the neighborhoods they serve. Kang and Berkley explained that safety is not only produced by police, but also by proper social investments, good jobs with living wages, benefits, by good education, and nutrition. "If you look at the federal budget," said Kang, "there's more than $200 billion going into enforcement, including corrections, police, courts, and immigration enforcement. That's the equivalent of about a million living wage jobs. We have many schools without guidance counselors, music or arts programs, but they have police."
Data collection on crime is skewed since it only reflects enforcement, not violation, of the law. "As we say at the AFL-CIO on our criminal justice team, 'there's just as much crack cocaine on Wall Street as there is on the street where I work,'" Berkley said. "Rich white people break the law, too, but because they have great attorneys and connections they've been able to maneuver through the system." "In white communities, drug use is treated as a public health issue. Why can't we treat it as a health issue across the board?" added Kang.
Other disparities include responses to cases of armed civilians. "It is true that more white folks are killed by cops than Black folks," said Kang, "but the nuance there is the number of Black folks killed who are unarmed versus white folks who are armed."
"As a country we make a determination of whose life is worth putting the funding into," Berkley remarked. "Mass incarceration is directly connected to the fact that we don't have jobs. If white folks are at 4 percent unemployment, Black folks are at 8 percent."
Attendees at the talk asked O'Donnell why the police unions did not do more to fight racism internally and to remove violent or racist cops from the force, since police might receive more support from the community if their unions took on this role.
Kang noted that unions such as 1199 and 32BJ have been hugely supportive in securing the necessary votes in the City Council to pass the Community Safety Act (CSA), two bills CPR had fought for to create a basic oversight framework for the NYPD.
According to O'Donnell, being a cop is a job nobody wants, and retaining police is a challenge.
"To the outsider, police are all-powerful. It's different when you get in there. It turns out to be one of the most bullying, demeaning, intimidating, disempowering workplaces you could think of. The thing the cops hate is not the public; they hate their institutions."
Kang pointed out that the comportment of the police department constitutes part of the training and part of the problem. "In any profession, people go through formal training, but the real training is how they're supervised in the field. The other part of training is when people see that officers who brutalize people continue to get promoted. When we talk to officers about how they are treated by their supervisors, they talk about the institutional culture within the police department as being really challenging to change."
Asked what police unions are doing to protect whistleblowers, O'Donnell replied that the department does not tolerate dissent. "It's a quasi-military organization. If you fight the police department, you're going to lose. They'll take you out. They'll take you later, but they'll take you." Retaliation against whistleblowers is a problem that Ott noted as being rampant in all public sector work, though perhaps even more so for police.
Kang noted the NYPD 12, who are suing the department over a quota system that is resulting in minor infractions such as possession of weed, public drinking, or riding a bike on the sidewalk being heavily enforced in Black and Brown communities, but ignored in white communities. "Quotas are a labor issue. Many officers have been retaliated against for speaking out and they fear for their safety at different times. Police union leaders have spoken about it, but what we hear from rank and file is that no one is actually pushing to reform it."
O'Donnell repeated that "the police are the rule of law." Reminding the audience that politicians write the laws, he said, "I think it's morally cowardly to give cops that responsibility and then disown your responsibility."
He fears that partisanship blocking an avenue to solutions is feeding into an extremist Trump phenomenon. "It is on fire in the law enforcement community at this point."
"It's true that police are instructed to enforce the rule of law," said Berkley. "Perhaps the question we should be asking is, 'Are there some laws that need to change?'"
Kang agreed that the Fraternal Order of Police endorsing Trump is a sign of extremism. "Donald Trump has unearthed everything that is wrong with the U.S. We have someone on television talking down to Muslims, Mexicans, women, and Black people and we're kind of okay with it," Berkley added. "But, I don't think that calling for police accountability is a sign of extremism," Kang responded. "That's a position to try to save lives."
O'Donnell also blamed the media for playing a provocative role and leaving out context.  "Extremism is fueled when you leave facts out," he said.
In concluding the conversation, Berkley stated, "I am really happy we can have this dialogue. because I'm going to be able to say, 'This is how police officers show up and think about these issues, so the next time we have a conversation, we can do it differently.'"
"CWA has law enforcement, and corrections officers inside their unions. In San Diego, they work with border patrol, faith communities, community organizations, and labor. In this instance, there are a ton of people of color who work for border control and Immigration and Customs Enforcement. The fact that they have a coordinated coalition is a miracle. It can happen, but there has to be an acknowledgement that there are things that are wrong with the system, and a willingness on all of our parts to change."
The Murphy Institute will be hosting a similar conference on April 28th & 29th. Participating organizations and individuals are being encouraged to host their own discussions leading up to this event.