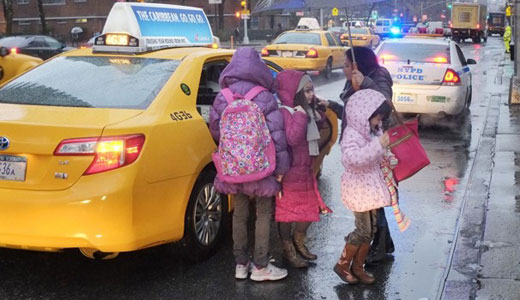 NEW YORK – New York City Mayor Michael Bloomberg's threat to kids' safety while riding school buses – by putting the school bus driving company contract up for the cheapest bidder – forced some 8,000 drivers, mechanics and school bus matrons to strike on Jan. 16.
The workers and their union, Amalgamated Transit Union Local 1181, said if Bloomberg's administration awards new pacts to inexperienced firms, they'll hire drivers as cheaply as possible, sacrificing safety aboard the buses for up to 152,000 kids.
Central to the controversy are bus routes serving 54,000 disabled students, says Local 1181 President Michael Cordiello. The present bus contracts have an Employee Protection Provision, insuring experienced drivers and matrons – who make sure students are on the right busses and get on and off at the right stops – are working.
The 152,000 students involved ride school buses in the five boroughs. The rest of the million children who attend city schools take public transportation or walk.
Bloomberg says a court ruling axed employee protection. Cordiello and ATU President Larry Hanley dispute that. Hanley calls Bloomberg's move the New York City version of Wisconsin GOP Gov. Scott Walker's public sector union-busting. Employee protection also "made it possible for workers to have careers in this industry," he said.
Backed by the New York State AFL-CIO, Local 1181 released a video ad just before Bloomberg forced the strike.
"Who do you want driving your child's school bus – a highly skilled, trained, and experienced driver who knows our children and community, or someone learning on the job? At the end of the day, that is the only question that truly matters to parents regarding the busing of their children to school, and it is why it is so important that we support our New York City school bus drivers and matrons," the ad says. It then urges listeners to call Bloomberg's toll-free number, join the picket line, and sign the state fed's pro-worker petition.
Dozens of people, including several drivers, signed the petition even before the state fed posted it. "The children that I drive to school every day are my children while on my bus…I take pride in getting my children to school safely everyday….We are compassionate professionals," driver Maria Gentile wrote.
Teamsters Local 854 represents another 1,000 bus drivers, mechanics and matrons the state Education Department employs in the city. Local 854 President Denny Gatto said they can't strike, but support Local 1181 and will honor its picket lines.
Photo: Students, with no bus available, take taxis. Mark Lennihan/AP