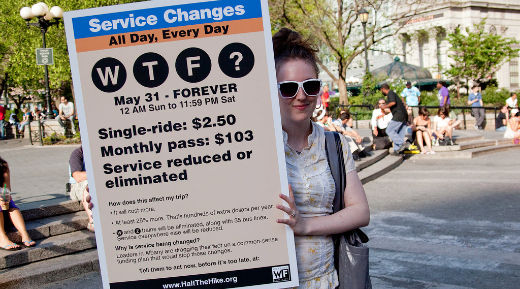 NEW YORK — With the election just a few days away, New York voters are expected to reject tea party candidate Carl Paladino, the Buffalo businessman on the Republican ticket, by an overwhelming majority. Paladino's hate speech and fear mongering, as well as his threats of violence against legislators, are not resonating with New York State voters.
Democrat Andrew Cuomo, widely seen by the electorate as a much better choice, is running significantly ahead.
At the same time, Cuomo has taken pains to show his "independence from labor." He recently told the New York Times: "We've seen the same play run for 10 years. The governor announces the budget, unions come together, put $10 million in a bank account, run television ads against the governor. The governor's popularity drops; the governor's knees weaken; the governor falls to one knee, collapses, makes a deal."
In this state, the Working Families Party is considered by labor and other progressives to be a real alternative. Given that New York allows "fusion voting," candidates can run on several lines. Cuomo is running on those of the Democratic and Working Families Party.
"There is a way to let Cuomo know you want him to be serious," WFP Executive Director Dan Cantor said. "And that is to cast your vote for him and to cast it on the Working Families Party line."
Cantor, like others, argued that there is some meaningful difference between Paladino and Cuomo. The Republican candidate, Cantor said, "has a plan for transit: 20 percent cuts. He wants to cut the 2 line, the 3 line, the 4 line, 5 line. I'm not sure what lines he wants to leave."
"Andrew Cuomo," he said, "has a better position, but far from perfect."
Asked by peoplesworld.org, why people should vote for Cuomo on WFP's line and not for a third candidate, Cantor argued that it is important for progressives to have some influence over Cuomo, and, further, to make political change, strong organization is necessary.
"The WFP is well organized and we depend on voters to support us on Election Day," he said, "so that we're able to take those votes and convert them into policy gains for working-class people."
Cantor's logic has been proven in practice. New York City Mayor Michael Bloomberg received a large number of votes on the far-right Independence Party's line when he ran for re-election as mayor. Consequently, the mayor, who is overall a moderate right winger, was forced to sync some of his policies with those of Independence. While that party, whose strength comes from its huge financial coffers, is far different from the WFP, which bases its strength on organizing, supporters hope that the WFP will be able to exert the same kind of influence on Cuomo.
Despite his rhetoric on labor, Democrats point out the differences between Cuomo and Paladino. Cuomo said in The Times interview that he would retool the state's education spending formula. Right now, a disproportionate amount of spending goes towards "politically powerful" suburban schools. The Democratic candidate said that he would redirect aid to those needing it most — the state's struggling rural and urban school districts.
On other issues, Cuomo takes much better positions than Paladino. For example, he supports gay marriage.
Public workers have been under attack for years, but within the past few months, the tabloid press has redoubled its efforts to demonize them. Many have suggested that Cuomo is simply "talking tough" so that the average voter will not associate him with such a widely disparaged group.
However, the hundreds of thousands of union workers themselves consider this dangerous talk. Some have become worried this heightened rhetoric could lead to infighting between labor voters and sections in and out of the Democratic Party.
And unity is a big issue, says the Rev. Al Sharpton. "One of the things that we are always doing is getting so caught up in our infighting that our enemies win.
"I'll tell you something," Sharpton continued, "Wall Street and the business interests; they compete like thieves – usually because many of them are – but they all come together to protect common interests"
Photo: Woman holds a Working Families Party sign. The WFP has been part of the fight against transit fare hikes. Jason Kuffer // CC BY-NC-ND 2.0