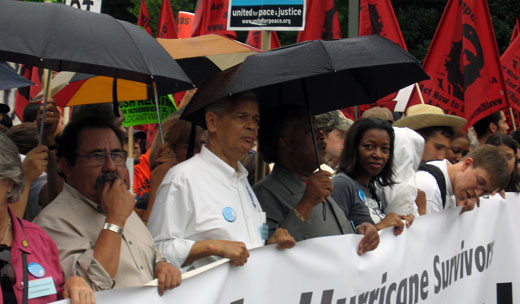 The New York Police Department has been accused of spying on and attempting to slander the prominent civil rights activist, Rev. Al Sharpton and the National Action Network.
The spying charge dates back to protests triggered by the "not guilty" verdicts for three cops tried for the murder of Sean Bell.
The revelations about spying and promoting of slander come from reporter Len Levitt's nypdconfidential.com.
BET reports that, "According to reporter Len Levitt, the police-hired informant provided the New York Police Department with "a detailed description of the NAN's protest plans, including the names of prominent African-Americans set to participate, the locations where protestors would gather and the number of demonstrators who would offer themselves up for arrest."
In addition, NYPD officers used homophobia against Sharpton, alleging that he was gay. Levitt said, "Two undercover police officers who spied on black protest groups in the 1980s told this reporter in 1998 that the department was so intent on discrediting Sharpton that they were tasked by their superiors to spread rumors that he was homosexual."
Ed Koch, who was mayor at the time, said he was unaware of the spying. "I have no knowledge of it. I don't know whether they did conduct it or didn't conduct it. I didn't ask and I was never asked to ask by Sharpton or anybody else."
Civil rights leaders are outraged by the news. Urban League head Marc Morial said, ""The NYPD's spying actions are an intolerable abuse by law enforcement, and remind us of the bad days when J. Edgar Hoover recklessly spied on Dr. King and other civil rights leaders in the 1960s."
Ben Jealous of the NAACP said, "Given the serious nature of the allegations and the history out of which they arise, there is no acceptable response but for the city and the police department to show us all their cards. Our community must be certain that the people we count on to enforce the law are not breaking it."
Rev. Jesse Jackson agreed: "African American leaders have historically been the subject of unlawful spying by law enforcement officials seeking to discredit our leaders and our movement. The revelation about the New York Police Department spying on Rev. Al Sharpton and the National Action Network in 2008 are wrong — Police Commissioner Kelly, as he promised over a year ago, must issue a full fact finding report on the matter, fully disclose the spying activities of the police department and make restitution to Rev. Sharpton and NAN for this invasion of privacy."
Sharpton a prominent supporter of President Obama, now hosts "Politics Nation," a cable TV show on MSNBC.
Photo: Creative Commons 2.0