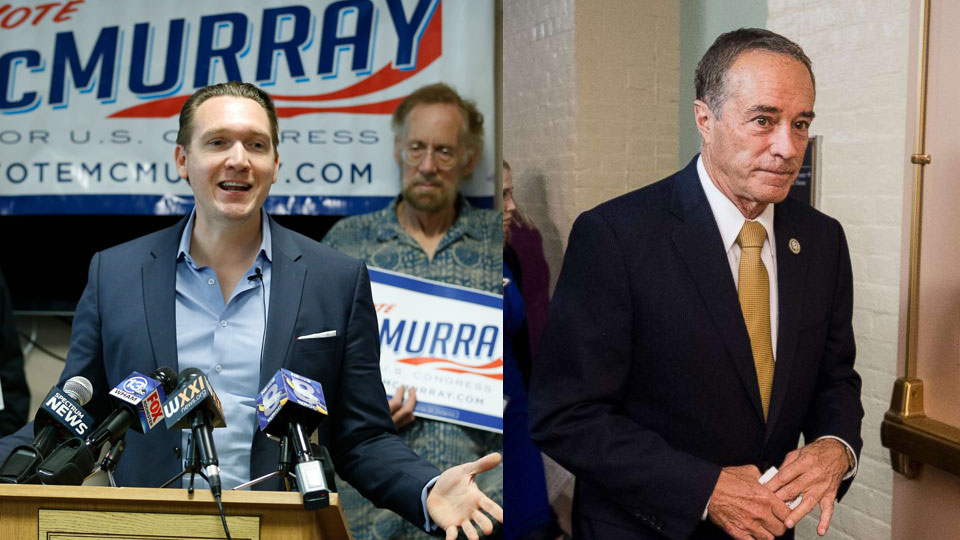 BUFFALO – Now that what was once "the most safe" Republican congressional seat in New York "is up for grabs," Western New York labor "plans to be very engaged" in the 27th District race for the seat held by the now-indicted incumbent Chris Collins, the area's top union leader says.
Meanwhile, area Republicans are madly scrambling to find some way – anyway – to get Collins off the ballot before this fall's balloting.
Collins is the original Trump-ite in the U.S. House, as the first U.S. representative to back Donald Trump's race for the White House, and he touts his close ties to the Manhattan mogul who now inhabits the Oval Office.
But the U.S. attorney for the Southern District of New York indicted Collins and his son on insider trading charges on August 8, involving stock in an Australian drug company he owned, Innate Immunotherapeutics. Collins, who sits on its board, learned – before the public did – that a key drug it was counting on had failed clinical trials.
Collins and his son sold the firm's stock before the news became public, and the congressman thus avoided $700,000 in losses, the indictment said.
The indictment drew bitter tweets from Trump against his own Justice Department, while Collins suspended his campaign on August 11.
The indictment also opened up the district to a possible Democratic takeover this fall, and Democrats need to add 23 new U.S. House seats nationwide to take overall control. The 27th District stretches north, south and east of metropolitan Buffalo and includes smaller cities such as Geneseo, Batavia, Lockport and Hamburg.
Western New York AFL-CIO Area Labor Federation (WNYALF) President Richard Lipsitz tells wnylabortoday.com that representatives from the WNYALF's seven largest union affiliates — the New York State United Teachers, The Civil Service Employees Association/ AFSCME, the United Auto Workers, the Communications Workers, the Service Employees and the Teamsters — recently met for nearly two hours to discuss the congressional race and how involved labor will be.
"It was a 'come to Jesus' meeting and we plan on being engaged" not only in the high-profile congressional race, but several others, Lipsitz told your on-line labor newspaper. "We all left the meeting positive. Now we need to get to know Nate McMurray better," Lipsitz added.
McMurray, the Grand Island town supervisor, is the labor-endorsed Democratic candidate for Collins's seat. Before the indictment, McMurray was given little chance of winning. In his two preceding wins, Collins got two-thirds of the district's votes.
After Collins's indictment, the WNYALF released a statement noting the Justice Department indicted Collins "on charges of conspiracy to commit securities fraud, wire fraud, and lying to the FBI."
The federation noted Collins suspended his re-election drive and that local Republicans are scrambling, so far unsuccessfully, to replace him on the fall ballot.
"If they are successful in this maneuver, the fear is the discussion will shift from his criminal abuse of political power, to who will emerge as the new Republican candidate. We have a responsibility to no longer accept this as 'normalized behavior' and to hold our political leaders accountable to their elected positions in public office," the federation declared.
"Chris Collins reflects and epitomizes the very swamp Trump promised to 'drain.' He has been charged with passing non-public information from" the company to his son "about negative reviews of drug trials, who in turn passed this along to other people who traded on this information."
"Then, to make matters worse, he (Collins) issued statements attempting to conceal the trading to mislead the public and the investigators, hoping to save his friends and family from any looming investigation."
"Chris Collins must answer these charges and we should pursue a thorough and complete public rendering of his activities in demanding justice."
"Our federation denounces Collins's audacious misuse of political power for his own personal benefit and gain, and any continued corporate misconduct and immoral unethical behavior that exploits the relationship between political and corporate interests. The people of Western New York expect more and we deserve better."
In the interview, Lipsitz thought it was complete "karma" that Collins found himself in a pot of hot water that has now put what was once thought to be an untouchable congressional seat into play. He also gave a tip of the hat to the late Rep. Louise Slaughter, D-N.Y., who raised concerns over Collins's publicly stated investments and braggadocio in the U.S. Capitol of "making a lot of people in Buffalo millionaires."
"The prosecutors did what good prosecutors do: They followed the trail. The irony here is (Collins) did this to himself," Lipsitz told wnylabortoday.com. "And, 'to make matters even more interesting, the president sent out a tweet that looks like obstruction of justice."
"What Western New York needs is a good congressman, one who is open to the concerns of working-class people," Lipsitz said. "Labor doesn't know Nate (McMurray) all that well, but we anticipate getting to know him a lot better."
Many forecasters predict a "blue wave" will hit in the November elections as the country looks to restore a balance of power and provide a check-and-balance system against Trump and the GOP-run Congress.
Lipsitz agrees, adding he believes the wave "sweep out" Republicans across the U.S., including in Wisconsin and Ohio which Trump won in the 2016 presidential election. Trump also won half of union households' votes in those key states, including 52 percent in Ohio.
But his federation and its member unions are going to try to ride that wave to elect pro-worker candidates not just to the 27th District but to local offices, Lipsitz said.
"We have other races right here in Western New York we will also be engaged in — such as the State Assembly with labor-endorsed candidates Patrick Burke and Monica Wallace, the race for Lockport Mayor, and several other races in the towns of Eden and Hamburg," he added.
Tom Campbell is editor and publisher of Western New York Labor Today