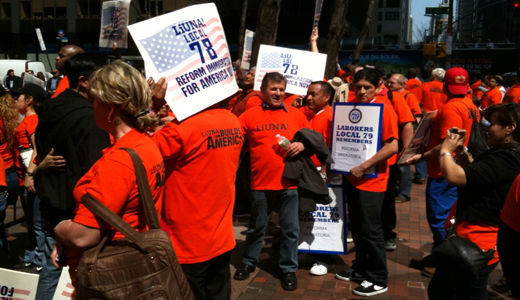 While Congress debates immigration reform, New Yorkers joined the thousands demonstrating in Washington D.C. yesterday with a local march.
In Manhattan several hundred concerned workers filled the plaza in front of Senator Charles Schumer's office.
"I'm here supporting comprehensive immigration reform that Schumer is working on with the rest of the Congress, said Melissa McCarthy who came to march with sign in hand.
When asked if he was hopeful about the pending legislation, another protester Jose Castiallo with Laborers Local 78 replied, "Yes but it has to be done the right way. We need immigration reform that supports a pathway to citizenship, stops deportation, gives people a chance. Immigrants contribute to the economy by purchasing, renting, working, paying taxes, but when these people retire, if they are undocumented they will never be able to collect Social Security."
Today, there are approximately 11 million undocumented immigrants who are critical to the U.S. economy.
Lucia Gomez, Executive Director of La Fuente, the chief organizer of the march told the PW, "We are serenading – a 12-piece mariachi band was brought in for the rally – Senator Schumer, letting him know that we love him, thank him very much for taking leadership on immigration reform. We need such reform now with a real path to citizenship, with protection for all our workers and a prioritization on family unity."
She continued, "Schumer's state director Martin Brenner spoke and said that it's just a few days before the introduction of legislation and we are hoping 2013 will be the year that immigration reform will accept 11 million more Americans."
Edison Severino, business manager of Laborers Local 78, "We are here to support Senator Schumer in his efforts to reform our broken immigration system. We believe that it is time for 11 million people come out of the shadows and enjoy the full freedoms of this country and the opportunities of this country."
Photo: Gabe Falsetta/PW