NEW YORK — While big business media in the U.S. would have us believe the main pillar of support for Trump and his fascist MAGA movement comes from the so-called "white working class," the reality is something quite different. The 147 "coup caucus" Republicans who voted to overturn the results of the 2020 presidential election—many of whom also supported, planned, and orchestrated the attempted coup on January 6, 2021—received over $44 million in campaign contributions from some of the most powerful financial interests in the U.S.
Logistics giant Amazon and global investment firm KKR were among those targeted by an action in midtown Manhattan on Friday afternoon to expose and oppose the corporate backers of fascism in the U.S.
Learn more:

Fortune 500 companies can't hide their support for the Republican coup caucus
"Martin Luther King recognized there were three evils in this society—poverty, militarism, and racism. And those evils are still present with us," Poor People's Campaign activist Arelis Figueroa pointed out as the group picketed Amazon's headquarters at 442 W 33rd Street. Jeff Bezos' union-busting corporation gave $565,000 to the election deniers, backing 89 of the 147.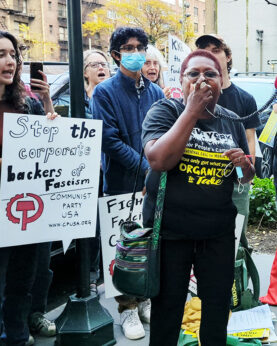 "We add ecological devastation and the moral narrative of the religious right. We are here because everybody's got the right to live," Figueroa said before leading the gathering in song:
"I went down to the rich man's house, and I took back what he stole from me …"
After picketing Amazon's offices, the group marched to a building entrance in the general vicinity of KKR's headquarters, secretly stashed away somewhere in the Hudson Yards complex. The finance conglomerate recently bought the Hudson Yards observation deck. One of its founders, Henry Kravis, gave $1 million to Trump's inauguration committee.
"A little story about KKR is that they actually recently bought a bottling factory, and that bottling factory has horrible working conditions," Roni Zahavi-Brunner explained, a Sunrise movement activist. "The unions of that factory have all signed a petition against KKR so that they will actually start following labor [laws]. … Last week, that union came here to give KKR that petition. And what did KKR do? They sent their security to threaten the union that they will dox them!" Zahavi-Brunner exclaimed.
"You're not going to get away with union busting, you're not going to get away with climate destruction, and you're not going to get away with artificially creating a housing crisis," Zahavi-Brunner insisted.
"And most of all, you're not going to get away with funding far-right corporate fascists," added CPUSA and YCL activist Ben Bath. "Whether it's the police who harass demonstrators, whether it's the landlords who evict tenants, or whether it's the people in Congress who try to end voting rights in America, they are backed by the same people."
NY State Communist Party leader Chris Butters expounded on the issue of voter suppression. "Republican leaders like Kevin McCarthy, Steve Scalise" (who together received almost $1.8 million from big business fascist backers) "and Elise Stefanik know that voter suppression is instrumental if they are going to overturn any popular vote they lose," Republicans have lost the popular vote in the last four elections. If voter suppression and subversion don't work, Trumpist Republicans look to a violent coup, of which January 6 was just a dress rehearsal.
"We're not taking time out from our other struggles and electoral activity to be here. Being here is continuing those struggles because we can only do that with democracy. These corporations are very much about ending all the vehicles we use to fight back," Butters pointed out.
"The same gang of politicians that voted against the certification of the presidential election are scheming to destroy the National Labor Relations Board (NLRB)," Building Trades for Workers' Democracy (BTWD) activist Percy pointed out. "Not only do they want to take democracy away from other people, but they want to take away the democratic rights that you have as workers on your job site. … They want to come for your pay, for your pension, for your rights to collectively bargain."
Singled out Stephen Ross
BTWD members also singled out Stephen Ross and his Related Companies, which gave $20,800 to members of the coup caucus. Construction workers' unions protested the $50 billion real-estate firm for a year and a half in 2017 and 2018 for using non-union labor to build Hudson Yards.
Just as Ford Motors, General Motors, IBM, Dupont, Alcoa, Goodyear, and Standard Oil all profited from and supported the Nazi regime in Germany, big business contributions continued to flow in for the 21st century fascists in Congress, even after the Trump-backed putsch on Capitol Hill.
"This is a slow coup we've been seeing that's been prepared for 40 years," Butters remarked at the action.
Some of the biggest banks and investment firms (Chase, Wells Fargo, Black Rock, Ernst &Young), weapons producers (Boeing, Honeywell), fossil fuel and agricultural conglomerates (Chevron, Koch Industries) are in on the plot, together with real-estate speculators (the National Board of Realtors), pharmaceutical and insurance industry heads (Pfizer, US Healthcare Inc, MetLife, Bristol Myers Squibb, Eli Lilly), alcohol and construction business associations, and several major logistics (Amazon, UPS, FedEx), telecommunications (AT&T, Spectrum), manufacturing (General Motors) and retail companies (Home Depot, Walgreens). Leading the way was the world's largest business organization, the U.S. Chamber of Commerce.
"Democracy means majority rule. We don't have that. Not with the electoral college, filibustering, gerrymandering, [or] with the U.S. Senate," George Albro of New York Progressive Action Network (NYPAN) protested. He went on to talk about how "Citizens United is now hitting us at full scale."
"In that case, they said corporations are people … they have freedom of speech," and since then "they put trillions of dollars into elections and buy in," he said, warning, "They're also doing dark money PACs in primaries. They're beating progressives."
"So how do we fight back? Well, first thing is everyone's gotta vote. … We have to beat the fascists," Albro insisted, emphasizing the danger with a touch of grim humor: "You can't tweet and you can't have Zoom meetings in prison.
"But there's other things we can do," he said. "We gotta get a bill passed in Albany, a disclosure bill." You can "spend all your money making lies on TV"—here Albro addressed the 1%—"but we have the right … to know who you are. And if we know who you are, we can boycott your company, we can demonstrate in front of your house on Sunday, and make you pay a price.
"And the final thing we have to do," Albro concluded, "We've got to get involved in a mass, pro-democracy movement."
The action was sponsored by the Poor People's Campaign in New York, NYC's Sunrise Movement, Extinction Rebellion, New York Progressive Action Network, the New York State Communist Party, the New York Young Communist League, and Building Trades for Workers' Democracy.