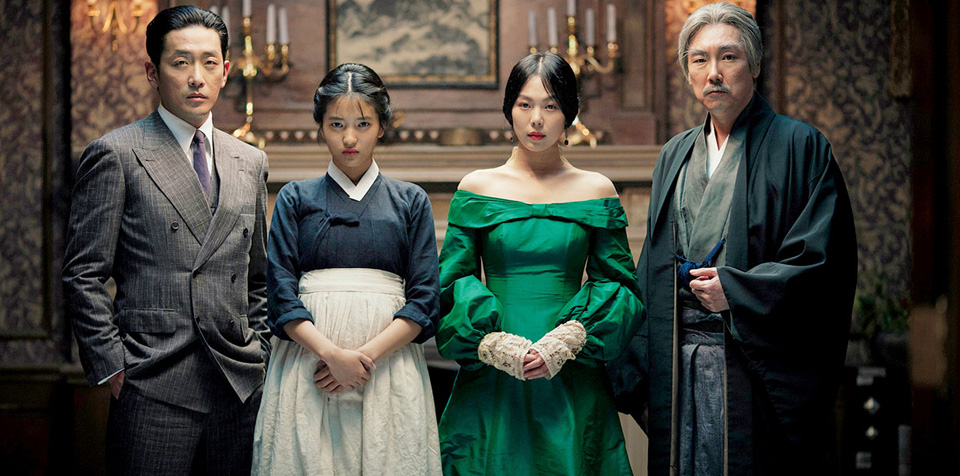 One of the most beautifully filmed stories you'll ever see on screen will soon be showing in U.S. movie theaters, Korean director Park Chan-wook's The Handmaiden.
Handmaiden is based on the 2002 novel Fingersmith by British author Sarah Waters, which takes place in 19th-century England. In Victorian society, as attested by its best known writers and artists, the polite gentility of the upper classes could barely conceal a vast underworld of crime, poverty, and injustice, nor the global imperialism upon which British wealth was built. Park no doubt saw enough cross-cultural similarities to make the switch to 1930s Korea under the Japanese occupation (1910-1945).
The opening shot of a Japanese military unit marching through a small Korean village is one of the very few open statements that we are in the Japanese colonial period.
In a mesmerizing 145 minutes Park opens up a toolkit full of sharp contrasts and opposites. To name a few: The obvious ones of male and female, master and servant, nobility and commoners, traditional and modern, Korean and Japanese (the script has dialogue in both), English and Japanese architecture. Park delineates the indoors from the outside, the elegant living quarters from the basement of delights and terrors.
There's also the divide between authentic and fake, refined erudition and base cruelty, and Korean characters who pass themselves off, or recreate themselves as Japanese. We see in Hideko, the secluded Japanese lady, both a profound naïveté as to the ways of the world and a highly precious esthetic sensibility. As for Sookee, the Korean handmaiden, we witness the criminal streetsmarts instilled in her from childhood, and a luscious, unexpected sensuality.
All these stark contradictions, however, are not Park's point as a filmmaker. Rather, he is interested in the space between them and how to negotiate that terrain with exquisite delicacy, exploring all the uncertainties, questions, doubts and ambiguities, the differences in perception. In revealing the distinct perspectives from which this tale can be told, Park offers a tip of the cap to master Japanese filmmaker Akira Kurosawa. Crime and thriller fans may also appreciate the late-story reveal of a Conan Doyle Sherlock Holmes story.
All of Park's characters lack a true moral center, whether they come from the criminal class or the aristocracy – in fact, these elements collaborate, which surprises us, though really it shouldn't. The female characters around whom the story revolves are smarter and more alive by half compared to their male counterparts. If the time and place called for strict rigidity in gender and sexual roles, they manage to outwit those who dominate them and repossess their bodies as their own.
The complex tale itself plays out like a three-dimensional competition among four chess masters, each plotting their moves many steps ahead, subject to the choices the other players make. Every grand and well-laid scheme falls apart as other characters pursue their own goals. Be prepared for an epic tale fraught with pain, threat, danger, and many sudden switches of fate.
It's hard to tell who is conning whom. All that you thought you saw in Part I might well have happened, including its unfortunate denouement. But in Part II we see there were other ways of viewing those same scenes. Now that the audience is in on the conceit of the project, we can't help chuckling at the director's clever sleight-of-hand with the camera. Now we see that the characters are consciously deceiving one another to purposes we had not even thought to imagine. We can only cringe at our own gullibility that saw only inches deep into an unpredictable story that respects few distances or limits.
The happy ending is well earned, both for the happy characters and for the viewers who have been taken on a wild ride through time, space and Eros' steamy realm of literary stimulation, visual pleasure and technical gadgetry that may recall the Marquis de Sade.
A vital part of the attraction in this film is the lush production design with its ravishing décors, settings and costumes luxuriant in texture and period detail.
The principal actors are mostly familiar to the Korean public and until now not well known in the West. The Handmaiden may give them an exposure leading to more international work. Kim Tae-ri (a newcomer) portrays Sookee, the title character, and Kim Min-hee appears as Lady Hideko. Each of them is masterful at showing the gradual flowering of their emotional life only awaiting this moment to be tapped when she is ready.
Ha Jung-woo plays the Count, the elegant master forger and doyen of a whole shop of criminals, a kind of Korean Fagin who tries to mastermind the elaborate plot. Cho Jin-woong is Kouzuki, the rich collector and poseur who is Hideko's tyrant uncle.
Director Park Chan-wook has helmed more than a dozen films and is quite popular in Korea (Oldboy, Lady Vengeance and the 2013 Stoker, which was his first English-language film). The Handmaiden premiered at the Cannes Film Festival this year, and was shown at the 2016 Toronto International Film Festival.
Amazon Studios and Magnolia Pictures will release the film on Friday, October 21 in New York and Los Angeles with a national rollout to follow. It seems poised to be a hit, and likely a foreign-language Oscar nominee. Owing to its over 2-hour length, watch your fluid intake before entering the theater!