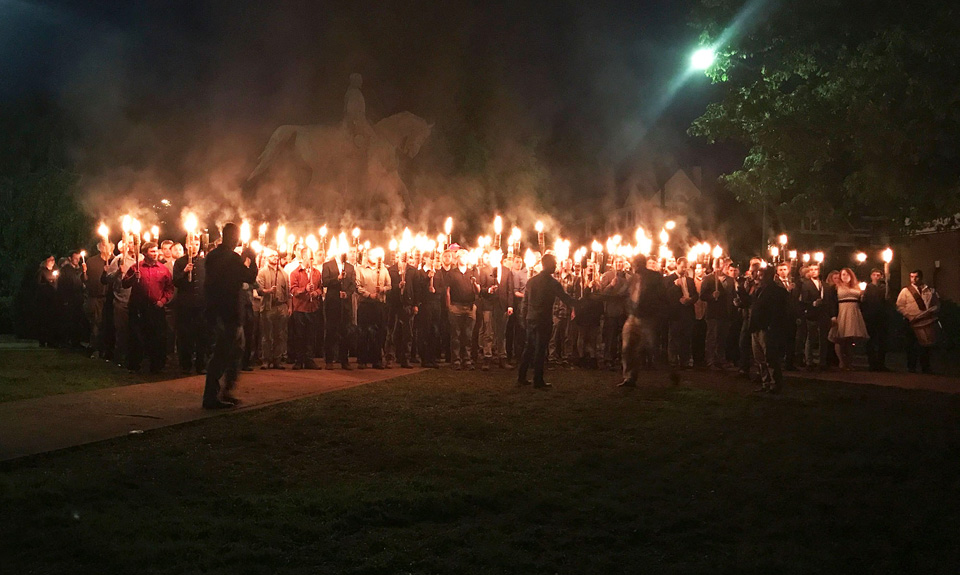 WASHINGTON —Faced with rising numbers of attacks by politicians and those they egg on against print and broadcast reporters just for doing their jobs, the News Guild strongly endorsed legislation making attacks in those circumstances a federal crime.
And the congressman who introduced the measure lays much of the blame at the feet of Republican President Donald Trump.
"President Trump's campaign and administration have created a toxic atmosphere," said Rep. Eric Swalwell, D-Calif., on Feb. 20. "It's not just about labeling reports of his constant falsehoods as #FakeNews. It's his casting of media personalities and outlets as anti-American targets, and encouraging people to engage in violence."
Swalwell's Journalist Protection Act makes it a federal crime "to intentionally cause bodily injury to a journalist affecting interstate or foreign commerce in the course of reporting or in a manner designed to intimidate him or her from news gathering for a media organization."
Swalwell said his measure, which is different from a "shield law" that protects reporters from revealing confidential sources, "represents a clear statement that assaults against people engaged in reporting is unacceptable, and helps ensure law enforcement is able to punish those who interfere with news gathering." It does not mention police arrests of reporters.
"This is a dangerous time to be a journalist," said News Guild President Bernie Lunzer, whose union, a Communications Workers division, is the top union for newsroom and related news personnel. "At least 44 reporters were physically attacked in the U.S. last year and angry rhetoric that demonizes reporters persists," he said.
Those reporters included a journalist for The Guardian who was slugged to the ground and had his glasses broken by then-GOP Montana congressional nominee Greg Gianforte, for asking about Gianforte's position on the Affordable Care Act. The next day, before news of the assault circulated widely, Montanans elected Gianforte in a 2017 special election.
They also include two News Guild members in St. Louis. Al Neal of the People's World was arrested last November in a police "kettle" roundup during protests over the acquittal of a white police officer in shooting an unarmed African-American man. Neal wore his press pass and identified himself as a reporter, but was herded in with others.
And Post-Dispatch reporter Michael Faulk was among 120 people arrested two months before while covering similar protests. He was knocked to the ground, stepped on by a jack-booted police officer, pepper-sprayed, handcuffed and held for 13 hours in jail. Police also confiscated his bike. No charges have been filed.
The arrests and beating of Faulk led Lunzer to say "the threatening atmosphere is palpable. The
Journalist Protection Act deserves the support of everyone who believes our democracy depends on a free and vibrant press."
"Broadcast employees assigned to newsgathering in the field often work alone, or in 2-person crews," added Charlie Braico, president of the National Association of Broadcast Employees and Technicians, another CWA division. "With their expensive and cumbersome equipment, they are easy and tempting prey for anti-media extremists and thieves. The Journalist Protection Act will permit the authorities to properly punish people who attempt to interfere with our members as they work in dynamic and challenging situations."
Victims almost included Ryan Kelly, the Charlottesville Daily Progress photographer who took the photos last August of the neo-Nazi's car plowing into peaceful counter-protesters there, killing Heather Heyer. Driver Alex Fields now faces first-degree murder charges for killing her.
Kelly was walking backwards down the middle of the street, photographing the confrontations between the white racists and the counter-protesters. He stepped onto the sidewalk 20 seconds before the car roared through, he told Columbia Journalism Review. Kelly counts himself lucky.
In 2015, reporter Alison Parker and cameraman Adam Ward of a Roanoke, Va., TV station, weren't. They were shot to death by a crazed former co-worker while broadcasting a live interview with a local shop owner.
Other journalists have received death threats, threats of sexual and other violence, and racist and anti-Semitic threats and diatribes. Wal-Mart marketed an anti-reporter T-shirt – pulled only recently – which sold like hotcakes at a Trump campaign rally in Wisconsin. The black T-shirt had a white outline of a tree with a noose hanging from a branch, reminiscent of lynching. On the back was, in white, "Rope. Tree. Journalist. Some assembly required."
Swalwell said Trump used his campaign to "create a climate of extreme hostility" to print and broadcast reporters, including bloggers, doing their jobs, and has continued that in the Oval Office. He noted Trump calls journalists "a stain on America," says they're "trying to take away our history and our heritage," and are "the enemy of the American People."
"Such antagonistic communications help encourage others" across the political spectrum to think…violence against people engaged in journalism is more acceptable," Swalwell said. "It's not just about labelling reports of his constant falsehoods as #FakeNews. It's his casting of media personalities and outlets as anti-American targets, and encouraging people to engage in violence" against them. "We must send a loud, clear message that such violence won't be tolerated."
Swalwell's bill (HR4935) may well be buried. All 12 of its co-sponsors are Democrats, who are heavily outnumbered in the U.S. House. The bill went to the GOP-run House Judiciary Committee, on which Swalwell serves. Far-right Rep. Robert Goodlatte, R-Va., no fan of civil rights and author of an extreme anti-Latino immigration bill, chairs that panel.