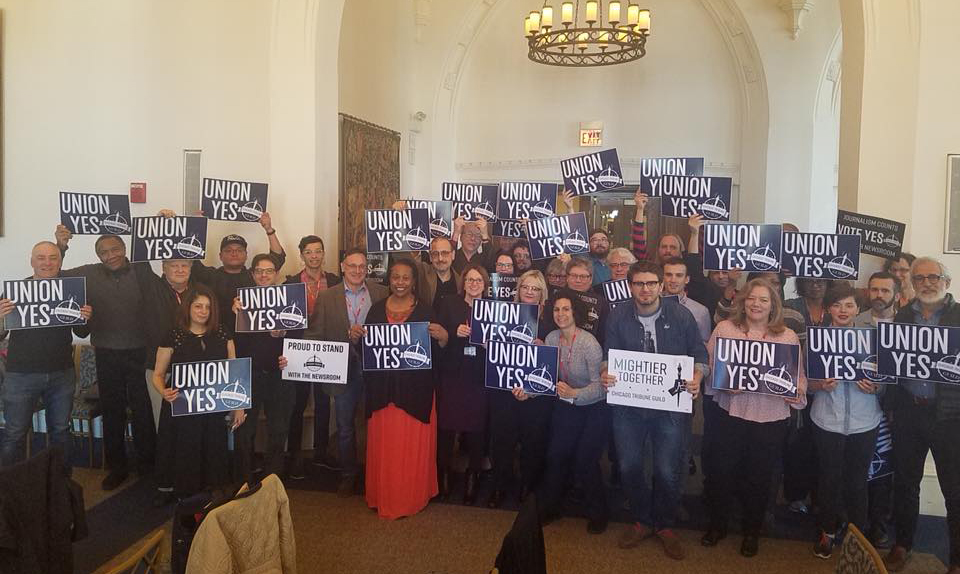 On April 28, during the News Guild Midwest conference in Chicago, the Chicago News Guild/CWA Local 34071 hosted a panel discussion on the future of journalism and democracy. The panel was hosted at Loyola University's downtown campus and was moderated by the Chicago Reader's Ben Joravsky.
Before the event kicked off, Joravsky acknowledged the presence of members of the newly organized Chicago Tribune bargaining unit in attendance. "When we joined the Guild at the Reader part of the idea was that we wanted to save our jobs," said Joravsky, "but part of it was the idea that an organized group of journalists can help save the publication and play a role in directing the publication toward a brighter future… this is a dilemma many newspapers are facing throughout the country."
With that reflection, and before asking the first question to the panelists, Joravsky summed up the zeitgeist of an industry.  Newsrooms across the country have seen an explosion of organizing activity born of those same concerns. From nationally recognized publications like The Onion and the Los Angeles Times, to smaller papers like the Sarasota Herald-Tribune, a broken business model and a renewed willingness to speak truth to power has brought news workers together.
President Trump loomed large in the discussion, despite a consensus arising amongst the panelists that too much of a focus on Trump is ultimately counter-productive. Patricia Lamberti, Director of Multimedia Journalism at Loyola talked about how she has seen an explosion of interest in the journalism major over the last year. Although she didn't directly connect it to Donald Trump, there's little doubt that his attacks on the media have elevated the role of journalists as resistors in our culture.
Edwin Eisendrath, CEO of Chicago Sun-Times and the Chicago Reader, acknowledged that post-election trauma was part of his decision to purchase the publications along with the Chicago Federation of Labor. "It wasn't about resistance to Trump. It was about the terror of a lost shared sense of facts," said Eisendrath, "that predated Trump."  Eisendrath's vision for the Chicago Sun-Times, as supported by their new slogan "the hardest working paper in Chicago," is a paper that isn't elitist and isn't divisive. However, in a capitalist economy where news is a commodity, the longevity of his bold new project is going to depend on eventually turning a profit. Therein lies the rub.
"While I'm very hopeful about journalism," said Charles Whitaker, associate dean of journalism at Medill School of Journalism, "the business model is irreparably broken and it's a stupid business model to begin with." He went on to explain the model as taking a product that costs a lot of money to make and giving it away as cheaply as possible in hopes that someone else (advertisers) will pay to reach the people we're giving it to. Given the rise of digital platforms and ad blockers, Whitaker thinks this model is on its way to extinction.
"The only way to survive is convince consumers that this product is valuable. We have to stop under-valuing it. We have to talk about the amazing talent in this room and the amazing talent it takes to produce our content. That talent is as worthy of paying for exposure to as athletes." In fact, more and more online publications are switching to a paid subscription model, including the Chicago Sun-Times.
Jamie Kalven, an independent journalist, has never worked for a newspaper. He is a part of an "increasingly robust world of non-profit journalism," but he doesn't want to suggest that philanthropy is the answer. "I think it might be an ingredient in a recipe we're looking for. There are, in various niches like ProPublica and [the Invisible Institute] that can go pretty deep into a subject area and stay with the story and intervene in the public discourse." Kalven was subpoenaed in the Laquan McDonald murder case to give up his sources and he resisted on first amendment grounds. He acknowledged that he was lucky to have pro bono representation but averred that, in this era of anti-press sentiment from those in power, the threat to whole publications from such legal entanglements is great.
"There's the question of business model, and then there's the question of fully discharging our duties under the first amendment," said Kalven.
The panel went on to discuss variations on the business model question, from philanthropy to subscription models to clickbait, with all their implications and complications. Maudlyne Ihejirika, Urban Affairs reporter at the Chicago Sun-Times put her work into perspective. "My work is not clickbait," she said. Maudlyne focuses her work on the stories of members of the black and brown communities of Chicago whose trials and tribulations rarely make the papers unless it involves violence and whose successes even less so.
Ihejirika and Eisendrath see a more community-focused approach as a possible future for their publication. Ihejirika was recently involved with a new video series on the Chicago Sun-Times website called "Working the Story." The video is 13 minutes long and takes you behind the scenes at the Sun-Times with the reporters who write the stories. It is an effort to lift the veil of the newsroom and show what it takes to craft journalism. It is an effort at transparency, brand-building for individual journalists, and re-building the kind of trust Eisendrath says has been severely damaged in years past.
At the end of the panel, no one walked away convinced of a solution to solve the problems facing the journalism industry. However, what was clear was a willingness on behalf of journalists, academics and capital to experiment. "I think most journalists would just prefer to focus on their journalism," said News Guild president Bernie Lunzer, "but I don't think that's going to be possible in the near future." The News Guild, through its growth and willingness to take on these big questions, has shown that while democracy depends on journalism, journalism depends on journalists.