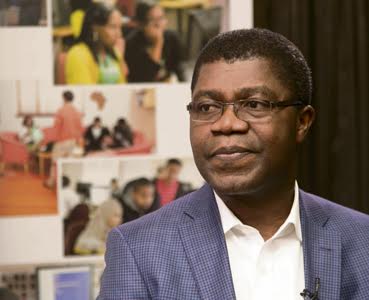 (L'Humanité ) — In a conference March 8-10, more than 700 persons, researchers, decision-makers, industrialists and heads of state, traced a future path for science in Africa, at the Next Einstein Forum, in Dakar, Senegal.
Brain drain, invisible publications, nonexistent media coverage — in Africa, scientists and their discoveries remain unknown. Nevertheless, their work is very important, and the authors are talented. "African scientists keep too many discoveries in their desk drawers," regrets Rosa Gana Fomban Leke, professor of immunology and parasitology at the University of Yaoundé-1, Cameroon: "One of our obstacles, we don't have scientific journals of quality in which to publish our important results. And to publish in the international journals is not easy for an unknown African researcher who works in a little corner of Africa, unless he has an international collaboration."
Not forgetting that the universities don't have the financial means and structures adequate to support their researchers. There are, however, numerous discoveries. For example, many medicinal African plants have been studied, and used in medical treatment. But they remain unknown on an international scale. Even between neighboring countries, the information does not circulate.
This waste of talent is shared by African researchers of high level: "Today there are more African engineers and scientists in the United States than there are on the African continent. 11 million young sub-Saharan Africans enter the labor market every year, and do not find employment in Africa. It is urgent to change this," deplores Thierry Zomahoun, head of the African Institute for Mathematical Sciences. (AIMS).
The director of this great scientific institute, which has trained and launched in their careers students among the most brilliant in Africa for more than 10 years, decided to act on a larger scale by creating the Next Einstein Forum. For three days, hundreds of scientists of international stature, some heads of state, and a half-dozen ministers of research, met in Dakar in order finally to develop a scientific future for Africa. The event presented 15 laureates of African science, carefully selected, of age 42 or less, and working in all domains, from fundamental biology to mathematics to the revalorization of trash.
From Cameroon, Dr. Axel-C. Ngonga Ngomo, who today directs the Agile Knowledge Engineering and Semantic Web, at the University of Leipzig, in Germany, was one of those selected. Active in research on Big Data Europe, his future work concerns innovative technologies, strategies and competencies for the beneficial use of Big Data to address societal needs. Due to a lack of job opportunities on the continent he was obliged to go abroad. But nevertheless, "the semantic web is the future in Africa also," he states. "At this event, I hope to meet people with whom I can discuss the position of present-day Africa in this domain. And with whom we can decide on concrete projects to develop in Africa, where there is a strong potential."
The Next Einstein Forum is announced as the first in a series of summit meetings. The event will take place every two years, with the precise aim of reinforcing teaching and scientific research across the continent, to give prominence to the best young African scientists and to aid development spearheaded by science. The urgent task being, it is clear, to identify the key questions requiring political intervention and investment, so that Africans may at last find their rightful place in the sciences.
Reposted from L'Humanité in English. Original French article: L'Afrique veut garder sa matière grise, translated by Henry Crapo
Photo: Thierry Zomahoun, head of the African Institute for Mathematical Sciences, and of the Next Einstein Forum. L'Humanité.