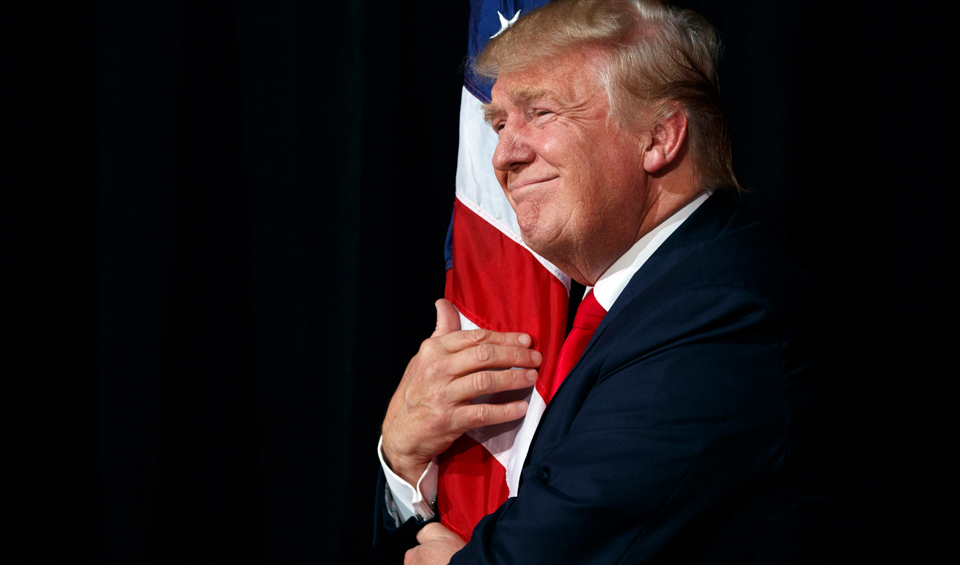 "Wouldn't you love to see one of these NFL owners, when somebody disrespects our flag, to say, 'Get that son of a bitch off the field right now. Out. He's fired. He's fired!' You know, some owner is going to do that. He's going to say, 'That guy that disrespects our flag, he's fired.' And that owner, they don't know it. They don't know it. They'll be the most popular person, for a week. They'll be the most popular person in this country." – Donald J. Trump, September 23, 2017
Who runs the NFL?
It isn't Commissioner Roger Goodell; he's a mere puppet for NFL team owners when they need the "league" to publicly sign-off on their decisions—the national anthem policy being the latest.
But those same team owners—all 32 of them—don't run the NFL either. They can't even pretend to be a well-oiled, multi-million-dollar machine. Just look at how quickly ranks broke as the anthem policy fallout began.
In fact, there is only one person pulling the strings, acting as both owner and commissioner—a dream come true after tanking the U.S. Football League: Donald J. Trump. Hell, even I can't even begin to explain how that happened.
And there's proof, found in an April deposition in the collusion grievance against the NFL filed by Colin Kaepernick, former San Francisco 49ers quarterback.
Trump, who didn't hold anything back during his anti-national anthem protest twitter storm, let Dallas Cowboys owner Jerry Jones know that the "NFL can't win," according to The Wall Street Journal, who broke the story Tuesday.
Trump outlined his position to Jones during a lengthy phone conversation last season saying that ending the protest was a "very winning, strong issue," and instructed Jones to "tell everybody, you can't win this one. This one lifts me," obviously referring to himself and the political gains that would come from his supporter base after standing up and fighting for patriotism and "law and order."
In other words, not only did NFL team owners cave to Trump's demands with their new anthem policy, they knowingly colluded against Colin Kaepernick.
"I was totally supportive of [the players' protest] until Trump made his statement," said Stephen Ross, Miami Dolphins' owner in his deposition. "I thought he changed the dialogue."
Ross and New England Patriots' Robert Kraft also confirmed, in separate depositions, that they had spoken to Trump about the protests.
"The majority of the American people agree with the president, love our country, love our flag and believe it should be respected," said a White House official, after explaining that Trump was advising Jones on what he believed would be good for the country and the sport.
There is no hiding the fact the Trump altered the league's position on the national anthem protest, even if the league publicly fought back and called out Trump's comments "divisive."
Behind the scenes, officials were scrambling to get back into his good graces. I'm still trying to figure out why…
All corrupt roads lead somewhere, however, and that somewhere happens to be the Trump White House. And that fact is what attorneys in Kaepernick's collusion case are betting on.
Trump's words may come back to bite the NFL in the ass, as Kaepernick's legal team shows evidence that Trump's anti-protest rhetoric created the pressure that made signing him impossible for any team.
The collusion case is slowly coming to an end after eight months, tens of thousands of discovery documents, and 11 depositions of owners, coaches, managers, and the commissioner himself.
We'll see what happens next week when Kaepernick's attorneys are expected to ask for more depositions following the league's anthem policy decision.