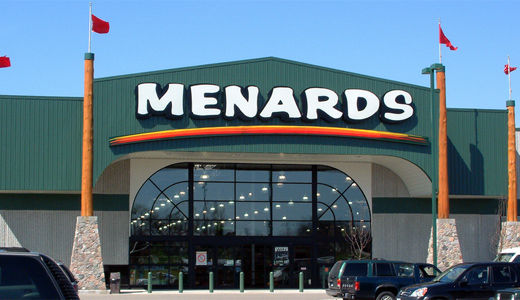 In a bizarre collision of opposite constellations, a 2013 tweet from Donald Trump and a recent decision from the National Labor Relations Board have stirred national media attention to how the home improvement chain Menards violates labor laws in its demands on workers.
The Trump tweet [12:58 PM – 28 May 2013, John Menard of Menards home improvement stores in Midwest treats employees horribly — should they form a union?] criticizing John Menard had been supplied the media by Seth Goldstein, the New York based business representative for OPEIU, who candidly told me he included the tweet along with the NLRB decision to emphasize how Trump's opinions "blow with the wind" depending on what serves his own interests. The tweet came when Trump was not an announced candidate. "I thought the media would see how fickle his views are, especially when he was holding presidential rallies in Eau Claire," where Menards is headquartered, Goldstein said.
The NLRB through it regional director and researcher has now issued a call for national posting on the web and at every Menards store (some 280 throughout the Midwest, from the Dakotas to Ohio) that the company has tried to sidestep basic labor law and worker rights. It ordered John Menard, the leading private owner, to change the company's employee handbooks in several portions and attacks the broadness of the private arbitration agreements that employees have been forced to sign. The final order for posting, after discussion with both parties, may come down by end of April.
Specifically the order challenges Menards method of using arbitration policy to bar its 44,000 workers from engaging in joint activities such as class action suits, Goldstein explained. "Why I am taking this on from New York City, where Menards doesn't have a store, is because this is the sort of responsibility that unions should be engaged in," he said.
Goldstein resurrected this 2013 tweet by Trump: "John Menard of Menards home improvement stores in Midwest treats employees horribly-should they form a union?" Twitter was apparently even then his favored communication vehicle and it may have been motivated in part by his wife. Melania Trump attempted to sue Menards over not carrying her skin care products. That was the year that John Menard's personal and sexual proclivities erupted into national court reporting.
The ever-expanding charges against Menards – and its colorful owner who reportedly dropped $1.5 million in the effort to protect Gov. Scott Walker from recall and has been a major backer of Club for Growth and Koch funded campaigns – started last December when Goldstein read about Menard's tactics and anti-union animus and decided it was high time to take the billionaire's chain on.
The initial motor was a Progressive magazine story revealing that Menards made its managers agree that 60 percent of their pay would be docked if they let a union form under their jurisdiction. But Menards has now skated on that one with the NLRB once it agreed to eliminate that provision and go back, telling "every managerial employee subject to that provision" that it was eliminated, according to the NLRB.
But by then, Goldstein had gathered more information and kept expanding his complaints, working with lawyers representing workers who felt injured by Menards practices and adding a range of problems he uncovered in the employee handbook and the arbitration agreements every employee was forced to sign.
This caused the NLRB to investigate in depth and pronounce through its Region 18 director that most of Goldstein's complaints had merit and Menards will have to submit through national postings, changes in its handbook and revision of arbitration language to restore rights to protected activities that workers could engage in. Once shuttered, the doors to collective bargaining by workers at Menards are being opened.
Wisconsin's primary made no secret the depth of the "stop Trump" movement in the kind of rust-belt state he was expected to dominate. Those anti-Trump forces include John Menard. Goldstein said he thought it would be amusing to point out how billionaires can take on other billionaires "and Trump is not regarded as a financial savior by many in the business community."
Goldstein believes his revival of the Trump tweet would stir attention as well as discussion of the NLRB ruling from both the Sanders and Clinton camps and media outlets throughout the Midwest – another piece of ammunition to show how changeable Trump is in platform and statements.
Sure enough, since then, the media has finally linked the NLRB ruling to Menards decision in Ohio and Kansas to halt building new stores while still getting property tax abatement in those cities, as outlined in business journals.
In several cases, the NLRB already ruled that arbitration agreements can chill or punish exercise of constitutionally protected concerted activities of workers. Now legal experts say that the Menards decision actually enlarges and deepens the NLRB's reach into the language and attitude of business operators, since it demands reissued handbooks and could penalize companies that prevent unions from organizing.
Merit was found in five out of eight complaints, while some of the others were considered moot because of the company's own actions. The NLRB regional director also ordered national postings of Menards' violations of federal labor laws on Menards web portal and within each of its stores. The ruling ordered Menards to rescind language affecting employees ability to talk about working conditions and seeks elimination of references in the handbook to "gossip," "questionable attitudes" and a one-sided definition of confidentiality.
The case may be yards away from resolution. Menards' lawyers refused to say anything beyond "no comment." But a professor who is expert at arbitration agreements agrees that this NLRB ruling cuts deeply into the company's treatment of its workforce and doubts the company will go quietly into the night. "They will fight this, I assume, until they run out of options," noted Paul Secunda, Marquette University's professor of law and director, Labor and Employment Law Program.
If Menards ignores the ruling, as now seems likely, the NLRB can issue a formal complaint, moving the issue to an administrative judge. And if either side wants to fight after that, enter the federal court system.
Photo: Menards store. Public Domain.