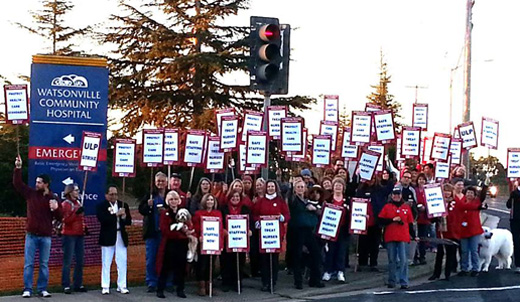 OAKLAND, Calif. (PAI) – Just weeks after nurses at Community Health Systems, a 206-hospital chain, exposed patient safety problems, the chain retaliated by firing two of the nurses' leaders, the National Nurses United reported on Jan. 28.
That illegal action forced NNU to file complaints with the National Labor Relations Board's regional offices in California, defending Veronica Poss, an RN with the chain's Fallbrook, Calif., hospital, and Tim Thomas, an RN leader at the chain's Watsonville, Calif., hospital. No date has been set for hearings on the complaints.
Poss first angered her bosses with a December TV interview about their plans to close a cardiac rehab unit, which is vital to area senior citizens. Thomas has been campaigning about lack of patient safety at Watsonville for months.
"These disgraceful firings are being carried out in direct retaliation for the public advocacy of these courageous nurses, and in an attempt to silence any nurses who will speak out about rampant patient care problems in their facilities," said NNU co-president Jean Ross, also an RN. "Many in our community have no idea our hospital is owned and operated by a for-profit Wall Street corporation," Thomas told the union. "All across the country nurses like me are losing their careers for speaking on behalf of our patients, and our profession."
Photo: CHS – National Day of Action- Dec. 3, 2013. National Nurses United Facebook page.