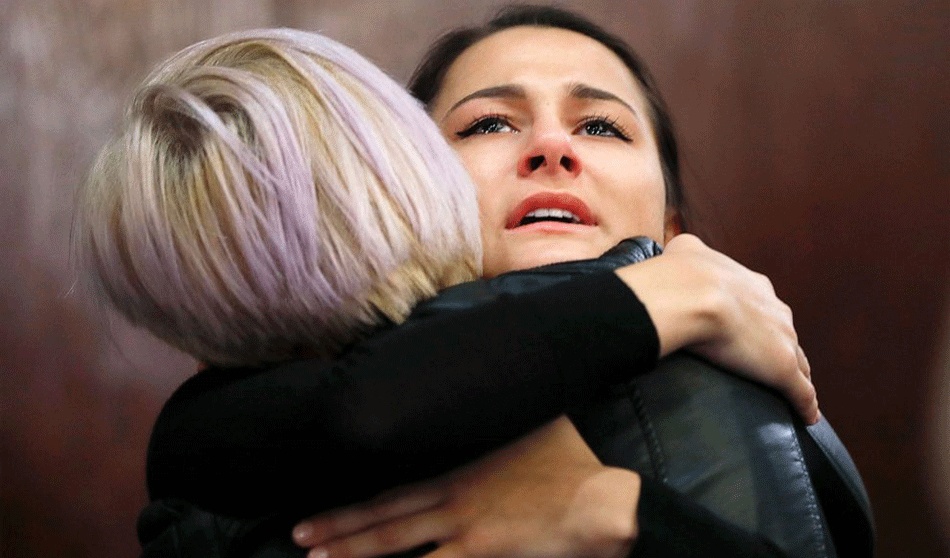 Last year a courageous victim of sexual assault at Michigan State University, known only to the public as "Jane Doe," filed a lawsuit against her three attackers, and shined a light on MSU's culture of silence when allegations of sexual assault arise.
On April 11, exactly one year after filing the legal complaint and four years after her assault, Bailey Kowalski, aka "Jane Doe," stood at a podium before reporters and the public, visibly nervous, and said, "The silent survivors matter and they're worth fighting for…. And I want the system surrounding Michigan State University to change."
The 22-year-old MSU senior said she chose to come forward now because she didn't want to walk across the graduation stage without addressing the assault—exhausted from living a "double life since 2015."
"If I didn't [speak out], I would be neglecting other victims and leaving them behind," Kowalski said. "Knowing I can be there for somebody right now, knowing there are women and men who exist as survivors, I look forward to being their support system if they do not have one.
"They do not have to be silenced; this isn't a burden they have to carry on their own."
According to the lawsuit, Kowalski, an 18-year-old MSU freshman, was sexually assaulted by three basketball players at one of their apartments. She met the players at an East Lansing, Mich., bar one week after MSU's loss to Duke University in the Final Four.
At one point in the evening, while she was feeling "discombobulated" and unsuccessfully tried to "send a phone text," the players took turns sexually assaulting her in a bedroom, according to the lawsuit.
"I chose to come to Michigan State University. I did not choose to be gang-raped. I did not choose the consequences I and my family have been forced to bear. Those decisions were made for me," said a tearful Kowalski.
About a week later, Kowalski went to the university counseling center to discuss the assault. After mentioning the involvement of basketball players, counseling staff discouraged her from reporting it to police or other university officials.
The lawsuit said, "Plaintiff [Bailey Kowalski] was so discouraged by the representations made by the MSUCC Counseling staff she became frightened to the point that she decided she could not report the rape(s) to law enforcement."
And now, even as Kowalski graduates and attempts to move on, the problems at MSU will continue to exist, she said, and the only way to change that is with real accountability.
"I want the system surrounding Michigan State to change," said Kowalski. "I want all people to be treated with dignity and respect regardless of their status."
Kowalski's attorney, Karen Truszkowski, said they did not have any settlement agreements with the three individual players, now playing professionally, and that they had not "ruled out" filing criminal charges.
"There's obviously a problem here that needs to be addressed," Truszkowski said. "We need to start putting some pressure on the people who need the pressure."
In an interview with the New York Times, Kowalski declined to name the athletes who assaulted her, saying her story goes beyond the basketball team.
"For me, this is not a basketball story. I did not choose who my rapists were," she said. "This is not about bringing attention to the basketball team. I want to be a voice for individuals."
MSU spokesperson Emily Guerrant said Thursday that the university can't comment on any specifics of an ongoing lawsuit, but "we applaud the courage of all survivors who come forward to tell their story as we continue to listen and learn from them."
"We are committed to listening to survivors who bravely tell us about their experiences so that we can improve our response and help those who seek support in the future," she said.
The full press conference can be viewed here.