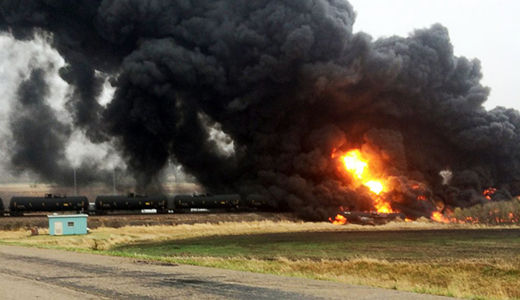 A newly formed environmental coalition has a bone to pick with the rail industry. On May 6, in the North Dakota town of Heimdal, another train carrying oil derailed and exploded, setting 10 tanker cars on fire and sending flames hurtling toward the sky. The U.S. Department of Transportation (DOT) stepped in with new regulations, imposing a 40 mile-per-hour speed limit on trains transporting crude through big cities. Environmental groups have largely seen it as a flawed and unhelpful measure, and on May 14 they filed a lawsuit against the department over inadequate regulations of trains that pose a threat to communities across the country.
That lawsuit was submitted to the 9th Circuit by Earthjustice, on behalf of seven organizations – the Sierra Club, ForestEthics, Waterkeeper Alliance, the Center for Biological Diversity, Washington Environmental Council, Friends of the Columbia Gorge, and Spokane Riverkeeper. All of them feel that the DOT's supposed safety standards are virtually nonexistent, in light of the many periodical oil train disasters that preceded the May 6 incident. The importance of rail safety, moreover, has careened into the national spotlight after an Amtrak derailment in Philadelphia on May 12, which killed seven people and left at least 200 injured.
"Again another derailment and explosion of a train carrying crude," said Earthjustice attorney Kristen Boyles in regard to the Heimdal ordeal. "Again another community evacuated and its people counting their blessings that this didn't happen half a mile down the track in the middle of town." The DOT's rules are "too weak and too slow. We need to get these exploding death trains off the tracks now."
"We're suing the [department] because these rules won't protect the 25 million Americans living in the oil train blast zone," said Todd Paglia, ForestEthics executive director. He addressed the lack of inclusiveness behind the new regulations, adding, "Let's start with common sense: speed limits that are good for some cities are good for all communities." He also remarked, "Ten years is too long to wait for improved tank cars, and emergency responders need to know where and when these dangerous trains are running by our homes and schools."
That last bit is particularly important; while the Heimdal explosion did not cause any injuries or fatalities, prior incidents, like the infamous Lac-Mégantic explosion in Quebec, which killed 47 people, were much more devastating.
In a joint statement announcing the lawsuit, the groups declared, "The recent surge in U.S. and Canadian oil production, much of it from the Bakken shale and Alberta tarsands, led to a more than 4,000 percent increase in crude oil shipped by rail from 2008 to 2013, primarily in trains with 100 to 120 oil cars that can be over 1.5 miles long. More oil spilled in train accidents in 2013 than in the 38 years from 1975 to 2012 combined."
The group listed numerous flaws and problems that need to be addressed with how the DOT handles oil trains, including allowing outdated tankers to keep carrying crude for 10 more years; allowing trains to move at much faster speeds in areas that are not considered major cities, such as rural areas with sensitive wildlife or even small towns; failing to impose the 40 mile-per-hour rule on trains hauling less than 35 tanker cars (a huge loophole in the new rule); allowing the industry to merely "retrofit" old tankers instead of replacing them; and allowing the rail industry to add 7,000 new tankers to U.S. railways next year, without bothering to remove the current outdated ones from rotation.
Matt Krogh, a campaign director with ForestEthics, said that even the imperfect regulations that currently exist "arrive years late and with the sticky fingerprints of an army of oil lobbyists all over them. We don't need extreme tarsands and Bakken crude oil, and these trains are simply too dangerous for American tracks."
And the 40 mile-per-hour 'slap on the wrist' doesn't even begin to address the potential harm posed to ecosystems and water sources that are far outside the big cities, environmentalists note. "Oil trains derail, spill, and explode with frightening regularity, all while passing along and over our waterways," said Marc Yaggi, executive director of Waterkeeper Alliance. "It's time for the federal government to defend and protect our communities and waterways with the same vigor they have shown in promoting the fossil fuel and transportation industries."
One of the coalition's criticisms was the rail industry's penchant for maintaining the constant usage of older tanker cars, when those models are problematic and long past their expiration dates. But as the North Dakota disaster has shown, even a full upgrade to modern cars cannot change the fact that oil-by-rail transport is a deadly activity. Amy McBeth, spokesperson for BNSF railway, inadverdantly gave voice to this harsh truth, when she confirmed that the train that derailed in Heimdal consisted of the newer tanker cars. "The cars involved in the incident are the CPC-1232 models," she remarked.
"The [current] oil train rules are obsolete before the ink is even dry," said ForestEthics' Paglia. "The new rules would not have prevented this."
Yaggi concluded, "Explosive oil trains present a real and imminent danger, and protecting the public and waterways requires an aggressive regulatory response. We hope our challenge will result in a rule that puts the safety of people first."
Photo: The explosion that rocked the town of Heimdal in North Dakota. | Curt Bemson/AP