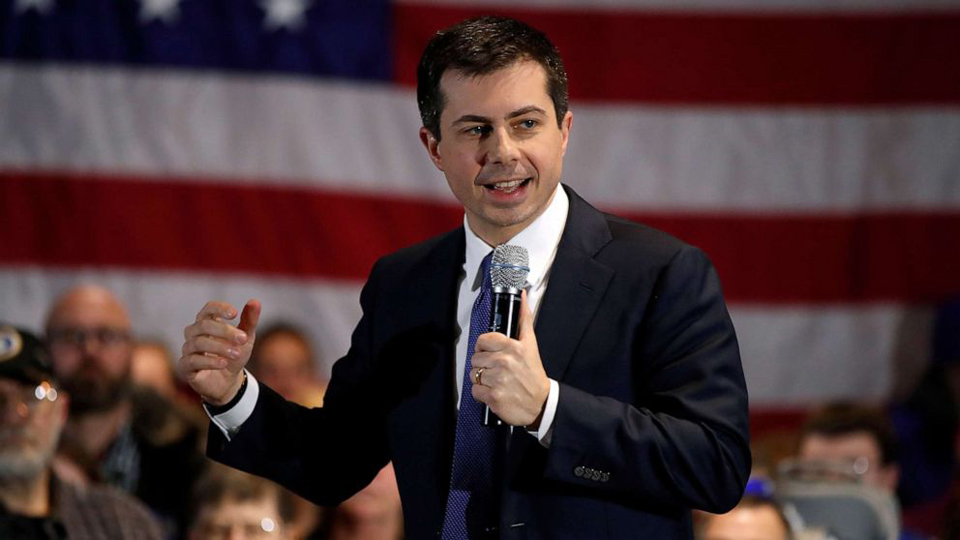 Condemnation of vile homophobic remarks last week by right-wing radio host Rush Limbaugh directed at Pete Buttigieg came swiftly from all parts of the diverse coalition to defeat Trump and the GOP, including Democratic candidates. The former South Bend, Indiana, mayor is making history as the first openly gay Democratic presidential candidate.
In his radio show recently, Limbaugh relied on homophobia in an attempt to raise doubts about whether the Democratic Party leadership would allow Buttigieg to be their candidate, commenting: "And they're saying, 'Okay. How's that going to look, a 37-year-old gay guy kissing his husband on stage next to Mr. Man, Donald Trump? What's gonna happen there?'"
Buttigieg blasted both Limbaugh and Trump during an interview on CNN's "State of the Union" Feb. 16. "I'm proud of my husband," he said. "And I'm not going to be lectured on family values from the likes of Rush Limbaugh or anybody who supports Donald J. Trump as the moral as well as the political leader of the United States."
Buttigieg openly talks during his stump speeches about his marriage to his husband, Chasten. They often appear together on stage, embracing. Buttigieg's candidacy reflects the rapid sea change in attitudes toward LGBTQ equality among the American people. These changes have led to legal victories, including marriage equality.
However, since day one of his administration, Trump has gone about dismantling LGBTQ rights and gains, and wiping references to gays and lesbians, "sexual orientation" and "gender identity," off of government websites. Trump has appointed anti-LGBTQ judges and even joked about Vice President Pence's anti-LGBTQ agenda.
Trump and the GOP rely heavily on conservative religious voters, mainly right-wing white Evangelicals for support. These voters tend to be homophobic, and Trump's re-election game plan relies on division, hate, and fear by exploiting homophobia, racism, misogyny, xenophobia, Islamophobia, and red-baiting.
Elliot Imse of the Victory Fund, an organization that promotes LGBTQ candidates, said Trump's campaign would "use homophobia to try and define who Mayor Pete is as a person and as a candidate. That will likely backfire with most of America if we can expose the homophobia for what it is and refocus quickly on who Pete is as a candidate," he said.
Limbaugh made the ugly comments on his syndicated radio show, which has a large following. He has a long history of racism, misogyny, and homophobia. Trump bestowed Limbaugh with the Medal of Freedom during a spectacle at the State of the Union address Feb. 4. Limbaugh recently announced he has stage-four lung cancer.
Most GOP elected officials and right-wing media personalities have been silent or come to Limbaugh's defense. A reporter asked Trump if he would vote for an LGTBQ candidate for president. He responded, yes. However, Limbaugh told his radio audience Feb. 17 he had spoken to Trump, who said, "Rush, I just got to tell you something. Never apologize, don't ever –" and I said, "For what?"
Although, some like former Congressman Joe Walsh (R-Ill.) did denounce Limbaugh. "What an intolerant ass Limbaugh is," wrote Walsh on Twitter. Walsh, who has blasted the GOP as a cult around Trump, is vowing to vote for whomever the Democrats nominate, a move that may reflect social changes occurring among suburban voters.
Democratic presidential candidates called out Limbaugh's remarks as another attempt by the right-wing to sow hate and mobilize votes ahead of the November elections. Uniting and broadening the electoral coalition, including LGBTQ voters, is crucial to a Democratic victory in November.
"These homophobic attacks against @PeteButtigieg are hateful and offensive. We will not tolerate this in the Democratic presidential race, and we will fight together against the hate and bigotry that Donald Trump promotes and rewards," Elizabeth Warren wrote on Twitter.
"As candidates, we have disagreements, but personal attacks like these are unacceptable," said Bernie Sanders. "Rush Limbaugh's homophobic comments about Pete Buttigieg are outrageous and offensive. Together, we will end the divisions and hatred sown by Donald Trump."
Joe Biden called the remarks "part of the depravity" of this administration. "I mean the idea that, you know, Pete and I are competitors, but this guy has honor, he has courage, he's smart as hell," he said.
After Buttigieg's strong showing in Iowa and New Hampshire, the mainstream media has increasingly focused on his sexual orientation. Seventy-five percent of Americans said they would vote for an LGBTQ candidate for president. However, whether voters are ready to elect an openly LGBTQ candidate has been an undercurrent in the campaign.
Seventy-five percent of LGBTQ voters supported Hillary Clinton in 2016, and have become a crucial constituency in the broad anti-extreme right coalition in and around the Democratic Party. "The real question is who wants to kiss Rush Limbaugh," the Victory Fund tweeted. "But seriously folks: we must watch for and rally against this type of hate. It will not go unanswered in November."
There are nearly 700 LGBTQ elected officials, a twenty-five percent increase since 2018. Colorado Gov. Jared Polis, Sen. Kyrsten Sinema of Arizona, Rep. Sharice Davids of Kansas and Chicago Mayor Lori Lightfoot are among them, all Democrats.
"Rush is a nasty and hateful person who lives in a bigot bubble and doesn't realize he's out of touch with America," said Imse.