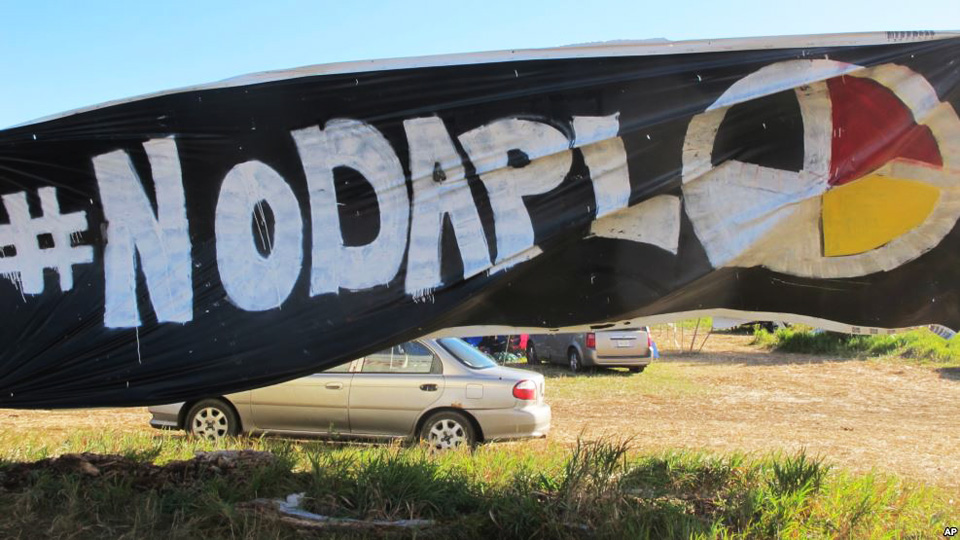 NASHVILLE – As part of the week of national mobilization in solidarity with the Standing Rock Sioux opposition to the Dakota Access Pipeline (DAPL), demonstrators in Tennessee's largest city turned out in force. Demonstrations involving hundreds roared throughout the main thoroughfares of the city on November 15. The honking of horns by passing motorists buoyed the anti-pipeline activists. One driver who later joined the demonstrators remarked that the protests "seemed to be everywhere."
Three rallies were held in quick succession throughout the day, giving the image of simultaneous protest across the city. There were events in the afternoon at the Estes Kefauver Federal Building, the Wells Fargo Bank, and at Centennial Park, a well-known public gathering area.
At the federal building on the always busy 8th Avenue, over 200 gathered on the sidewalk waving signs of pipeline opposition and solidarity with the Standing Rock water protectors. The demonstration here was directed at the U.S. Army Corps of Engineers, which is the agency in charge of the federal lands near Lake Oahe.
A candlelight vigil was held by the American Indian Coalition on the same site a week ago. The trio of November 15 events are the latest in a series of support activities for Standing Rock that have taken place in Nashville over the past three months, including fundraisers, demonstrations, and rallies.
Over 100 protesters hit the pavement at the Wells Fargo Bank on West End Avenue, another main Nashville thoroughfare. Wells Fargo has $476 million invested in DAPL. The protesters were encouraging depositors to close their accounts and start banking elsewhere.
Later, these same demonstrators converged on the Bank of America where those who had bank cards of that institution took them out and cut them up. Afterward, they went into the bank building, officially closed their accounts, and walked out chanting with cash in hand.
The third protest convened in Centennial Park and was organized by Cheyenne holy man Lou White Eagle. This gathering of over 200 stressed the urgent need, as did the other two rallies, for Obama to take immediate action to stop the pipeline and protect the Native People in North Dakota. All of the protests were diverse, composed of Native American, Hispanic, Black, white, and Asian participants.
Two days later on November 17, the Students for Environmental Action group at Middle Tennessee State University held a public program on campus on the DAPL issue at which this writer was the featured speaker (I was also the invited speaker at the protests held on November 15).
The media reported that Obama was on a European tour for the week of national solidarity with Standing Rock. This surely was no coincidence.