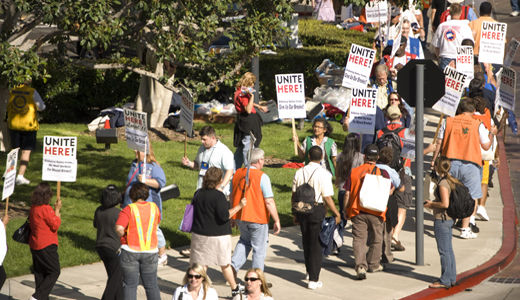 In a first for their industry, workers at a non-union hotel went out on a one-day strike August 9 to protest years of being denied the right to take breaks.
Workers at the Embassy Suites Hotel in Irvine, Calif., walked off the job only a week after filing complaints with the state of California saying they have been systematically denied the 10-minute breaks to which they are entitled under state law.
Workers say 50 percent of the hotel's 60 non-management employees signed the complaint. It's an action that testifies to their militancy and courage, say leaders of the union that represents hotel workers. A group of employees at the hotel is campaigning to organize the site under the auspices of that union, Unite Here, Local 11.
The workers threw up a picket line in front of the hotel, demanding $180,000 in back pay. They returned to work after a day but have maintained a daily picket line in front of the hotel since then.
"This company has robbed us of our time in order to make higher profits," declared Joseph Murphy, a hotel houseman. "We went on strike to show them we know our rights, and we are fed up. We demand change."
Rachelle Smith, who has worked at the front desk of the hotel for more than two years, said she sometimes has to wait to take a restroom break because there is no one to cover for her. "I've had to go past my five hours to take a lunch because it was so busy and there weren't enough people," she said.
Hotel management is downplaying the significance of the job actions by its officially unorganized workers.
Tim Digby, the hotel manager, said only a few employees had walked out. "We weren't observing or head counting, but only about a half-dozen or so meant to work did not show up for work for whatever reason," he said.
Employees dispute his assessment. Smith, who has joined the picket line herself, said that "quite a few" workers were involved and photos of the picket lines sent to the People's World by the union show far more than half-a-dozen workers.
Digby said it was difficult for him to comment on the workers' demands because he had not seen the complaint they filed with the state. "We try our best to make sure we account for their ability to take breaks," he said.
Leigh Shelton, a spokeswoman for Unite Here Local 11, said that complaints were made and signed by more than 30 workers and that most of the complaints were about missed 10-minute breaks. She said there are 60 non-management workers at the hotel and some of the violations regarding denied breaks date back as far as 10 years.
"The 24 hour strike was a huge step for these non-union workers who have never done anything like this before," Shelton said. She said 70 percent of the employees have already signed cards demanding a fair process to organize a union. They want the company to remain neutral.
She also explained that the hotel has contracted out some of its work to outside agencies that pay very low wages and it does not count those workers as its employees.
Despite strong support among workers at the Embassy Suites in favor of union representation, the hotel says it opposes majority sign-up when it comes to union recognition and it will not recognize the union unless there is a "secret ballot" election. Under current federal labor law the company has the option of blocking the will of the signed-up majority by insisting on such an election. The Employee Free Choice Act would eliminate that company option, requiring the hotel to recognize the union once a majority of its workers have signed union cards.
California state law guarantees workers two 10-minute rest breaks and one 30-minute meal break per eight-hour shift.
Under that law, which is administered by the state's Department of Industrial Relations, for every day that a rest break is missed the worker is entitled to one hour of back pay, and an additional hour of back pay for every day that a meal break is missed.
"I've worked in the hotel for two and a half years, and most of the time it is unrealistic to think I'm going to get a 10-minute break because we're so short staffed," said Smith. "I can't even use the restroom when I need to – not until they find someone who can cover for me. If the hotel just scheduled more people to work, we probably wouldn't have these problems."
Workers report that, in addition to denying breaks, Embassy Suites pays poverty wages and offers only unaffordable health care benefits.
A housekeeper who says she has been an employee for 22 years said she earns only $10.85 an hour and pays $184 per month for health care benefits that cover only herself.
Photo: Workers picket outside the Embassy Suites Hotel in Irvine, Calif. (Courtesy Unite Here Local 11)