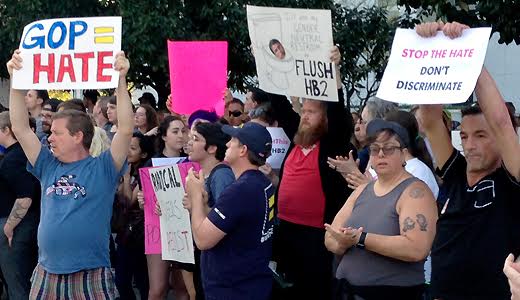 After the city of Charlotte passed an anti-discrimination ordinance that explicitly protected the rights of LGBTQ people, North Carolina Republican Gov. Pat McCrory snapped into action with an urgency rarely seen in domestic governance.
At the cost of $42,000 per day, the governor convened a "special session" of the general assembly to whip state Republicans into passing HB2, which not only "supersedes and preempts" local non-discrimination ordinances regarding gender identity and expression, but "any ordinance, regulation, resolution, or policy… that regulates or imposes a requirement upon on employer pertaining to compensation of employees."
"Ordinance defied common sense, allowing men to use women's bathroom/locker room for instance. That's why I signed bipartisan bill to stop it," tweeted McCrory, seemingly in an attempt to seem as petty and small-minded as possible. Bathrooms are the latest go-to talking point in GOP-LGBTQ panic politics across the country, with legislative fights regarding usage occurring in Indiana, Tennessee, South Dakota and more.
The governor's haste to undo this step forward for civil rights has not gone unnoticed by activist groups.
On Friday, a wide variety of those groups convened at the Winston-Salem City Hall to call on the city of Winston-Salem to pass a vote of "no confidence" in Gov. McCrory. Approximately 150 people gathered outside and chanted, "We won't do HB2!"
"I haven't seen the community come together this fast in a while," said Wooten Gough of GetEQUAL NC, an LGBTQ grassroots network. "In Winston-Salem alone, multiple groups are organizing behind the resolution of no confidence in McCrory and to repeal the bill. To name a few, North Star LGBT Community Center, Raise Up $15, several student groups at Wake Forest University, and El Cambio (an immigrants rights organization)."
MaryBe McMillan of the North Carolina AFL-CIO told People's World that the whole state federation "will speak out against this law and educate our members about its effects." Most important, she continued, "is using this issue to turn out the labor vote this fall in support of candidates who will protect workers from all forms of discrimination."
Surely the governor and state Republicans expected this type of reaction from progressive organizations. What they may not have counted on is the backlash they have come to face from their traditional allies in the business community.
Strange bedfellows and silent partners
Tech companies Google, Apple, and PayPal have taken to Twitter to decry the passage of HB2. PayPal, which is opening a data center in Raleigh, tweeted, "Inclusion is one of our core values and we are proud to champion LGBTQ equality in North Carolina and around the world."
McMillan said that the North Carolina AFL-CIO "welcomes the efforts of any groups who oppose this bill," saying further that they hope to garner a "broad coalition" of organizations to get this law off the books.
Among those corporations who have cited LGBTQ equality as a core value, one has remained conspicuously silent.
The Walt Disney Corporation has a history of backing state-level preemption statutes, while also standing against LGBTQ discrimination. Now that the worst of both worlds have combined into this anti-people chimera, their representatives have been slow to respond.
Just last week, Disney threatened to pull production of their films out of Georgia because of the discriminatory effects of a so-called "religious freedom bill." House Bill 757 would have given organizations which claim to be "faith-based" the option to deny employment to lesbian, gay, bisexual and transgender people. Disney's threat of boycott, along with solidarity from other corporations, moved Governor Nathan Deal to veto the bill.
Contrast this healthy corporate citizenship with Disney's fight against activists in Florida's Orange County, the seat of Disney World.
Local canvassers had gathered enough petitions to put a referendum to the Orange County charter on the ballot in November, 2012. This was the first time anything like this had happened in Orange County and it drummed up resistance from the Orlando Chamber of Commerce, Darden Restaurants, Mears Transportation, and most crucially the Mouse himself.
Disney's influence over lawmakers proved to be shockingly efficient, just as it has proved itself to be once again in Georgia.
Commissioners Scott Boyd, Jennifer Thompson, and Mayor Theresa Jacobs all received text messages from lobbyists and people associated with Disney corporate during public hearings around earned sick time.
The Orange County commission managed to delay major decisions on the referendum just long enough for the Florida legislature (themselves awash in Disney money) to preempt the effort along with all other possible efforts for locally mandated employment benefits across the state.
Steve Precourt, Florida House representative from Orange County, who introduced the state-wide preemption bill has acted as Disney's hatchet man in the past, killing a bill that would have helped firefighters who protect Walt Disney World in future labor negotiations with the resorts personal government of Reedy Creek.
While Disney has not responded to the People's World requests for a comment, Katey Rich of Vanity Fair managed to publish the following statement from Disney today:
"The legislation hastily enacted by the State of North Carolina today is deplorable and discriminatory, and it runs counter to everything we stand for. Our Dirty Dancing 3-hour filmed musical event, which celebrates the principles of inclusiveness, diversity and tolerance, will go forward given our obligation to the hundreds of people in the state employed by the production. However, we will be hard pressed to continue our relationship with North Carolina if this regressive law remains on the books."
It would seem that the Georgia law was enough to threaten pulling out production of the multi-billion dollar Marvel franchise and to renege on their obligation to the thousands of people involved, but North Carolina's law is insufficient to warrant moving Dirty Dancing elsewhere. Looks like the corporate conscience around LGBTQ equality ends somewhere around the bottom line with Disney.
Photo: People protest outside the North Carolina Executive Mansion in Raleigh, March 24. North Carolina legislators approved a bill Wednesday that prevents cities and counties from passing their own anti-discrimination rules. North Carolina Gov. Pat McCrory later signed the legislation, which dealt a blow to the LGBT movement after success with protections in cities across the country. Emery P. Dalesio | AP