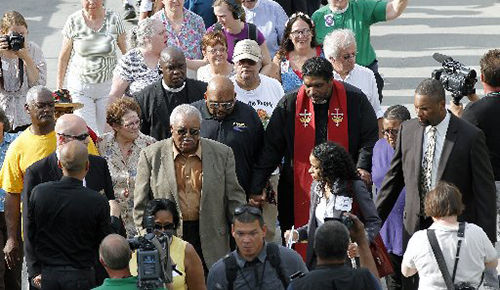 RALEIGH, N.C. – After approximately 150 protesters from the Forward Together Moral Movement flooded the North Carolina General Assembly rotunda on Wednesday, 10 participants were arrested and jailed upon their refusal to vacate the building. While four of these demonstrators – including North Carolina NAACP president Rev. Dr. William J. Barber, II – had planned to refuse bail and remain in detention overnight, all 10 arrestees are expected to be released from jail on Wednesday night.
Unlike the procedure followed in previous arrests from 2015 "Forward Together" rallies, magistrates at the Wake County Detention Center decided not to issue secured bonds to most of Wednesday night's arrestees. Because most participants were issued unsecured bonds, unlike previous weeks, they were released without having to post bail.
The protesters were charged with violating the fire code, second-degree trespass, and violation of the General Assembly building rules.
"We were planning to stay in jail overnight as an act of defiance against being arrested in the first place, unconstitutionally, based on the sound or volume of our voices," Rev. Dr. Barber said, following his release. "We will continue to fight these charges that attempt to limit how loudly we can express our First Amendment rights. We will also continue to challenge our legislature, which wants to make it easier to buy a gun than to vote."
Wednesday's demonstration was one in a continuing series of "Moral Monday" protests, which were initiated in 2013 in response to an avalanche of extreme policies pursued by Gov. Pat McCrory and the General Assembly. This week's protest focused on opposition to H.B. 589, North Carolina's sweeping voter suppression law. Among other changes to North Carolina's voting system, the measure shortens the early voting period by a full week, bans same-day registration, requires strict forms of photo ID to vote, prohibits ballots cast out of precinct from being counted, expands the ability to challenge voters, and ends a voter pre-registration program for 16- and 17-year olds.
The North Carolina NAACP is the lead plaintiff in a major voting rights lawsuit against H.B. 589. The case, which goes to trial on July 13 in Winston-Salem, challenges the discriminatory measure under Section 2 of the Voting Rights Act. Coinciding with the first day of the trial on July 13, the Forward Together Moral Movement will also convene a march for voting rights in Winston-Salem, under the heading: North Carolina is Our Selma.
Photo: Rev. Barber (in red sash, toward right) leads protesters toward the North Carolina General Assembly building. | Chris Seward/AP & The News Observer