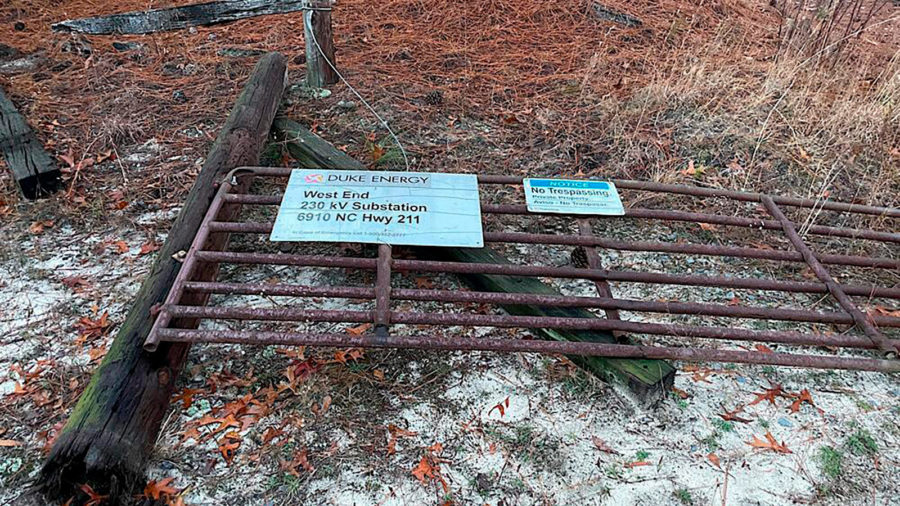 Officials in a North Carolina county where more than 40,000 households remain without power amid freezing temperatures declared a state of emergency on Sunday afternoon, less than 24 hours after multiple electrical substations were damaged by gunfire in an apparent act of criminal vandalism.
"As utility companies began responding to the different substations, evidence was discovered that indicated that intentional vandalism had occurred at multiple sites," Moore County Sheriff Ronnie Fields said in a statement. The massive blackout, which began just after 7:00 p.m. Saturday night, is "being investigated as a criminal occurrence." No arrests have been announced.
According to The Pilot, a local newspaper:
"Damage assessments are still underway and estimates for the return of power to almost all of southern and central Moore remain uncertain. Initially, Duke Energy had estimated restoration by 10:00 p.m. Sunday night, but that was before daylight and full examinations could be made of the damage. Duke spokesman Jeff Brooks said company officials were still assessing damage, but the company said it could be Thursday, Dec. 8, before power is fully restored because some equipment cannot be repaired and must be replaced."
The North Carolina State Bureau of Investigation and the Federal Bureau of Investigation have both joined the investigation, according to U.S. Rep. Richard Hudson, R-N.C., who represents the area. At least two substations were attacked "with criminal intent," but the motive remains unclear, Hudson said Sunday morning.
As Harvard legal scholar Alejandra Caraballo documented in a detailed Twitter thread, one right-wing extremist implied that armed vandals deliberately caused power outages to disrupt a drag show at the Sunrise Theater in downtown Southern Pines.
Emily Rainey, a former Army officer who resigned after the military probed her alleged participation in the Jan. 6 insurrection, wrote on Facebook, "The power is out in Moore County and I know why." In a subsequent post, Rainey shared a photo of the Sunrise Theater, where a drag show was scheduled, and wrote, "God will not be mocked."
Later, Rainey claimed that Moore County sheriffs visited her home, likely to question her about the aforementioned social media posts. As Caraballo noted, it is unclear if Rainey—who supposedly told law enforcement that "God works in mysterious ways and is responsible for the outage"—has "any actual knowledge or connection to the perpetrators."
Right-wing activists in other parts of the country, meanwhile, quickly endorsed the gun-induced power outage and ensuing disturbance of the drag event. Texas Freedom Coalition president Sarah Fields, for instance, tweeted "#ImOkWithIt" before deleting the celebratory hashtag from her post.
"Regardless of the motivations of the perpetrators," Caraballo wrote, "this is how it was being perceived by extremists." Moreover, the Proud Boys and other far-right groups "threatened to protest and disrupt the event" in the days leading up to it. Despite receiving death threats, organizers of the drag show vowed to proceed.
"It has not been confirmed by officials or law enforcement that the two were explicitly connected," Caraballo tweeted. "However, the timing is likely not a coincidence."
"Regardless of the motivations of the perpetrators, it is factually true that a drag show was targeted by extremists with death threats in the days leading up to the event," she added. "The drag show was disrupted by power loss resulting from power substations being attacked with gunfire."
While a local resident said that the drag show went on, with guests providing light via their cell phones, the power grid attack was highly destructive.
Citing Southern Pines Fire Chief Mike Cameron, The Associated Press reported that "there have been several accidents at intersections where the traffic lights are out."
As The Pilot reported, Southern Pines' water and sewer system and the Moore County Regional Hospital are operating on backup generators. County officials ordered a curfew from 9:00 p.m. Sunday night to 5:00 a.m. Monday morning, activated a local emergency center, and canceled classes for Monday, the newspaper noted.
"I'm worried for residents of Moore County who rely on life-sustaining medical equipment and just had the power go out," writer Charlotte Clymer tweeted. "This attack has immediately put lives in danger, to say nothing of the campaign of terror being waged against LGBTQ people."
According to Caraballo, the Southern Pines drag show was targeted last month on Twitter by the right-wing account, "Libs of TikTok." In their post, the group alleged that the performance was marketed as being open to children 16 and under as long as they were accompanied by a parent or guardian despite containing "adult themes."
However, according to advertising materials shared by Clymer, the event flyer stated that "no one under the age of 18 will be permitted."
Elsewhere in the country this weekend, armed far-right activists showed up outside drag events, canceling a story hour at a church in Columbus, Ohio, and demonstrating outside a music and art show in Lakeland, Florida.
"This is terrorism," said Caraballo. "Where is the DOJ? This is a clear violation of civil rights by neo-Nazi organizations."
"We need to start bringing Section 1985 claims against Proud Boys and neo-Nazi organizations showing up armed to LGBTQ events," she continued. "This is exactly what the Ku Klux Klan Act was supposed to prevent. The fact that they wear masks and are armed makes it an even easier claim to prove."
Caraballo shared a recent Fox News segment in which Tucker Carlson "told viewers to arm themselves" after right-wing activist Christopher Rufo of the Manhattan Institute "went on a deranged rant about drag queens."
Just two weeks ago, a right-wing bigot wielding an AR-15-style assault rifle killed five people and injured at least 18 at an LGBTQ+ nightclub in Colorado Springs.
The Republican Party has gone to great lengths to normalize hatred of and violence against LGBTQ+ individuals, with one recent analysis showing that GOP lawmakers have introduced 306 bills aimed at restricting the rights of transgender people alone over the past two years.