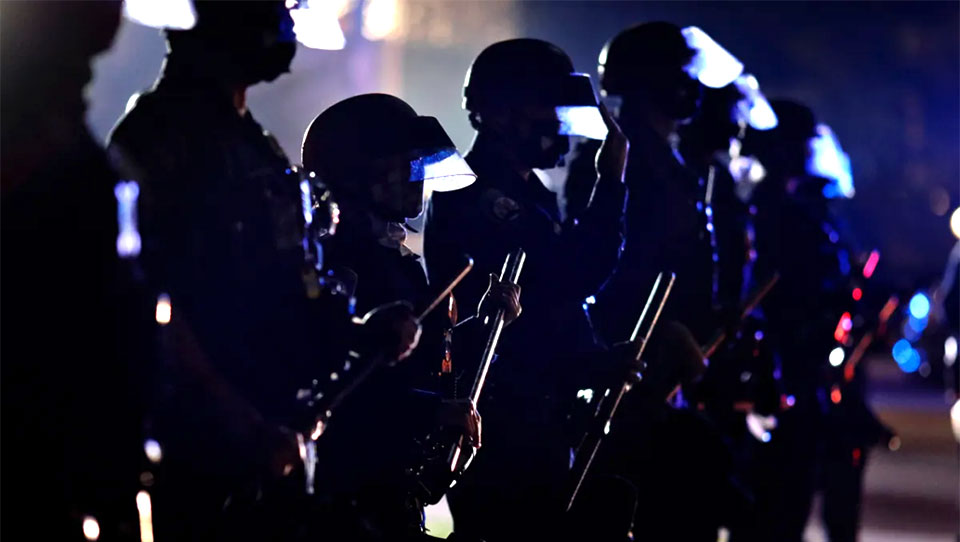 OAKLAND, Calif. – By the time the California legislature wrapped up its 2021 legislative session at the end of last week, the state Senate and Assembly had sent some 900 bills to Governor Gavin Newsom's desk for signature, on a broad range of issues from social justice to housing, environment, education, workers' rights, health care and much more. The governor, who this week just won the biggest election majority of any governor in state history when close to two-thirds of voters rejected a Republican recall effort, now has until Oct. 10 to sign or veto the bills.
One of the most closely watched measures is Senate Bill 2, the Kenneth Ross Jr. Police Decertification Act of 2021, authored by state Senator Steven Bradford, D-Gardena and chair of the California Legislative Black Caucus, together with Senate President pro Tempore Toni Atkins (D-San Diego). The bill, which ran aground in last year's pandemic-truncated legislative session after vigorous opposition from law enforcement groups, headed the caucus' list of priority measures for the current session. The two legislators had pledged to reintroduce the measure this year.
SB 2 creates a statewide process to revoke the certification of a police officer who has been convicted of serious crimes or terminated from employment because of misconduct. California is one of just four states lacking such a decertification process.
The bill was created after the fatal shooting of Kenneth Ross Jr. by a Gardena police officer in April 2018. After it was approved by the legislature on Sept. 8, Ross' mother, Fouzia Almarou, declared that its passage "is proof that when we fight, we win … With this act, my son's spirit lives on and protects our communities from police who bring harm."
During this year's legislative process, Bradford amended SB 2 to require a two-thirds vote of the state's Commission on Police Officer Standards and Training (POST) and an advisory board's finding of "clear and convincing" evidence of misconduct. Law enforcement organizations remained opposed, but the bill passed both houses with substantial margins.
Victory for public safety
Calling the measure's legislative approval "a major victory for advocates of public safety," Bradford said California and the U.S. as a whole "have experienced tragedy after tragedy where consequences for egregious abuses of power went unanswered – eroding public trust in law enforcement."
Atkins added that SB 2 "is about coming together to root out and remove systemic racism that lurks within our institutions, preventing more violence against people of color, and increasing safety and equality for all who call California home."
The two legislators expressed their gratitude to the many legislators, organizations, and individual Californians who supported SB 2's advancement. Sponsoring the measure was a coalition of community organizations including Alliance for Boys and Men of Color, ACLU California Action, Anti Police-Terror Project, Black Lives Matter Los Angeles, California Families United 4 Justice, Communities United for Restorative Youth Justice, PolicyLink, STOP Coalition, and Youth Justice Coalition.
Another social justice bill on the Legislative Black Caucus' priority list, and now on the governor's desk, is Assembly Bill 26, Peace Officers: Use of Force – also known as the "George Floyd Law," after the African American man killed last year by a Minneapolis police officer who pressed his knee into Floyd's neck.
The measure, introduced by Assemblymember Chris Holden, D-Pasadena, sets clear guidelines for police responsibility and accountability when witnessing excessive force by another member of law enforcement.
California law requires police officers to intervene when they see another officer using unnecessary force, but there are no universal standards to determine if an officer has indeed interceded. Under AB 26, police officers must intercede, and report the incident in real time to dispatch or the watch commander.
AB 26 also underwent changes during the legislative process. As first introduced, police officers would have been disqualified for failing to intervene; now, the measure sets new standards for police departments' use-of-force policies.
Holden called the measure's passage "a big step forward for police responsibility and accountability," core values he said are vital to building public trust between law enforcement and communities across the state.
A third social justice priority for the Legislative Black Caucus – AB 118, the Crises Act Pilot Program – would create a grant program to support community-based alternatives to police response during 911 calls. The bill was introduced by now-state Sen. Sydney Kamlager, D-Los Angeles, while she was an Assemblymember prior to her election to the state Senate in March.
The state budget already includes $10 million in funding for the pilot project. If it is signed into law, AB 118 would provide grants of at least $250,000 to communities so they could set up pilot programs.
Support alternatives to police involvement
"It's long been time to support alternatives to police involvement," Kamlager said after the bill was sent to the governor. "We can't afford to wait any longer to re-engineer a system that's continually failed Black and Brown folks." She said the measure "puts forward community-centered solutions to local emergencies" and offers a real opportunity to advance racial equity in the state.
Like SB 2, AB 118 was supported by a broad coalition of organizations.
A measure that's a priority for both the Asian Pacific Islander Legislative Caucus and the Latino Legislative Caucus is AB 101, to make ethnic studies a California high school graduation requirement. The bill, introduced by eight Assemblymembers led by Jose Medina, D-Riverside, and David Chiu, D-San Francisco, would require high schools to offer ethnic studies courses beginning in 2025-26 and make the course a graduation requirement starting with the 2029-30 academic year.
"Requiring ethnic studies in high schools is an integral part of cultivating a classroom environment that is accepting of diversity," Medina said. "This bill comes after decades of struggles and countless efforts by students, teachers, and legislators to diversify curriculum in both K-12 and higher education."
The bill is backed by State Superintendent of Instruction Tony Thurmond and a coalition of educators, students, and supporters across the state.
An issue galvanizing the attention of the labor movement and supporters across the country this year is the urgent need to protect the health and safety of Amazon and other warehouse workers around the country.
AB 701, the Warehouse Workers Protection Act, authored by Assemblymember Lorena Gonzalez, D-San Diego and a member of the Latino Legislative Caucus, requires warehouse employers to disclose quotas and work speed standards to workers and to state enforcement agencies and prohibits them from penalizing workers to time spent complying with health and safety laws.
Marking the state Senate's passage of the bill last week, Ron Herrera, president of the Los Angeles County Federation of Labor, commended the Senate for standing with Amazon and all warehouse workers "to say their health and safety must be protected and their voices must be heard.
"Thanks to AB 701, warehouse workers at places like Amazon will no longer be fired for simply using the restroom in the middle of their shift," he said. "They will finally have better working conditions that allow them to return home safely to their loved ones at the end of a hard day's work."
The L.A. Labor Federation noted that Amazon's own records show its workers being injured on the job at double the rate of the warehouse industry generally and triple the rate across all employers in 2018.
If Gov. Newsom signs AB 701, the measure will be the first of its kind in the nation and will begin to set standards for the future of algorithmic-based work, the Federation said.
Another issue attracting sharp criticism from millions of California workers since the start of the pandemic has been the paralysis of the state's Employment Development Department as it has struggled to respond to the wave of more than 24 million claims for unemployment benefits. As a result, payments to hundreds of thousands of newly unemployed Californians have been stalled for long periods of time.
Among legislative measures to address the crisis:
AB 56, by Assemblymember Rudy Salas, D-Bakersfield, mandating that the EDD upgrade its technology, develop a plan to speed delayed claims, help victims of identity theft and create a unit to coordinate anti-fraud measures.
AB 397, by Assemblymember Chad Mayes, I-Rancho Mirage, mandating that before it disqualifies an application for unemployment, EDD notify the individual, state the reason for denial and provide an opportunity to correct inaccurate statements.
SB 390, by state Senator John Laird, D-Santa Cruz, requiring EDD to formulate and routinely revise a "recession plan" so it can respond to future unemployment crises.