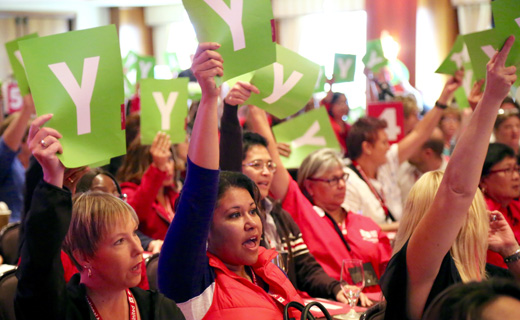 NEW ORLEANS – Meeting in a national convention Saturday, more than 150 National Nurses United delegates from across the U.S. voted unanimously to re-affirm the union's endorsement of Sen. Bernie Sanders for President.
The vote, by the nation's largest organization of nurses, followed a video greeting to the RNs by Sen. Sanders in which he praised NNU as "one of our nation's great unions," and said he has been "proud to work with National Nurses United fighting to expand Medicare" and collective bargaining rights for nurses. The entire video message may be viewed at https://vimeo.com/143471247.

"There is no job in this country that is more demanding, more important and more fulfilling than being a nurse," said Sanders. "You take care of our young children when they get sick, you take care of our patients in their time of need, you take care of our veterans, when they come home from war with no legs, no arms, and no eyesight."

NNU Executive Director RoseAnn DeMoro noted how the Sanders campaign has been embraced by nurses across the country who have held more than 70 house parties for the campaign, attended and spoke at mass rallies for Sanders from coast to coast, and marched for Sanders at the first Democratic candidate debate in Las Vegas.

"He truly amplifies nurses values of caring, compassion and community," said DeMoro, "Bernie's campaign has also unified families. Nurses are working with their high school and college age children to support and promote the campaign, bringing families across generations."

Both the video, and a convention resolution brought a standing ovation from the convention delegates and in testimony by nurses before the convention vote.

"I am incredibly proud, for the first time in my whole life, that there is finally a candidate speaking to the values I've held my whole life," said California RN Katy Roemer. "I hope everyone will work as hard as they can to elect Bernie."

"I want to tell everyone here that I am a Republican," said Georgia RN Irma Westmoreland. "I have voted my whole life as a Republican. This is the first time I am going to vote for a Democratic president. Bernie is for nurses' values."

"The reason I support Bernie Sanders is his stance on Black Lives Matters," said Chicago RN Martese Chism. "They say Bernie does not have the black support, well, I'm here to say that the black support is here for Bernie."

"Bernie Sanders is looking out for me, and that's the reason I'm supporting him," said Florida RN Marissa Lee. "He's looking out for the little people, and that's you, me, and everyone else."

"It's the first time actually in my life that I feel very excited about a candidate," said California RN Monica Rizzo. "I want to talk specifically about the College for All Act. I have a son recently graduated from high school and I am faced with the reality of putting him through college as a single parent. And I can't do it" noting Sanders proposal for free tuition at all public colleges and universities.

In his video message, Sanders emphasized some of his key campaign themes. "With your support we are going to create a political revolution in this country which says loudly and clearly enough is enough, our government belongs to all of us, and not just the top one percent. Yes we are going to make healthcare a right for all people. Yes we are going to make public colleges and universities free and substantially reduce student loan debt in America. Yes, we are going to make it easier, not harder, for nurses and millions of Americans to join unions and collectively bargain for better wages and benefits."

NNU delegates also passed resolutions re-affirming the union's longstanding support for winning an expanded Medicare for all, a Robin Hood tax on Wall Street speculation, action to address the harmful effects, including substantial health damage from environmental pollution and climate change, and opposition to the Trans-Pacific Partnership trade pact and attacks on collective bargaining rights.

Resolutions were also passed in support of attacking the pervasive problems of racial and economic justice symbolized by the Black Lives Matter movement as well as opposing racial disparities in health, employment, environmental protections, and incarceration, and support for Planned Parenthood in the face of attacks on the organization with nurses noting the critical role of Planned Parenthood in providing essential women's health care, and on ethical principles for RN professional practice.

The convention was held in New Orleans, in support of the 10th anniversary of Hurricane Katrina during which NNU's disaster relief program, Registered Nurse Response Network, sent more than 300 RNs to Louisiana, Mississippi and Texas, to provide medical support for those affected by the super storm.
Photo: Nurses, at their convention, vote "Yes" to reaffirm the union's backing for Vermont Senator Bernie Sanders' presidential bid. | NNU website