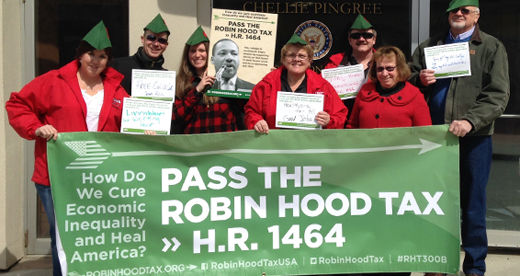 ROCKVILLE, Md. (PAI)-Nurses nationwide took to the streets in front of 25 U.S. representatives' offices on April 8 to again push a "Robin Hood Tax" on financial transactions.
The nurses, members of National Nurses United and its affiliates, demanded lawmakers approve the measure, reintroduced by Rep. Keith Ellison, DFL-Minn., to impose a small tax – one nickel per $10 — on every transaction engineered by the Wall Street financiers and finaglers whose machinations produced the Great Recession.
Studies show such a tax would cut down on the Ponzi schemes the Wall Streeters used to peddle flimsy securities with bad collateral. The collapse of those securities – many of them underwriting defaulted mortgages – led to the crash. Great Britain has enacted a similar tax.
The U.S. version of the tax would also raise $350 billion in revenue for human services which the recession slammed, and would cut the federal deficit, NNU has said.
But this time, the NNU said enacting the tax would also help achieve the vision of social and economic justice that the late Dr. Martin Luther King enunciated.
The April 8 vigils, demonstrations and petitions were on the 47th anniversary of King's assassination in Memphis, Tenn. – when King was leading marches for economic justice, and specifically for union recognition and rights for sanitation workers there who were trying to join AFSCME and achieve decent working conditions.
This year, NNU-led vigils occurred outside congressional offices in Alabama, California, Florida, Georgia, Maine, Maryland, Massachusetts, Michigan, Minnesota, Nevada, New York, North Carolina, Ohio, Texas, and Vermont. Some 172 other groups endorsed the vigils.
"We need a robust tax on Wall Street trading to provide the revenue needed to invest in the education, health and communities of Maryland and the rest of the country," said Rajini Raj, a cardiac care RN and Silver Spring, Md., resident at one protest, at the Rockville, Md., office of Rep. Chris Van Hollen, D-Md. Van Hollen seeks the 2016 Democratic nomination for the Senate seat being vacated by veteran pro-worker lawmaker Barbara Mikulski (D).
"We are calling on Van Hollen to stand up for Marylanders and Main Street by co-sponsoring the Inclusive Prosperity Act," Raj said, using the official name of Ellison's financial transfer tax bill.
Wealthy investors who reap the profits and dividends from Wall Street speculation can afford the tax, NNU members say. And the money it raises can be redirected to health care, education, student debt relief, infrastructure construction and other programs that help workers, they add. "Inequality in health and still-rampant hunger, homelessness, and poverty, all critical causes of Dr. King's life, continue to devastate far too many families. We need the Robin Hood Tax to protect our health, our families, our communities, and our nation," said NNU Co-President Deborah Burger, RN.
Photo: National Nurses Association.