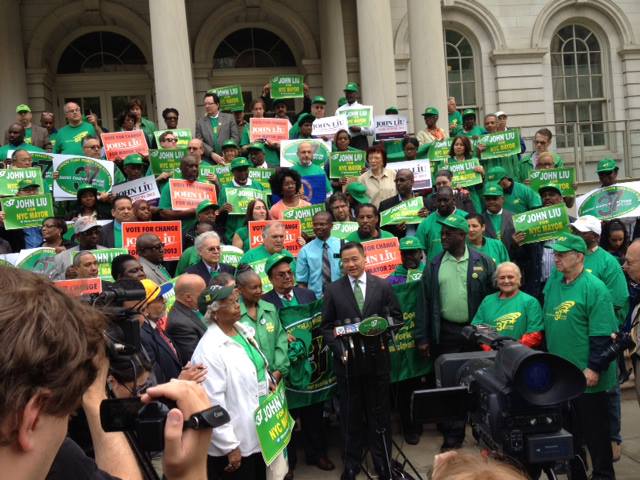 NEW YORK (PAI) — Saying New York City Comptroller John Liu "would end the favoritism towards the wealthy 1%" and return the Big Apple's government to its people, AFSCME District Council 37 delegates unanimously endorsed his mayoral candidacy.
The May 28 endorsement by the 300 delegates, representing 121,000 workers and their families and 50,000 retirees, gives Liu – an ally of DC 37 in rooting out no-bid sweetheart city contracts to private firms – a boost in the crowded mayoral race.
The New York Mayor's chair is important to workers in the heavily unionized city: The mayor has huge powers over city contracts, appoints most of the school board and has a large say over operations of the unionized Metropolitan Transportation Authority.
The AFSCME endorsement includes "a pledge to put our powerful, sophisticated field operations" to work for him, DC 37 President Lillian Roberts said on May 29.
"DC 37 members and all New Yorkers face a critical mayoral election this November, which could bring a truly great mayor who will end the current favoritism toward the wealthy 1% and restore government 'for the people'-the poor and working-class people of New York City, a mayor who makes New York City's neglected communities and the public workers that serve them a priority," she added. Roberts called Liu "the candidate best qualified to be that mayor."
The union picked Liu after its screening committee and convention delegates evaluated Democratic hopefuls and after it hosted a May 16 mayoral forum.
"We evaluated Liu's answers to tough questions-both at our mayoral forum and from the screening committee-regarding issues of importance to District Council 37 and the communities our union members serve," said Roberts. "We also looked at his consistent track record of actions to curtail contracting out, overspending and waste of taxpayer dollars throughout his tenure. DC 37 members have been able to count on Liu's support during our fight to protect vital services and our jobs.
"This union has a proven record of successfully supporting our endorsed candidates. We look forward to putting DC 37's mighty army of volunteers into the field to help elect Liu as…a mayor who truly believes in government for the people."
The most recent poll shows Liu running fifth. But the leader, City Council Speaker Christine Quinn, has only 24% support, just ahead of the undecided (23%). Trailing her, in order, are former Rep. Anthony Weiner (D) – who is trying to come back from a sex scandal-Public Advocate Bill de Blasio, 2009 Democratic nominee Bill Thompson and Liu. All seek to succeed 3-term term-limited Mayor Michael Bloomberg, an independent.
Photo: District Council 37 Facebook page