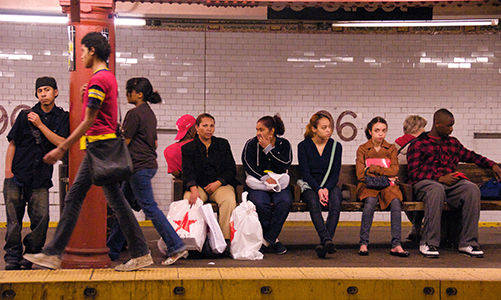 NEW YORK-Public high school students, as well as teachers and parents, are organizing in new ways against a proposal by the Metropolitan Transportation Authority, which runs the city's buses and trains, to take away free-and reduced-price Metrocards currently issued to students.
"Yeah, this is insanely crazy," reads a message from high school student Aleize Jarrett-via Facebook. "I go to school from Bronx to Brooklyn everyday, two fares per day. I don't want to spend $4.50 or whatever just to get to school. It's already worse, since teacher's jobs are getting cut."
People from across the city are in a rage, but young people have taken the lead in organizing. A number of new Facebook groups have sprung up in the past few weeks, including one, "Protest the MTA getting rid of STUDENT METROCARDS," which currently has nearly 100,000 members.
Out of that group, one successful protest of 200 students has already taken place and more are planned.
"The student organizing has been incredibly impressive," Working Families Party spokesperson Dan Levitan told the World. "You've got students using the tools that they use every day in their own life to really organize a rapid response."
"They've used the tools that connect to them to organize themselves," Levitan continued. "They had a protest with hundreds of people that was put together in just a couple of days."
The WFP is fighting the cuts via a more traditional route, through a petition drive. Launched in December, it already has about 10,000 signatures.
Levitan noted that, were the changes to go through, there would be a huge disparity between city students and those in the rest of the state, where, like in the rest of the country, students are picked up by yellow buses and brought to school for free.
While cutting free rides for students has drawn the most attention, the MTA is also drawing riders' ire by pushing other cuts: two subway lines and dozens of bus routes are also on the chopping block.
After a demonstration, New York City Council speaker Christine Quinn called the cuts "a slap in the face to hard working people across our city."
Also slated to go are services for the disabled and the elderly.
"They're going to significantly scale back Access-a-Ride for the disabled. Right now you can call Access-a-Ride and they'll take you basically anywhere you want to go. Under the new thing, they'll just take you to the nearest accessible subway station, and then it's just like, 'good luck.'"
The MTA voted on the cuts in December, but they aren't slated to take effect until June, giving New Yorkers time to organize.
The students are planning another demonstration on January 11, and the city council is vowing to continue the fight, starting with their own petition drive.
Levitan says that he is optimistic: "This fight continues, and as it gets closer to the time when these cuts get implemented, I think you're going to see that really take off."
Photo: http://www.flickr.com/photos/yourdon/ / CC BY-SA 2.0