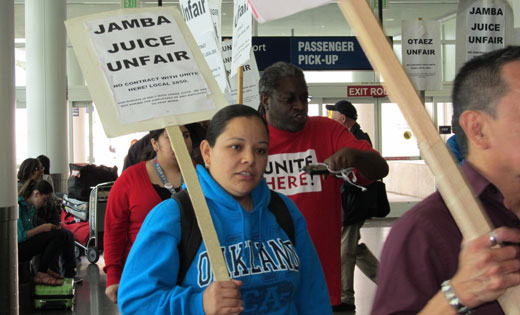 OAKLAND, Calif. – Dozens of workers at Oakland Airport concessions and their supporters walked the picket line Aug. 23 outside Oakland Airport's Terminal 2 to celebrate the return to work of co-workers fired after they spoke out against injustices and labor law violations they experienced on their jobs.
At the same time, the workers are stepping up their demands for a fair process to decide about joining a union.
The airport's Subway and Jamba Juice concessions agreed earlier this month to restore worker leaders Hakima Arhab, Bikram Thapa and Diamond Ford to their jobs, and Subway also restored normal hours to Hayat Selmani. All four will receive back pay.
In May, the National Labor Relations Board issued complaints against the two concessions for retaliating against workers for organizing. The reinstatements are part of the settlement of that case.
And now the workers are stepping up their demands for a fair process to decide about joining a union.
Workers at several airport concessions including Auntie Ann's, Burger King, See's Candies and Otaez as well as Subway and Jamba Juice took to the picket line at the airport over a year ago, determined to better their conditions on the job.
They have since held repeated informational pickets to inform air travelers about their demands, and on July 14 they held a one-day unfair labor practices strike with a lively all-day picket line.
In every phase of their struggle, the non-union concession workers have had the wholehearted support of the unionized concession workers at the airport, who belong to Unite Here Local 2850. This picket line was no exception.
Now some 200 unionized workers are engaged in their own struggle, this time fighting back against the drive by the main food service contractor, HMS Host, to freeze the wages of workers now earning less than $13 an hour, essentially eliminate health coverage by switching to a very expensive plan, and take away vacation and personal days.
Ida, a snack bar attendant with HMS Host for over six years, said the most important issue to her is medical benefits. "I have three kids – nine year old twins and an 11-year-old son. Their dad is unemployed. I can't afford to pay for a very expensive plan. Suppose I get sick on the job? Then what?
"When I heard what was happening in the negotiations, it was horrible," she said, adding that many of her co-workers feel the same way.
Ida said HMS Host also wants to eliminate all overtime pay, and wrap vacation days, sick and personal days into a 12-day annual framework, instead of the sliding scale that gave longer-serving workers two to four weeks' vacation alongside five yearly sick days.
One thing is for sure – as their struggles enter new phases, the union and non-union workers at Oakland Airport's concessions will be sticking together, and will have the continuing backing of the area's other unions and community supporters.
Photo: Marilyn Bechtel/PW