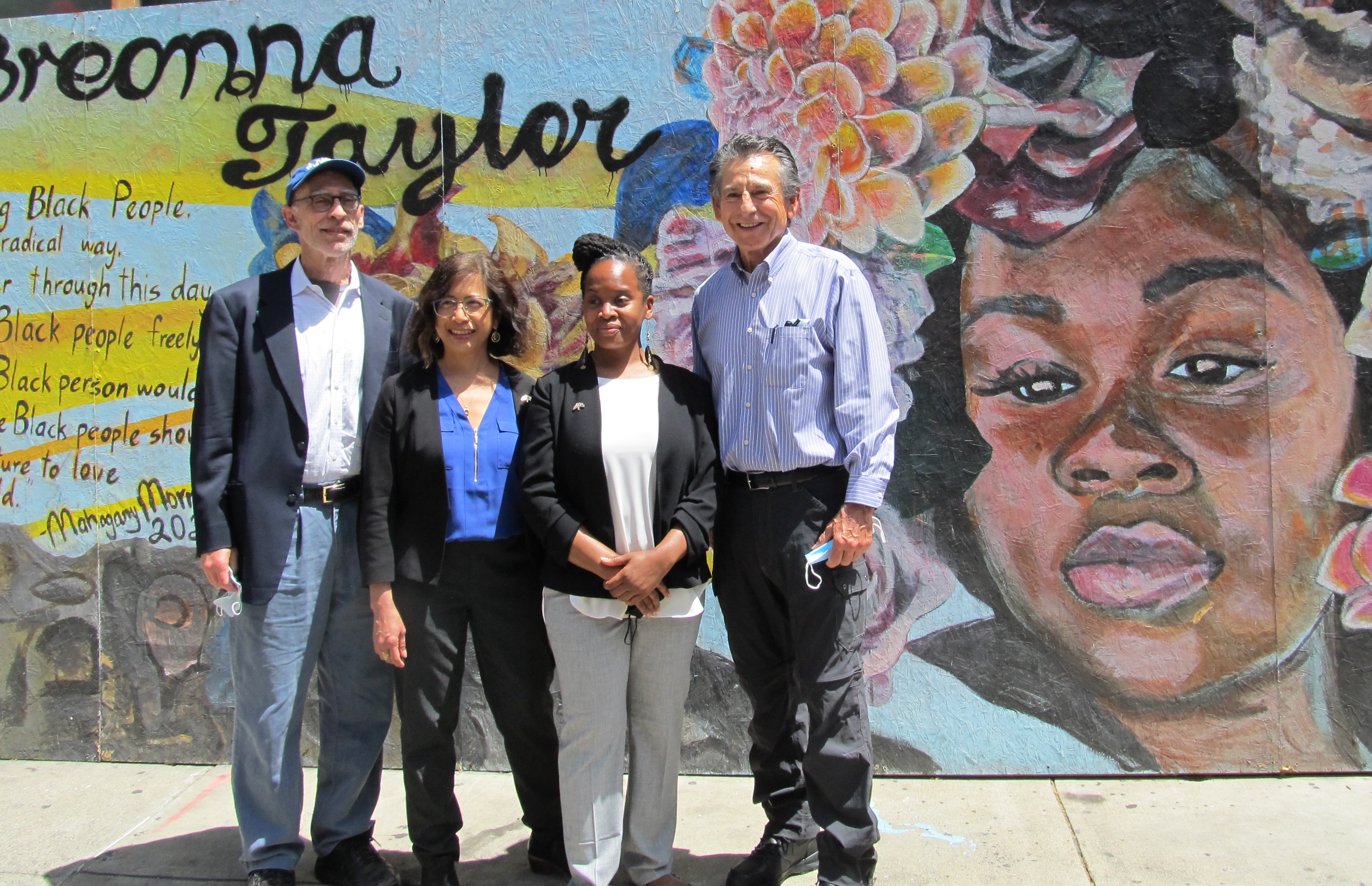 OAKLAND, Calif.—As a June 30 deadline nears for the City Council to adopt a balanced, two-year spending plan in the wake of the pandemic, Council President Nikki Fortunato Bas and three Council colleagues are calling for a budget that builds a safe and healthy community through preventing and overcoming homelessness, preventing violence, creating good jobs and a vibrant economy, and restoring parks, recreation centers and cultural institutions.
Discussion has swirled around budget issues for months, with two broad coalitions, ReFund Oakland and the Defund Police Coalition, urging significant redirection of funding from police to community needs, and a Reimagining Public Safety Task Force that presented nearly 90 recommendations to the City Council earlier this spring.
At a June 14 press conference near City Hall in downtown Oakland, Bas, who represents District 2, and her Council Budget Team—Councilmembers Carroll Fife (District 3), Noel Gallo (District 5) and Dan Kalb (District 1)—elaborated on the amendments they are proposing to the draft budget Mayor Libby Schaaf put forward early last month.
Their aim, as expressed in the Budget Memorandum Bas released on the same day, is to shift the city's nearly $4 billion two-year budget, going forward, "towards equity by addressing the systemic disinvestment in marginalized communities."
With the mayor's budget assigning 45% of the city's General Purpose Fund to the Police Department, but just 2% to parks, libraries and other key services promoting violence prevention, Bas said, "We need to shift that allocation and use those policing dollars more effectively."
The team's amendments would shift $18 million from police officer patrol to violence prevention, by focusing police activity on stopping and solving serious crime. At the same time, alternative, non-police responses to non-criminal, nonviolent calls for service would be instituted through the MACRO (Mobile Assistance Community Responders of Oakland) alternative response system and investing in the Department of Violence Prevention, including violence interrupters and community ambassadors living in the city's neighborhoods.
Oakland police officers "are overstretched," Bas told reporters. "For decades they have been called upon to respond to everything under the sun." But with three-quarters of the calls to police being for non-criminal issues like blocked driveways, false alarms and nonviolent disturbances, the team's amendments "will focus our police on what they do best, which is responding to and solving serious and violent crime."
Gallo said that growing up in East Oakland, he got his homework done because the library was open on Sunday. "And, I want to make sure my parks and recreation centers are open not only Monday through Friday, but evenings, Saturdays and Sundays," Gallo said, "because that was when I released my energy. I want to make sure our recreational services are there."
Among other goals of the budget amendments:
Housing affordable by those with low and moderate incomes,
Transitional and permanent housing for currently unhoused Oaklanders, and effective cleaning services for encampments in the meantime.
Cultural affairs programming, funded through grants and other support,
Investing in the Black Arts Movement and Business District,
Workforce development training and placement programs focused on impacted communities including youth, unhoused and formerly incarcerated people,
Restoring workers including crossing guards, environmental enforcement officers, and park workers,
Investing in community food cards to support families in working-class communities and local small groceries,
Increasing city revenue and resources to fund public services.
Kalb said while the city has made some investments in these and related areas, it's never been enough. "So whether it's job training, violence prevention, homeless encampments, affordable housing and then some, we're going to be increasing those investments for the next couple years, and setting a pattern to do even more beyond that."
Among community leaders expressing support for the team's proposals was Minister Cherri Murphy, a faith organizer with the East Bay Alliance for a Sustainable Economy.
"What we know is that Oakland's public safety system doesn't work for all of us, mostly those who look like me," said Murphy, who is African American. "Council President Bas' budget is about having the moral will to modernize policing in Oakland, pivoting from years of failed public safety policy to resourceful strategies for short-term and long-term public safety."
"When we talk about public safety and community violence," added Saabir Lockett, director of EBASE's Faith Alliance for a Moral Economy, "we have to talk about homelessness, poverty. We don't see thriving communities with police every day on every corner, we see communities thriving with services they need to actually be strong. Council President Bas' proposals reflect those needs."
Yeon Park, a leader of SEIU Local 1021, which represents over 4,000 City of Oakland workers, most of whom live in Oakland, added that Bas "has always been there for the community, for labor. She and her team fought for us when we needed them. So I am here to support this budget."
When the budget team members were asked why they were standing before a mural paying tribute to Breonna Taylor, killed by Louisville, KY police in March 2020, Councilmember Carroll Fife responded, "A lot of things were seen as radical, before the murder of George Floyd, before Breonna Taylor was killed. And there are people today who will tell you that some of the changes in this budget are radical. But that is not the case.
"What's radical is actually doing what's rational in 2021 … We've got to address systemic violence that we've all learned to ignore for generations, from the inception of this country, and do something radically different. And when I say 'radical,' just remember—it's rational!"
On June 17, the discussion will continue, as the City Council holds a hearing on the budget.