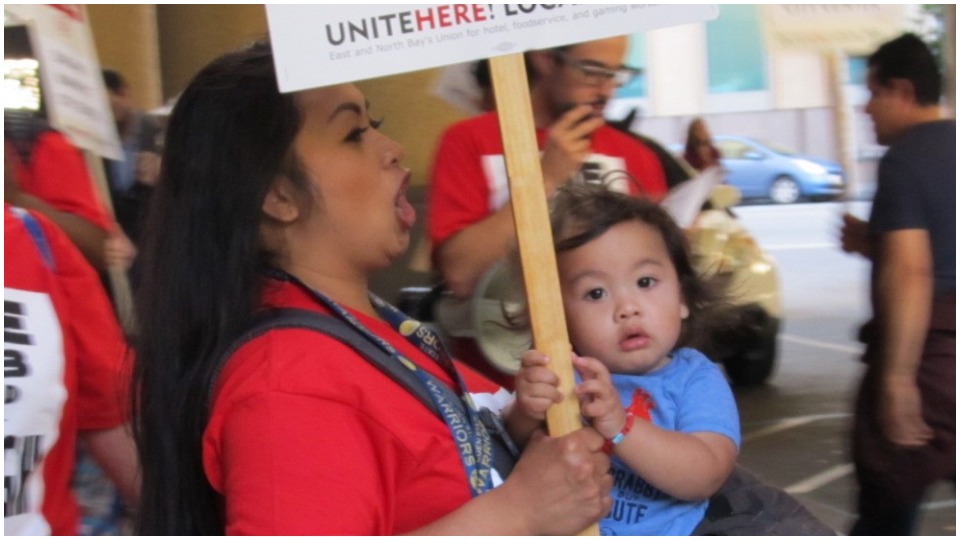 OAKLAND, Calif.—Marriott workers here have joined their sisters and brothers in San Francisco and San Jose on the picket lines at Marriott hotels serving tourists around the Bay Area.
Some 2,500 members of UNITE HERE Local 2 took to the streets Oct. 4 to picket seven Marriott-affiliated hotels in downtown San Francisco, including the Ritz-Carlton, Palace, W and Marriott Marquis hotels. Another 200 Marriott workers walked out in San Jose.
The next day, 200 Marriott workers, members of UNITE HERE Local 2850, hit the picket lines at the Oakland Marriott City Center in downtown Oakland.
The Bay Area actions followed a walkout Sept. 3 by Boston Marriott workers over economic issues to make one job enough to support a family, job security regarding automation, and workplace safety issues posed by the so-called "Green Choice" program—rewarding guests for skipping housecleaning sessions, making eventual cleaning hazardous and much more difficult for workers.
Over the weekend, the strikers were joined by Marriott workers in Detroit.
Contracts at several UNITE HERE affiliates have expired in the past year, and with months of negotiations failing to bring significant progress, last month 8,300 Marriott workers voted overwhelmingly to authorize strikes at nine tourism destinations around the country. Their vote came three months after workers had conducted one-day walkouts in late June in cities around the U.S. and Canada.
On the picket line in Oakland, Safi Jami, a food server at the Oakland Marriott City Center for 28 years, said he and his fellow workers—many also with long years on the job—were on strike "because the hotel doesn't want to give us respect or job security. The worst thing is, the Marriott—this major, major corporation, doesn't want to help me with my health care, so I can support my family."
Bringing up an issue that affects workers throughout the Bay Area, including those at the Marriott, Jami said another concern is that he can no longer afford to live "in the city I serve, the city I love," because he cannot afford the soaring rents that are affecting working families throughout the region.
Average rent for a one-bedroom apartment in Oakland is reported to be over $2,500 per month, and for a two-bedroom apartment, over $3,300. Rents in San Francisco are significantly higher.
Jami said he and his longtime coworkers "have another family inside the Marriott—it makes it easier for me to come in the morning. But if I don't have my health care, if I'm not happy, how am I going to take care of my guests? The Marriott says we are the heart of this business. If the heart is not pumping, how am I going to serve these people?"
Local 2850's president, Wei-Ling Huber, said Marriott workers "are on strike for the principle that One Job Should be Enough." Not only can many hotel workers no longer afford to live in the city where they work, she said, but many also have to work multiple jobs to survive.
"As the largest and richest hotel company in the world," Huber said, "Marriott can and must change that."
UNITE HERE represents over 270,000 workers in the hotel, gaming, food service, manufacturing, airport and other industries in the U.S. and Canada, some 20,000 of whom work for the Marriott.
UNITE HERE calls the Marriott "the largest and richest hotel company on the planet," earning nearly $23 billion in revenue in 2017.