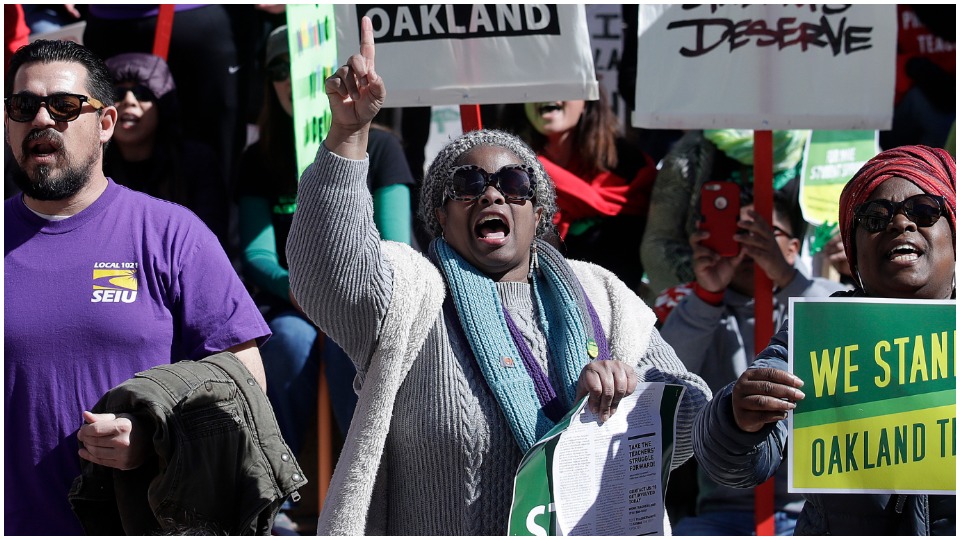 OAKLAND, Calif.—The headline on the Oakland Education Association's website, announcing that union members had ratified the tentative agreement they won with their seven-day strike, said it all: "Back to School: Monday, March 4—The Fight has Just Begun!
"With gains in every key area," the union said, "this contract lays a solid foundation for the challenging fight ahead to ensure that all Oakland kids have access to fully-funded, well-resourced public schools in their neighborhood with great educators and support staff that can afford to stick around."
The teachers and school support workers had been without a contract since July 2017. Starting pay in the district is currently $46,500 per year, and the average salary is $63,000—among the lowest in the increasingly expensive San Francisco Bay Area, and teacher retention is a major issue.
The OEA said the agreement included an 11 percent salary increase over four years with a 3 percent bonus on ratification, along with more student supports and lower class sizes. The Oakland Unified School Board's president also committed to introduce and support resolutions for a five-month pause in school closures and consolidations, and for a moratorium on publicly funded but privately run charter schools.
A recent study by the research group In the Public Interest says Oakland's nearly 40 charter schools enroll almost 13,000 students and cost the district over $57 million annually.
On Sunday evening, March 3, with 70 percent of the OEA's 3,000 members voting, the union ratified the two parts of the agreement it won in its seven-day strike. The first, which focused on a 3 percent retroactive bonus for the 2017-18 school year, was ratified by a vote of 64 percent, while the second, which included the pay hike, passed by 58 percent.
The strike, which started Feb. 21 and ended March 1 when union and school district negotiators announced they had reached agreement, was marked by daily picket lines, morning and afternoon, at all 86 public schools. The union said 95 percent of its members participated, while just 3 percent of the district's 37,000 students crossed the picket lines to enter schools. Many students chose instead to join picket lines with parents and teachers or to attend "solidarity schools" staffed by volunteers.
Noontime rallies brought huge crowds to locations around the city, with emphasis on sites where school closures and consolidations were taking place despite community opposition—most in economically challenged areas with many residents of color.
"The real victory of our historic strike…lies in the power and unity we built at our school sites, in our union, and in the city of Oakland," the OEA said. "The city of Oakland has spoken. No longer will we allow a handful of billionaires to determine the educational opportunities of Oakland kids. We will continue to organize with each other and fight until we have truly realized the schools our students deserve."
OEA President Keith Brown, who both attended and is a teacher in Oakland's public schools, told a March 1 press conference, "We have achieved so much in the seven days of our historic strike…. Our power in the streets prevailed."
Along with the clear majorities for ratification, however, there were strikers who felt the union should hold out for greater gains. Among them were over 200 who signed an open letter saying the agreement did not do enough to address school closures and the heavy workloads handled by nurses and counselors. They also felt that salaries will not rise enough to offset inflation and will not be enough to halt the stream of teachers leaving Oakland schools every year.
Looming over Oakland's schools, and schools throughout the state, are funding problems stemming from California's ballot Proposition 13, passed by voters in 1978 to sharply limit property taxes on both commercial and residential properties. With property taxes providing a significant share of school funding, Prop. 13 has helped to keep California's per pupil spending among the lowest in the country.
The Oakland Unified School District is especially challenged by state fiscal restraints placed on it in 2003, after it received a $100 million loan from the state during a financial crisis. Though the district has repaid much of the loan, some $40 million remains. One of the demands made during the strike by teachers and community supporters—and sure to be front-and-center as the fight goes on—is state forgiveness of the remaining debt.