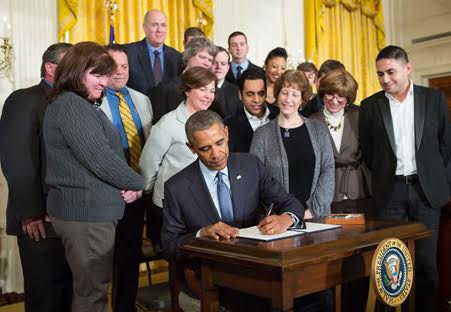 WASHINGTON (PAI) – Overturning a cutback the GOP Bush Administration instituted a decade ago, President Obama announced a new overtime pay rule on June 30.
The rule, which will not take effect until next year, says workers earning up to $50,440 yearly are now eligible for overtime, and then indexes it to inflation.
The Labor Department's rule, which Obama discussed on Huffington Post, aids an estimated 5 million more workers, 56 percent of them women, the agency said.
The GOP Bush Labor Department had also ruled workers earning more than $23,660 yearly could not get overtime. And it expanded ineligibility for overtime so much that even newspaper copyboys and route carriers couldn't get it, for example.
The new overtime pay rules are "how America should do business. In this country, a hard day's work deserves a fair day's pay. That's at the heart of what it means to be middle class in America," Obama said.
Union leaders welcomed the new overtime pay rules. AFL-CIO President Richard Trumka called them "a critically important step forward." But he warned employers will continue to deny overtime to millions of workers, but it is just that-a first step.
Steelworkers President Leo Gerard said the new rules are "a win for workers and a win for the economy" and "long overdue."
"The likes of the U.S. Chamber of Commerce and fast food CEOs will whine that businesses can't pay workers more, no matter how many hours a week they work. Workers should point out that every year, corporations find tens of millions to hand over to CEOs demanding excessive pay increases," Gerard added.
Photo: U.S. Department of Labor