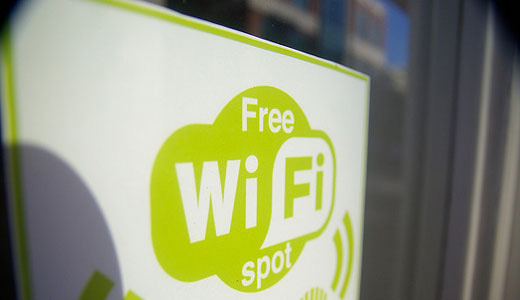 The Obama administration's FCC is planning to open up a major part of the wireless atmosphere to create faster, more widespread access to public Wi-Fi hotspots. The move is intended to decrease network congestion and enhance media (such as streaming HD videos). It is also an important shift, however, in the direction of free Internet for everyone.
FCC chairman Julius Genachowski made the announcement in January, revealing that the commission seeks to free up to 195 MHz of space in the 5 GHz band – the largest portion of unlicensed Wi-Fi since 2003. This is part of a larger technology campaign started by President Obama, who ordered that 500 MHz of spectrum be opened to the public by 2020.
The commission will not be able to move forward with the initiative, however, until it settles a few matters with federal agencies, namely the Department of Defense, which probably uses some of the same spectrum as public Wi-Fi. "It's very possible that some of [the spectrum] is currently used by DOD technology," said Ende. "But that would probably be the only hang-up," before the FCC can move forward. "Other than that, though, the FCC and other government agencies are relatively united in the common goal of expanding Wi-Fi access."
Other sources, however, maintain that Big Business and the Obama administration have altogether conflicting plans: Companies like Verizon and AT&T are pushing proposals to seize and repurpose unlicensed spectrum in order to expand cellular data networks. Companies would be able to obtain that spectrum through an FCC auction (a
"highest bidder wins" type of situation that Republicans are pushing for). Many fear that the big companies would be able to have a level of influence over any proposed legislation, and would thus eat up some of that 195 Mhz.
The Obama administration's plans to increase public Wi-Fi also threaten to lighten the wallets of major Internet service providers. If Wi-Fi hotspots became so commonplace that they allowed users to stay connected simply through sharing Internet connections with neighbors, or by piggybacking onto those of nearby businesses, customers might downgrade their wireless data plans with telecom companies. Therefore, seizing control of or stopping such networks seems to be a top priority for corporate interests.
However, when it comes to getting easily-accessible Internet to the people, not the corporations, President Obama seems to have another answer on the horizon: part of the FCC's plan will reportedly also include revamping the Universal Services Fund, which currently pours $4.3 into landlines per year. That funding is intended to be phased out and replaced with furthering free Internet development in rural and low-income areas.
"This is one of the easiest ways to increase Internet access," said analyst Rob Enderle, who suggested this is indicative a real effort on the part of the Obama administration to prioritize free Internet. "The FCC isn't known for speed, but this should be one of their fastest efforts to date."
Photo: Flickr