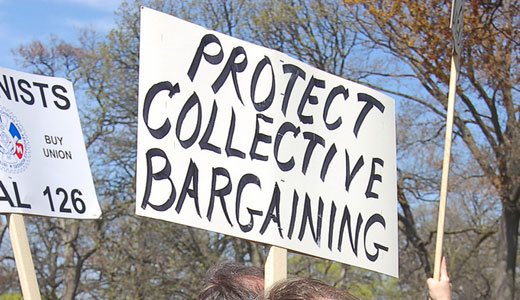 WASHINGTON – When it comes to the National Labor Relations Board nominations, the story line may be summed up in one sentence: Here we go again.
That's because President Obama nominated Sharon Block and Richard Griffin on Feb. 13 to regular seats on the NLRB, setting up yet another confrontation with Senate Republicans over the board, its powers, decisions, and future.
Griffin, a former general counsel for the Operating Engineers, and Block, a former top aide to the late pro-labor lion Sen. Edward M. Kennedy, D-Mass., are the two "recess appointees" Obama named to the board in early 2012. The recess appointments and their consequences produced a pitched partisan battle ever since.
Obama named Block and Griffin to the NLRB after a GOP Senate filibuster blocked his regular nominees. The GOP, kowtowing to the radical right, sought to hamstring the agency and bring its regulation of labor-management relations to a screeching halt.
Obama avoided that GOP trap with the recess appointments.
This time, the president named Griffin and Block to regular NLRB seats on the same day the very partisan GOP-run House Education and the Workforce Committee – which has no role in NLRB nominations – staged a show hearing on the board's future.
The House panel called the session after a recent federal appellate court decision declared an NLRB ruling involving Griffin and Block illegal. The three GOP-named judges said the "recess appointments" themselves were illegal. The House session featured victorious bleating by a rep for the anti-worker National Right to Work Committee and doubts from the GOP majority that anything the NLRB is doing is legal.
Over in the Senate, which will actually have to deal with the Griffin and Block nominations, Labor Committee Chairman Tom Harkin, D-Iowa, supported the nominees.
Harkin also urged Obama to quickly nominate two Republicans to vacant minority-party seats on the five-member board so his committee can move all the names. Griffin, Block and current board chair Mark Gaston Pearce are all Democrats. Harkin also urged Obama to nominate Pearce to a new term as the board's chair.
Sen. Lamar Alexander, R-Tenn., the panel's new top Republican, said Obama "fulfilled his constitutional duty" by naming Griffin and Block. He then said they should leave while their nominations are pending, because of the court ruling. What Alexander omitted is that their departure would leave the NLRB with one member, Pearce, and unable to function.
Photo: One of the main functions of the NLRB is to guatantee that companies do not interfere with the right of workers to form a union, specifically their collective bargaining rights. PW/Flickr