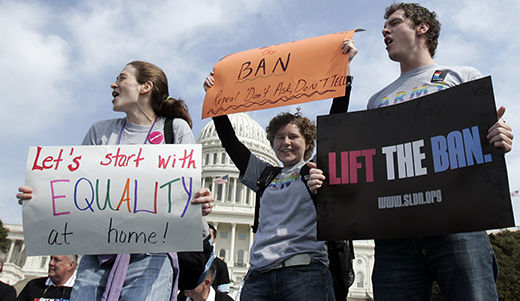 Last Saturday, just one night before 150,000 gay rights supporters marched on the Capitol, President Obama pledged to end the ban on homosexuals serving openly in the military.
"I will end don't ask-don't tell," Obama said to a standing ovation from a crowd of 3,000 at the annual dinner of the Human Rights Campaign, a gay rights advocacy group.
The law was a "compromise" passed by Congress in 1993 and signed by President Clinton, who had attempted to repeal the ban on gays in the military. His effort was blunted by opposition in Congress and from the Pentagon itself.
Obama has been working with Pentagon and congressional leaders on ending the policy, under which 13,000 women and men have been discharged from the military.
On Oct. 7 Rep. Patrick Murphy, D-Pa., announced he has 176 co-sponsors on a House Bill that would end the policy, which forbids gay, lesbian and bisexual individuals from openly serving in the military. Sen. Kirsten Gillibrand, D-N.Y., announced, the same day, that hearings in the Senate will take place this fall and, only a few days earlier, an article calling for an end to the discriminatory policy was published in a major Pentagon journal.
"We should not be punishing patriotic Americans who have stepped forward to serve the country," Obama said. "We should be celebrating their willingness to step forward and show courage especially when we are fighting two wars."
Obama said it was no secret "our progress may be taking longer than we like. I appreciate that many of you don't believe progress has come fast enough. Do not doubt the direction we are heading and the destination we will reach."
Obama also called on Congress to repeal the Defense of Marriage Act, which limits how state, local and federal bodies can recognize partnerships and determine benefits and he called for a law to extend benefits to domestic partners.
"My expectation is that when you look back on these years you will look back and see a time when we put a stop on discrimination, whether in the office or the battlefield," Obama said.
Some 400 labor, civil rights and gay rights organizations are backing a national campaign for a new federal law that would protect LGBT individuals from employment discrimination. The Employment Non-Discrimination Act (ENDA) extends federal employment discrimination protections currently provided based on race, religion, sex, national origin, age and disability to sexual orientation and gender identity.
It remains legal in 29 states to discriminate based on sexual orientation, and in 38 states to do so based on gender identity or expression. Rights advocates note that, as a result, LGBT people are facing serious discrimination in employment, including being fired, being denied promotions and experiencing harassment.
At the dinner Obama also spoke to problems resulting from the fact that many still oppose equality for gays. "There's still laws to change and there's still hearts to open" the president said.
Although there is significant concern among groups advocating for equality for gays that progress is not fast enough, the Human Rights Campaign, which invited the president to speak, is positive about the administration's efforts.
"We have never had a stronger ally in the White House. Never," Joe Solomonese, the group's president, said at the dinner before Obama spoke. Solomonese said, in a telephone interview, that the Obama administration has been working with his group "on a range of issues on an almost weekly and sometimes daily basis."
Obama came out strongly in his speech for new hate crimes legislation, which would make it a federal crime to assault people because of their sexual orientation. The legislation was approved by the House this week and Obama predicted that it will be approved by the Senate and promised that he will quickly sign it into law.
The National Equality March drew a variety of activists to Washington the day after the president's speech. Lesbian, Black and Latino LGBT contingents were included in the march and Julian Bond represented the NAACP on the platform.
"Good things don't come to those who wait, but they come to those who agitate," Bond told the cheering crowd. "Black people of all people should not oppose equality, and that is what marriage is all about," he said, adding, "We have a lot of real and serious problems in this country, and same-sex marriage is not one of them."
There was a contingent of current and former servicemen and large numbers of LGBT parents with their children. Straight family members and friends and supporters joined the marchers and cheered from the sidelines.
Rainbow flags and homemade signs were hoisted by many in the crowds that filled Pennsylvania Ave. Two of the many signs read, "Separate but Equal? Been There Done That," and "Homophobia is a Sin."
A man carried a sign that read, "Lesbian rights NOW" and another man carried one that read, "Straight Guy for Equal Rights."
One of the favorite chants of the day was "What does democracy look like.? This is what democracy looks like!"
AP photo