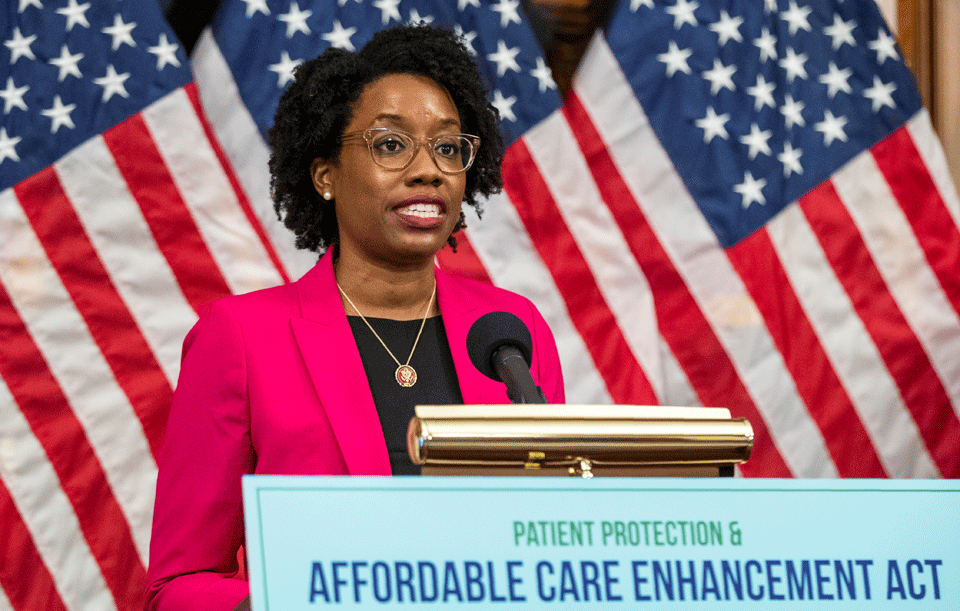 WASHINGTON—Sixty-two times since right-wing Republicans rode to congressional power in the 2010 election, they tried—and failed—to kill the Affordable Care Act. Now the House's ruling Democrats are trying to improve it, or so they contend.
In statements at a virtual press conference June 24, party leaders, including the chairs of the three committees that deal with health care legislation, rolled out a comprehensive measure to make prescription drugs more affordable by setting price increase limits and to further limit how much workers and their families must pay out of pocket for health care.
And in an attempt to break the continuing virtual monopoly power of the health insurers, the Patient Protection and Affordable Care Enhancement Act strengthens the power and visibility of the ACA's health care exchanges, which the GOP Trump regime has spent the last three years trying to kill and to discourage enrollment in.
The legislation puts into words a promise the House Democrats made on the campaign trail in 2018 when they retook control of that chamber. "The American people entrusted us to use our House Majority to make access to quality health care more affordable," Majority Leader Steny Hoyer, D-Md., said, setting a June 29 vote on the bill.
But the legislation has little to no chance in the 116th Congress. Senate Majority Leader Mitch McConnell, R-Ky., still wants to repeal the ACA and replace it with nothing. He's personally killed everything else the House Dems have passed. He calls them all "socialism."
And lawmakers are tangled up with dealing with the coronavirus pandemic, the economic depression anti-pandemic closures led to—including up to 50 million jobless workers, many now without health insurance—and legislation to start rooting out endemic U.S. racism, especially among police.
That makes the leaders' health care bill more of a talking point for the fall campaign.
Meanwhile, President Donald Trump, catering to corporate interests, and particularly the rapacious private insurers and the for-profit hospital chains, continues his campaign to repeal the ACA administratively—death by a thousand cuts—and replace it with nothing at all. His regime has also joined a red-state lawsuit, now pending in federal appellate courts, to toss the entire ACA as unconstitutional.
National Nurses United and other health care unions had no immediate comment on the leadership's legislation. Neither did the AFL-CIO. But NNU is still pushing single-payer government-run Medicare For All and campaigning to convince congressional candidates to swear off campaign contributions from the health insurers and drug companies.
While Democratic leaders touted their legislation, many of the party's new candidates in 2018 ran and won on not just improving the ACA but on replacing it with Medicare For All. House Speaker Nancy Pelosi, D-Calif., sidetracked it.
"I ran on a platform of providing health care coverage for more people, and the Medicare for All Act will achieve that goal," first-term Rep. Jahana Hayes, D-Conn., a National Education Association member and former National Teacher of the Year, said last year when the Progressive Caucus unveiled it.
"Nearly 30 million Americans are uninsured. Another 40 million cannot afford the costs of their co-pays or deductibles. People should not have to choose between their health and their livelihoods. Working families deserve better. Our job as lawmakers is to provide them with better outcomes and that is what we are doing by supporting this legislation," the single-payer bill, Hayes added.
And House Progressive Caucus Co-Chair Pramila Jayapal, D-Wash., was so disappointed by the lack of full health care coverage for everybody—which Medicare For All provides—in the $3 trillion economic stimulus bill the Democratic-run House approved earlier that it was one reason of many that she voted "no."
"I choose differently for so many who not only tell me they lost their jobs and lost their employer-sponsored health care too, but they can't afford COBRA and have decided to 'risk it' instead, while insurance companies scoop up additional subsidies from this package," said Jayapal, Medicare For All's lead House sponsor.
Medicare For All's Senate author, Bernie "I wrote the damn bill!" Sanders, Ind-Vt., had no direct comment on the House bill. But on May 30, as part of the discussion over coronavirus relief for workers and their families, he dropped a version of Medicare For All into the hopper.
His Health Care Emergency Guarantee Act would guarantee "everyone in America must be able to receive all of the medical care they need, regardless of their income, immigration status, or insurance coverage," he said then.
"The Senate must pass legislation to empower Medicare to pay all of the medical bills of the uninsured and the under-insured, including prescription drugs, for the duration of the coronavirus pandemic." Opinion polls also show majority support for Medicare For All.
That's not what the measure the House Democratic leaders unveiled creates.
"The legislation also expands access to health care, strengthens protections for people with pre-existing conditions, reduces racial and ethnic health coverage disparities, and reverses the Trump administration's harmful actions to sabotage the ACA," their fact sheet says.
"The bill also expands eligibility for" health insurance "premium tax credits beyond 400% of the federal poverty line and increases the size of tax credits for all income brackets," the fact sheet adds. A national re-insurance program would help consumers with expensive medical conditions pay their costs, and states would get money to lower consumers' deductibles and out-of-pocket costs.
"The legislation also makes prescription drugs more affordable by empowering Medicare to negotiate lower drug prices and making those prices available to Americans with private health insurance. It will stop drug companies from ripping off Americans and charging them more than other countries for the same drugs," the fact sheet adds.