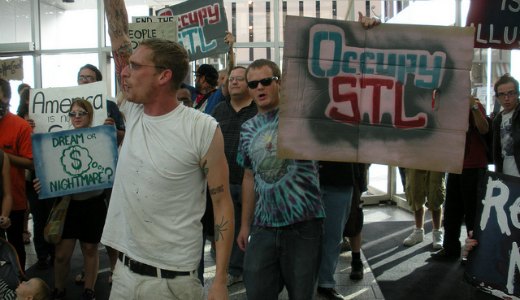 ST. LOUIS – "Members of CWA Local 6355 are part of the 99 percent of the country that are getting completely hosed by the financiers that have taken over our democracy and have ruined our economy for working people," Bradley Harmon, president of Local 6355, said as OccupySTL activists met in down-town Kiener Plaza to plan a protest on two local Bank of America offices.
OccupySTL is part of a nationwide movement that started with the Occupy Wall Street demonstrations in New York City. That occupation is now three weeks old with tens-of-thousands participating. The "Occupy" movement has spread to at least 80 other cities nationwide.
While the OccupySTL demonstrations are considerably smaller than their New York City counterparts, their spirit and energy is high, and dozens of tents, sleeping bags and a couch have laid claim to what is being called "people's territory."
Additionally, grassroots, direct democracy is in the air, as local activists – many of whom have never been a part of social and economic justice movements before – hold "general assembly" meetings to collectively discuss and plan their occupation, and its political and legal ramifications.
"Wall Street is really the belly of the beast," Harmon continued.
Harmon's union, the Missouri State Workers' Union, CWA-MSWU, represent 7,000 state employees in the "Show-Me-State." In the past few years it has seen thousands of layoffs due to budget cuts and the underfunding of social service programs – programs that are needed now more than ever.
He added, "Public workers are taking it on the chin…It is directly because of the funneling of wealth up to the top, top, top, top people who are running our economy and destroying our democracy."
"I have a small voice. We all have small voices," activist Annie Quain said at the first Bank of America protest. "But if we join our voices together it becomes a roar."
The crowd then joined in: "Hear me roar! Hear me roar!"
Quain continued, "We need to get out into the streets. We need to talk to people. We need to let people know what is going on."
"I worked hard all my life. I have tried to keep up," Quain added, her voice noticeably shaken. "I love this country. But God-damn it, it is wrong – these things that are happening. Where am I going to go?"
After protesting at the first BOA office OccupySTL activists marched a few blocks north-east to another BOA location and briefly occupied the lobby.
According to Harman, "When you are left without the ability to negotiate, when you are left without a seat at the table, the only thing left to do is to force your way into their face, and I think that is what this is about."
Photo: Tony Pecinovsky/PW