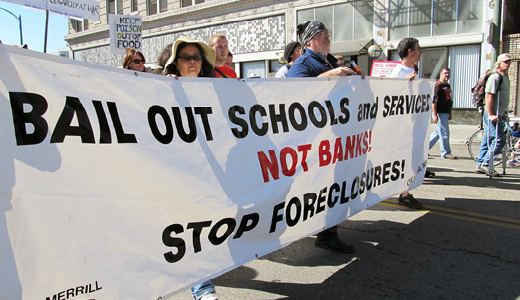 In the midst of the Occupy Wall Street demonstrations a new movement is emerging to divest from banks responsible for the housing mortgage crisis and the global capitalist meltdown.
Across the country, resolutions are being introduced into city councils to stop doing business with such banks. San Francisco and Los Angeles are just two of the many cities considering such measures. Bloomberg News reports, "The Los Angeles City Council on Oct. 12 accelerated plans to issue report cards on lenders that may lead the nation's second-most populous city to withdraw funds from those that score poorly on criteria such as home-loan modifications. New York City may make a similar change in bank-selection rules."
Organizations, churches and community are also being encouraged to make such divestments according to the New Bottom Line coalition. In one city that effort is being led by People Acting in Community Together. "People Acting in Community Together (PACT) faith and community leaders plan to hold a press conference today to announce that San Jose churches, organizations and residents are divesting millions of dollars from big banks due to their unethical policies and practices." This is accompanied by calls to CA Attorney General Kamala Harris to take strong action to hold banks accountable for their unethical and illegal practices that have caused and prolonged the economic crisis.
Attorney General Harris recently removed California from countrywide negotiations with the banks responsible for the housing mortgage meltdown over objections that the proposals were insufficient and not addressing the scale of the crisis. California is one of the hardest hit states.
One such effort in San Jose was directed at banks involved in the foreclosure crisis where the "Most Holy Trinity Catholic Church …is closing its $3 million accounts with Bank of America and moving the money to a community credit union."
A larger effort, however, is being undertaken to introduce divestment resolutions in 50 cities. The New Bottom line coalition, with "more than two dozen small-business, community and faith-based groups, will introduce so-called divestiture resolutions in more than 50 U.S. cities in coming months, according to Ilana Berger, executive director of the New York-based organization."
Photo: peoplesworld.org