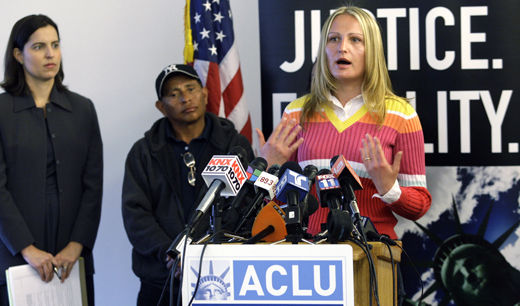 The New York Times and the American Civil Liberties Union under the Freedom of Information Act recently obtained documents, memos and videos suggesting government officials systematically covered up malicious abuses contributing to the deaths of 107 immigration detainees held in federal custody since 2003.
The ACLU filed a Freedom of Information Act lawsuit in 2008 demanding access to any and all documents and information in the government's possession related to the deaths of detainees at immigration detention centers.
"Silence has long shrouded the men and women who die in the nation's immigration jails," wrote Nina Bernstein in the Times. "For years, they went uncounted and unnamed in the public record," she said.
Even in 2008 when the Times obtained and published a federal government list of such deaths, few facts were available about these people and how they died, she writes.
"But behind the scenes, it is now clear, the deaths had already generated thousands of pages of government documents, including scathing investigative reports that were kept under wraps, and a trail of confidential memos and Blackberry messages that show officials working to stymie outside inquiry," says Bernstein.
According to Bernstein documents show how officials – some who still remain in key positions – used their role as overseers to cover up evidence of mistreatment, deflect scrutiny by the news media or prepare exculpatory public statements after gathering facts that pointed to substandard care or abuse.
For example in 2007 Boubacar Bah, 52, a Guinean tailor had been left in an isolation cell at the privately run Elizabeth Detention Center in New Jersey. Bah had suffered a skull fracture and was left without treatment for more than 13 hours before an ambulance was finally called. It's unclear how he suffered the head trauma.
A video was obtained in the agency's confidential files showing Mr. Bah face down in the medical unit, hands cuffed behind his back, just before he was sent to a disciplinary cell. The tape shows him crying out repeatedly in his native language, "Help, they are killing me!"
A Times reporter had called an immigration spokesman to inquire about the dying man and was rebuffed after the official said that without a full name and alien registration number for the detainee, he could not check on the case.
However records show the spokesperson, Michael Gilhooly, had already filed a report warning top managers at the federal agency about the reporter's interest and sharing information about Bah.
While Bah lay in the hospital in a coma after emergency brain surgery, 10 agency managers in Washington and Newark conferred by telephone and e-mail about how to avoid the cost of his care and the likelihood of "increased scrutiny and/or media exposure," according to a memo summarizing the discussion.
Officials were faced with paying $10,000 a month for Bah's nursing home care so they decided a "humanitarian release" to his cousins in New York was their best option. Bah's cousins protested the decision because they had no way to meet his medical needs.
Bah died days before the planned release.
The day after Bah died Scott Weber, director of the Newark field office of the immigration enforcement agency, recommended in a memo that the agency take the unusual step of paying to send his body to Guinea for burial in order to prevent his widow from showing up in the U.S. for a funeral and drawing news coverage.
In the memo Weber wrote, "I also don't want to stir up any media interest where none is warranted" and helping to bury Mr. Bah overseas "will go a long way to putting this matter to rest."
Bernstein highlights how an immigration spokesman, Marc Raimondi, in April 2007 warned top managers that a Washington Post reporter had asked about a list of 19 deaths that the civil liberties union had compiled. The list included a dying man whose penile cancer had spread after going undiagnosed in detention, despite numerous medical requests for a biopsy.
"These are quite horrible medical stories," wrote Raimondi, "and I think we'll need to have a pretty strong response to keep this from becoming a very damaging national story that takes on long legs."
Will Matthews, writing on the ACLU blog, notes these stories and the recent information obtained about the callousness of immigration officials underscores the urgent need for overhaul and reform.
"Among other things, the immigration detention system needs to be infused with far greater levels of independent oversight and transparency than which currently exists," says Matthews.
"Congress should pass immigration detention reform as part of any comprehensive immigration reform legislation. And our nation as a whole needs to divorce itself from its reliance on detention in the first place," he adds.
Matthews notes the vast majority of people the government has forced into detention didn't ever warrant being detained, but they nonetheless have been victimized by an unyielding commitment to detention and deportation without the kind of individualized determinations that are the essence of due process.
"The time for the kind of sweeping, systemic reform that is so desperately called for is now," writes Matthews.
Last year the Obama administration vowed to overhaul immigration detention.
Meanwhile civil rights groups and immigration reform advocates have long been concerned with the way immigration detention facilities are run and have called on Congress to pass reforms.
In a 2009 report the ACLU and the National Immigration Law Center found that immigration detention centers – which are a combination of privately run jails, federal prisons, and county facilities – routinely violate detainees' basic rights, including the right to adequate access to mail and telephone, sanitary living conditions, and legal and personal visitation.
In December, Rep. Luis Gutierrez, D-Ill., introduced comprehensive immigration reform legislation to fix the nation's broken system. The measure calls for an overhaul of the immigration system and would require the Department of Homeland Security to:
– Ensure adequate medical care;
– Provide immigration council during hearings;
– Ensure an immigration judge review of all detention decisions; and
– Clarify that immigration enforcement authority belongs exclusively to the federal government.
Gutierrez's bill has attracted national support and many say the measure is the first comprehensive immigration reform bill that aims to rectify some of the egregious immigration practices set in place since 1996.