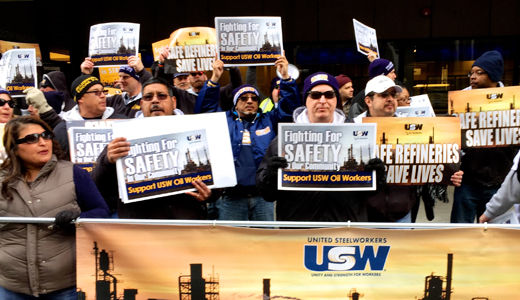 CHICAGO – Although a tentative deal was reached last week that could end the current industry-wide unfair labor practices strike, each local unit of the Steelworkers must conclude its own negotiations with management in addition to accepting the elements outlined in the pattern settlement.
Hundreds of workers at the BP refinery in Whiting, Indiana, just outside Chicago, left their picket lines and descended upon BP's headquarters on South Wacker Drive here, where they demanded that management drop its attempt to weaken their collective bargaining rights.
"While some oil industry employers, particularly at Shell, are working with the union to finish local bargaining and execute contracts, this is not the case with BP at our Whiting refinery or in Toledo, Ohio," explained Bob Lofton, the union's international rep for the struck plant in Whiting.
"Specifically, they want to be able to institute changes in work rules and safety rules without having to negotiate them with the union," Lofton explained, as hundreds of workers all around him chanted, "One, two three, four, we know what we're fighting for."
The chants of the workers and their supporters from other unions, including teachers and hotel workers, echoed through the cavernous streets around the Chicago Mercantile Exchange as the demonstration swelled in size from a small group at first, until hundreds were rallying outside BP's headquarters.
"If they get what they want they would be able to degrade our contract," Lofton said. "And our ultimate goal is a fair contract."
He decried the company's continued use of those he called "untrained replacement workers" at the BP plant in Whiting. "Whenever you do this, you increase the dangers and the risks, especially in an already dangerous industry," he said. "The replacements simply don't have the training they need." He pointed to the mid-February incident involving a major discharge at the plant with flames shooting up through the stacks and belching out a cloud of smoke that covered a huge area.
"Recently, there were problems with the piping system and last Tuesday there were leaks reported; it's just not safe," he said.
It is difficult to dispute union concerns about safety. In the past five years, 27 workers have been killed and hundreds more seriously injured, industry-wide. In the past eight years there have been 349 reported fires, many of which could have resulted, the union says, in massive explosions or chemical releases into the surrounding communities.
"The refining process involves toxic and reactive chemicals, explosive materials, extreme temperatures, and high pressure," said Nathan, an 11-year console operator at the Whiting plant. '"The union's concern here is that mistakes can be catastrophic. Maintenance has to be done properly. I'm concerned about how they are outsourcing maintenance."
"We will continue the strike until we get a fair contract and a safer workplace," Lofton said, when asked how long he thought the job action might continue.
Photo: Scott Marshall/PW